'Hindi po tayo makaka-afford na mag-away-away,' Vice President Leni Robredo says ahead of a meeting with President Rodrigo Duterte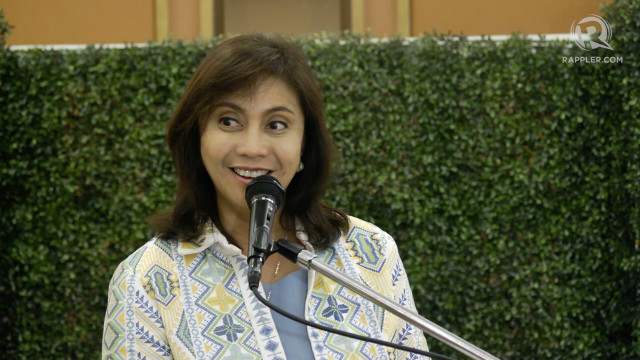 MANILA, Philippines – While President Rodrigo Duterte allies himself with her rival Ferdinand "Bongbong" Marcos Jr, Vice President Leni Robredo on Monday, July 4, said her "number one responsibility" is clear: to support Duterte's leadership.
"As the Vice President, I believe that the number one responsibility now is to help rally everyone behind the new administration," Robredo said at the Tapatan sa Aristocrat forum on Monday, July 4.
Robredo said that "despite the viciousness" of the May 9 elections, this is the time "to bring everyone together and rally behind the new administration."
"Hindi po tayo makaka-afford na mag-away-away," Robredo said. (We cannot afford to fight with each other.)
The Vice President said she considers her 6-year term a short time considering the bulk of the work that needs to be done. "Kung mag-o-occupy pa 'yung mga away sa ating panahon, kawawa naman po 'yung ating bansa," she said. (If rifts will occupy our time, our country will be pitiful.)
"This administration deserves our support," she added. "Hindi naman po ito para kay Pangulong Duterte lamang pero para po ito sa sambayanang Pilipinas." (This is not only for President Duterte but for the Filipino nation.)
The audience clapped as Robredo declared her support for Duterte, the long-time Davao City mayor whom Robredo's party leader, then president Benigno Aquino III, campaigned against in the May 9 elections.  
Duterte-Robredo 'icebreaker'
Robredo's statement comes ahead of her scheduled meeting with Duterte.
Special Assistant to the President Christopher "Bong" Go said Duterte and Robredo will meet at 3:30 pm on Monday. 
Duterte, who considers Marcos his friend, earlier distanced himself from Robredo. 
The President, for one, refused to give Robredo a Cabinet post. Duterte said on May 31: "You know why? I don't want to hurt the feelings of Bongbong Marcos. He is my friend. That is the political reality."
Robredo defeated Marcos by more than 263,400 votes based on the final, official tally of Congress sitting as the National Board of Canvassers. 
Marcos, however, said he was cheated in the May 9 elections. He filed an election protest before the Presidential Electoral Tribunal on June 29, the eve of Robredo's oath-taking. 
The icebreaker between them was the change of command ceremony at the Armed Forces of the Philippines, where Duterte and Robredo shook hands and exchanged pleasantries. 
Robredo said her meeting with Duterte "exceeded expectations." – Rappler.com