(UPDATED) President Rodrigo Duterte says the fight against climate change 'must not stymie our industrialization'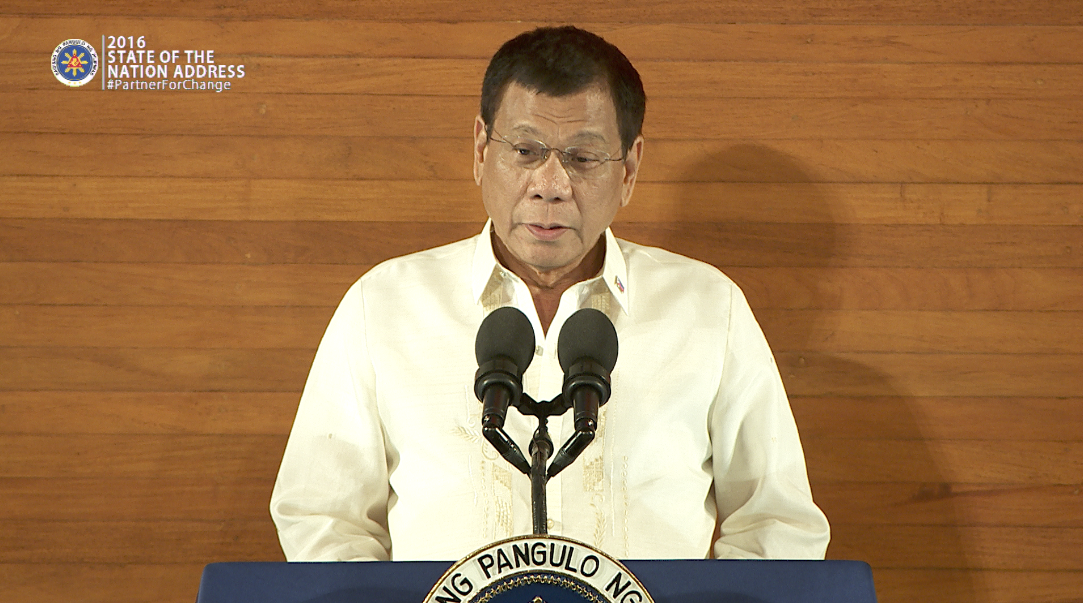 MANILA, Philippines (UPDATED) – A week after saying he "will not honor" international agreements binding the Philippines to limit its carbon emissions, President Rodrigo Duterte reiterated that climate change mitigation is among his administration's top priorities.
"Addressing global warming shall be our top priority, but upon a fair and equitable equation. It must not stymie our industrialization," Duterte said during his first State of the Nation Address on Monday, July 25. 
Duterte last July 18 recalled an instance wherein he told an ambassador that he "cannot tell" if the Philippines will be able to contain its carbon emissions, based on international agreements.
While he did not specify which international agreement signed by the Philippine government the ambassador was referring to, it was most likely the Paris Agreement on Climate Change.
In December 2015, the Philippines and other nations agreed on a global climate pact which aims to keep global temperature rise this century to below 2 degrees Celsius.
Four months later in April 2016, 175 countries including the Philippines signed the Paris climate deal.
The climate deal has been hailed as the first universal, legally-binding agreement on climate change, and countries pledged to reduce the amount of carbon they emit and to ensure their citizens are prepared for the effects of global warming.
The Philippines has pledged to cut by 70% its carbon emissions by 2030 – a target conditional on assistance from the international community. (READ: Gina Lopez: Duterte has 'non-negotiable stance' on people's well-being)
But from the campaign trail until he reached Malacañang, Duterte has reiterated that the requirements on carbon emissions are unfair, since wealthy nations were never limited when they were industrializing.
On Monday, Duterte said he has directed concerned regulatory agencies to prioritize the issuance of required permits for power development. (FULL TEXT: President Duterte's 1st State of the Nation Address)
"Let us be very clear on this: We need to industrialize. We need the power and, therefore, the emissions would also be considered. You just can't say it: 'I established 5 economic zones here'. And you start to say that, 'You are spewing so much carbon footprints'. It's hard. I cannot just agree on anything that will delay. I'm only good for 6 years."
He added: "And I intend to do something during my term. Now, I'm sure that the heavy machineries would come in and even the power, cheapest is coal…. If it is really a good [state-of-the-art technology], then we will consider, I said, because we need the energy to power our industrialization."
Aside from global warming, Duterte also mentioned in his first SONA that he will continue to expand operations on human assistance and disaster response. – Rappler.com