PNP chief Ronald dela Rosa says the Espinosas will be evicted out of the 'White House' in Camp Crame by Saturday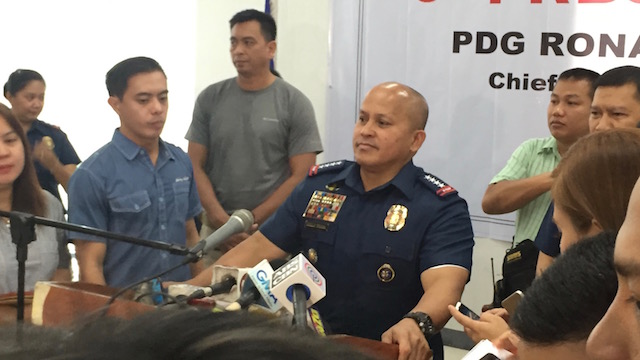 MANILA, Philippines – Philippine National Police (PNP) Director General Ronald dela Rosa called on Kerwin Espinosa, son of Albuera Mayor Rolando Espinosa Sr, to surrender to police or else his family may be put in jeopardy.
On Friday, August 5, Dela Rosa said the PNP has not yet received any updates on whether Espinosa, allegedly one of the biggest illegal drug operators in Eastern Visayas, will turn himself in after earlier sending surrender feelers to the police.
While Dela Rosa said he won't give Espinosa a deadline, he warned that he will evict his family out of the "White House" – the PNP chief's official residence – by Saturday, August 6. (READ: Why Espinosa is staying at PNP's 'White House')
"'Yung pamilya mo i-evict ko na sa White House. Ayaw nilang umalis hanggang di ka raw dumating. Kung di ka dumating ngayon, di ka pa mag-surrender, then your family will be put in jeopardy. Paalisin ko na sa White House, pauuwiin ko sa inyo, then bahala na sila sa buhay nila," he said.
(I will evict your family out of the White House. They don't want to leave until you arrive here. If you don't come today, if you don't surrender, then your family will be put in jeopardy. I will evict them out of the White House, I'll send them home, then they're on their own.)
"Bahala ka sa buhay mo, Kerwin, magdasal ka na (You're on your own, Kerwin, start praying)," he added.
Asked if he would provide security detail for the Espinosas if they request for it, Dela Rosa said he would first mull it over.
Dela Rosa added that he wanted the Espinosas out of the White House because he could no longer stand the smell of cigarette smoke.
On Thursday, Dela Rosa said Kerwin had earlier told relatives that he would  surrender to police upon his arrival in Manila from Malaysia.
President Rodrigo Duterte had accused Kerwin and his father of involvement in the illegal drugs trade and of coddling drug lords.
On August 1, Duterte called on the father and son to surrender, saying he would issue a "shoot on sight" order against the two if they resisted arrest. There is no arrest warrant against them.
The Albuera mayor surrendered to the PNP a day after Duterte issued his warning. 
In late July, P1.9 million worth of shabu was discovered in a tennis court near the Espinosa home in a police buy-bust operation. On Wednesday, August 3, 6 men allegedly linked to the mayor were killed in a shootout with police. – Rappler.com