The Philippines is the 75th country to walk at the Rio 2016 Parade of Nations, led by flag bearer Ian Lariba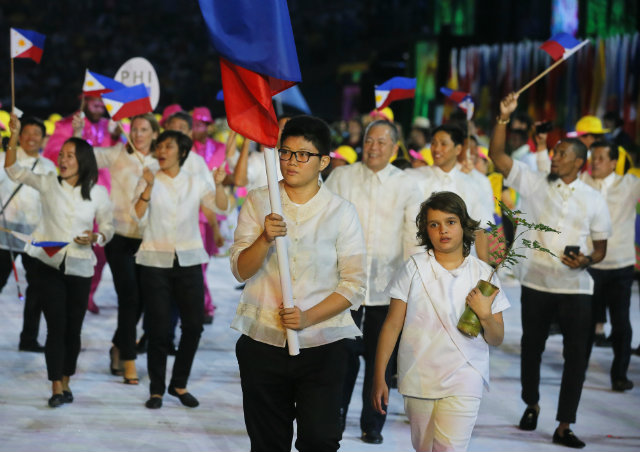 MANILA, Philippines – Table tennis player Ian Lariba led the Philippine delegation across Maracana Stadium during the opening ceremony of the 2016 Olympics in Rio de Janeiro, Brazil.
Lariba, who will see action today against Congo's Han Xing later today, carried the flag for the 13-strong delegation on Friday, August 5 (Saturday morning Manila time) for the country, which received approximately 20 seconds of air time. Announced under the Brazilian pronunciation of Filipinas, the country was the 75th to walk.
(IN PHOTOS: Fireworks, lights and Gisele at the Olympics opening ceremony)
{source}<blockquote class="twitter-tweet" data-conversation="none" data-lang="en"><p lang="und" dir="ltr"><a href="https://twitter.com/supersaiYAAAN">@supersaiYAAAN</a> <a href="https://twitter.com/hashtag/OpeningCeremony?src=hash">#OpeningCeremony</a> <a href="https://t.co/itoccT22pv">pic.twitter.com/itoccT22pv</a></p>&mdash; Yan Lariba (@supersaiYAAAN) <a href="https://twitter.com/supersaiYAAAN/status/761691527278100481″>August 5, 2016</a></blockquote>
<script async src="//platform.twitter.com/widgets.js" charset="utf-8″></script>{/source}
The 13 athletes representing the Philippines are Lariba, boxers Rogen Ladon and Charly Suarez, swimmers Jasmine Alkhaldi and Jessie Lacuna, track and field athletes Eric Cray, Marestella Torres-Sunang and Mary Joy Tabal, weightlifters Hidilyn Diaz and Nestor Colonia, plus judoka Kodo Nakano, Taekwondo jin Kirstie Alora and golfer Miguel Tabuena. – Rappler.com