(UPDATED) Local government officials troop to Camp Crame to 'voluntarily surrender' following President Rodrigo Duterte's publicized drug list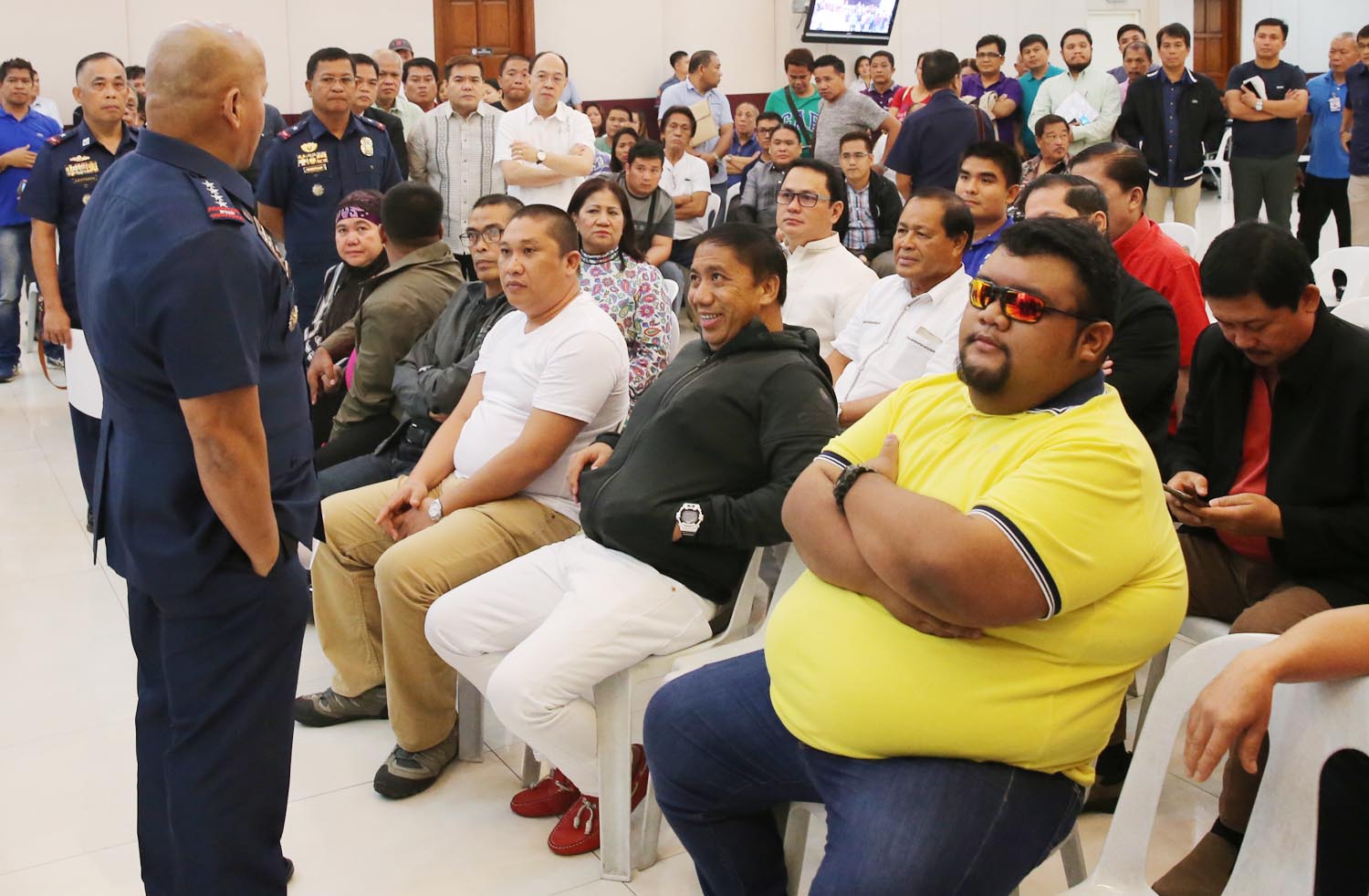 MANILA, Philippines (UPDATED) – He may consider himself the Philippine National Police (PNP) chief's "best friend," but there was no special treatment for Datu Montawal Vice Mayor Ohto Montawal on Monday, August 8, upon his "voluntary surrender" at Camp Crame in Quezon City. 
Montawal is part of a long list of politicians, judges, and police who President Rodrigo Duterte himself said are linked to the illegal drugs trade. The vice mayor and 26 other local government unit (LGU) officials gathered at the Multipurpose Center in Camp Crame where they spoke to PNP chief Director General Ronald dela Rosa before executing their affidavits before the Criminal Investigation and Detection Group (CIDG). 
"We're here to clear our names," Montawal told reporters. 
"I don't have anything else to say because you know who I am. We've been best friends ever since," added the vice mayor, addressing Dela Rosa this time. 
Duterte's recent move is part of the administration's efforts to curb illegal drugs, crime, and corruption within 6 months. More than 400 drug suspects have been killed, nearly half a million surrendered, and thousands arrested in police operations around the country.
In a press conference in Davao City early Sunday morning, August 7, Duterte revealed the names of politicians, judges, and cops allegedly tied to illegal drugs.
Most of them showed up to deny their involvement and issue their statements in police regional and provincial offices around the country even before heading to Camp Crame. (READ: Sereno expresses concern over Duterte's drugs list)
"The President said that even if that person is my friend, if his name is on the list, it's his obligation to read the name. He said it may be true or may not be true but that's why there's an ongoing validation. But it's the President's responsibility to let people know that he's that sincere in this campaign against illegal drugs," said Dela Rosa, in response to Montawal. 
The vice mayor said if given a chance, he himself would get rid of drug syndicates in his area. 
Safety concerns
Another LGU official, Iloilo Mayor Jed Mabilog, expressed concern for their safety after being mentioned as part of Duterte's list.  
"We're not afraid to die because we stand firm in our love for our country, in our love for our people, and in our love for our families and loved ones. Love for our work, especially when it comes to our anti-illegal drugs campaign. But of course we're concerned about ourselves too and our families. Given the sudden announcement, what happens to us?" said the mayor, who added that their personal security detail had been revoked. 
Dela Rosa said that their mere presence at Camp Crame – before the media –  should make it clear that the local executives were sincere in their surrender. Should they be killed, said the police general, the motive would clearly be politics and not drugs. 
Mabilog defended himself from allegations, saying that he had instructed his police chief to catch drug lords in the city. But Dela Rosa reminded him that police operations are also part of a mayor's mandate. 
Cops in Iloilo, said Dela Rosa, were corrupt and accepted drug money as well. – Rappler.com 
Editor's Note: An earlier version of this story stated in the title that the "Iloilo vice mayor" surrendered. This has been corrected to "mayor." Our apologies for the error.