The Communist Party also says President Duterte 'has become so full of himself and intoxicated with the vast power he is not used to handle'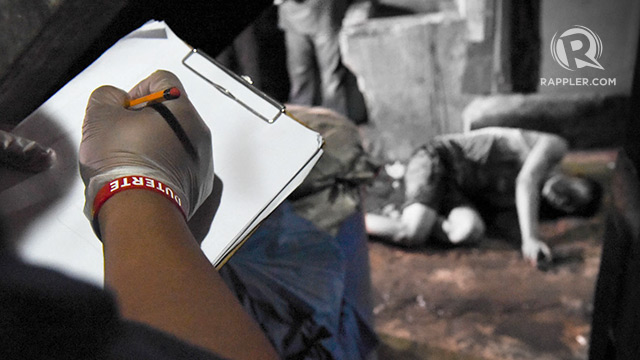 MANILA, Philippines – The Communist Party of the Philippines (CPP) criticized President Rodrigo Duterte's war against illegal drugs, saying that it "has clearly become anti-people and anti-democratic."
The party also had choice words for the president, who they said is now "so full of himself and intoxicated with the vast power he is not used to handle."
This came as the status of peace talks between the government and the CPP remains in limbo. (READ: CPP: No talks or ceasefire until Tiamzon, others are released)
In a statement dated Friday, August 12, the CPP said that the "war on drugs" being waged by Duterte "has rapidly spiraled into a frenzied campaign of extra-judicial killings and vigilante murders perpetrated by the police and by police-linked criminal syndicates."
The party also noted that "nearly 1,000 people have been killed in just a little more than one month." It added, "Hundreds have been killed while 'resisting arrest' or while under custody and detention, in police cars as well as in jails."
The CPP decried that human rights are being "violated with impunity by police personnel" who they argued were "emboldened by Duterte's assurances of 'I got your back' and his public declarations of contempt against human rights." 
The CPP then noted that the Duterte administration "has unleashed unmitigated violence and threats of violence against the people, mostly victims and people at the lowest rungs of the criminal syndicate ladder."
Meanwhile, suspected high-profile drug lords and their protectors "are afforded courtesy calls to Malacañang, accommodations in Camp Crame's guest house, and preliminary investigations by the NBI."
The party also denounced Duterte for releasing a list of supposed drug protectors and narco-politicians "without proof nor clear basis for accusations of their involvement in drugs."
"What was before the burden of the accuser to prove someone's guilt is now the burden of the accused to prove his innocence," the CPP added.
'Bound to fail'
"Duterte has become so full of himself and intoxicated with the vast power he is not used to handle that he thinks he can get away with upturning the criminal judicial system and denouncing people for defending human rights," said the CPP.  
They even went on to say that Duterte's war on drugs is "bound to fail" as it "does not address the socio-economic roots of the problem."
The CPP compared it with the anti-drug campaigns in Mexico and Thailand, saying that "no amount of killing will succeed in putting an end to the drug menace."
The Philippines' own drug war, argued the CPP, is set to become "a war among the criminal drug syndicates, between one narco-politician against another" as well as "one of the facets of the factional struggle within the reactionary ruling classes, for control of resources, territories, police and military units."
'Demand justice, end madness'
In the end, the CPP called on all democratic forces to unite, to demand justice and an end to the "madness" of police and vigilante killings, and to defend human rights.
"The CPP calls on the people to struggle against the rampant problem of drug addiction, as they wage revolutionary struggle to overthrow the system that perpetuates it, as well as other forms of oppression."
The most effective way of waging war against drugs, continued the CPP, "is by rousing the people and mobilizing them to become active participants in social revolution."
The CPP also said, "In line with standing orders, the New People's Army (NPA) will continue to intensify its operations to arrest and disarm drug trade operators and protectors."
However, it said that their efforts "will no longer be considered as cooperative with the Duterte regime's undemocratic and anti-people 'war on drugs.'" – Michael Bueza/Rappler.com