'Sabi nga ng Bible, huwag tayong magalit o anuman sa nagawa niya, kailangan may forgiveness tayo'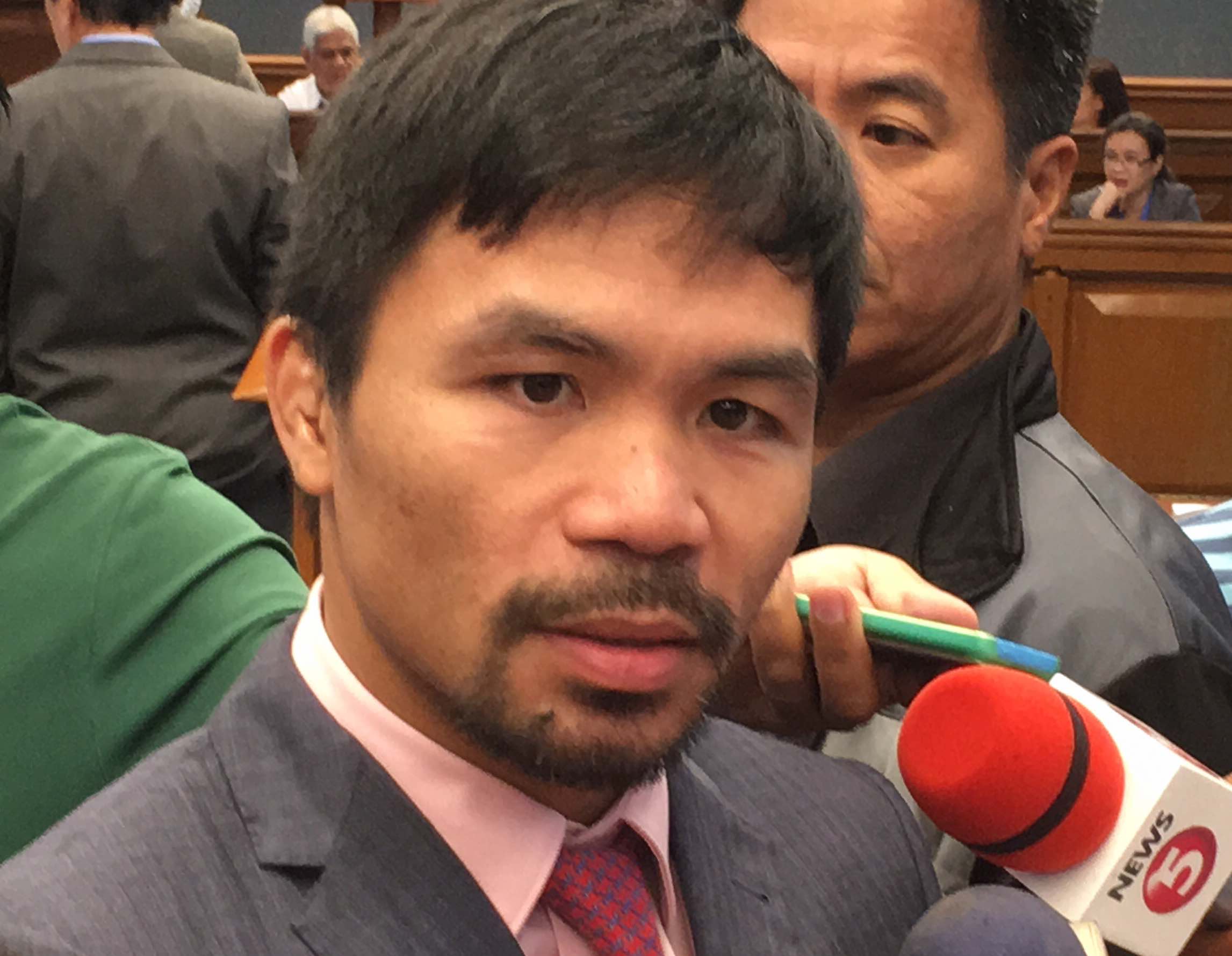 MANILA, Philippines – Neophyte Senator Emmanuel Pacquiao on Monday, August 15, expressed support for the burial of former president Ferdinand Marcos at the Libingan ng mga Bayani despite public clamor against it.
Pacquiao, an ally and party mate of President Rodrigo Duterte, said it is time for Filipinos to forgive the former president. After all, the senator said it is what the Bible says.
"Marunong tayo kahit papano gaano man kasama ang tao magkaron tayo ng ano… ang pinaka-importante magkaroon tayo ng forgiveness. Sabi nga ng Bible, huwag tayong magalit o anuman sa nagawa niya, kailangan may forgiveness tayo," Pacquiao told reporters.
(We should learn to forgive no matter how bad the person is. As what the Bible says, we should not get mad or anything because of what he did. We should have forgiveness.)
For the senator, the country cannot move on without forgiveness. 
Citing the Bible, Pacquiao said: "Kung wala tayo pagpapatawad sa puso natin, hindi tayo maka-move on. Kailangan natin ng forgiveness para tayo may kaligtasan. So okay lang i-forgive natin iyan, i-count din natin ang nagawa niya. Ang pinaka-importante, he was elected as president."
(If we don't have forgiveness in our hearts, we cannot move on. We need to have forgiveness so we would be saved. So it's okay to forgive him. We should also count what he did. What's important is he was elected as president.)
Yet, Pacquiao has a different view on forgiveness in relation to death penalty.
He backs the restoration of the measure, saying the Bible allows the death penalty as a "punishment" to those who have sinned. (READ: Pacquiao's 1st privilege speech: God is for death penalty)
Marcos was elected president
Pacquiao said Marcos should be buried at the Libingan ng mga Bayani because he was an elected president – one of the criteria set by law.
While Pacquiao said issues related to Martial Law should also be considered in granting a hero's burial to the late president, the senator stressed that Marcos first became president before the declaration. (READ: #AnimatED: Marcos, Duterte and burying our history)
"Kinokonsidera naman natin iyon pero saan ang mas nauna, pagka-elect niya as president o Martial Law? O diba? Mas nauna pagka-elect niya as president. Pinili siya ng tao at ang mga nagawa niya during his time, siguro i-consider natin. Wag natin kalimutan," he said.
(We are considering that, but which came first, his election as president or Martial Law? See? He was first elected as president. He was chosen by the people and we should also consider his achievement then. Let us not forget.)
Martial Law victims cited abuses under his regime as their basis for asking the Supreme Court to stop Marcos' burial at the Libingan.
Pacquiao also said Marcos did not appoint himself as president, as the people supported him. "As bayani, hindi natin pag-uusapan 'yan. But he was a president so elected siya, 'di naman niya nilagay sarili niya para maging presidente siya. Ibinoto siya ng tao so ok na siguro, isa na iyon para magbigay qualification," Pacquiao said, echoing the President's sentiment.
(As for being a hero, we are not talking about it. But he was a president so he was elected. He did not put himself there that's why he became president. He was elected by the people, so I think that's fine. That's one of the qualifications given.)
He urged the public not to forget the contributions of the late dictator, who served as president for more than two decades – from 1965 to 1986. (READ: Historians and the distortions of 'that Martial Law thingy')
"Kasi in-elect siya ng tao doon pa lang naging presidente siya, so doon pa lang huwag natin kalimutan ang nagawa niya sa ating bayan, sa ating bansa. Iyong mga na-accomplish niya during his term so siguro i-consider natin palagi," he said.
(Because he was elected by the people. By that mere fact, he became a president. So we should not forget what he did for our country. We should also consider his accomplishments during his term.) – Rappler.com