'I do not wish any ill on the Senator but, just saying, that she also did the same thing when she was in power,' says the former senator's daughter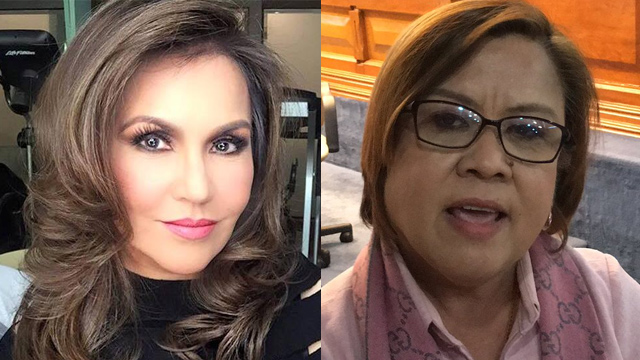 MANILA, Philippines – The daughter of former senator Juan Ponce Enrile hit Senator Leila de Lima for "forgetting" that once upon a time, when she was justice secretary, she "shamed some political individuals."
"Senator De Lima forgets that when she was the Secretary of Justice she knew full well that she shamed some political individuals, one of whom was my father and she did it without abandon," said Katrina Ponce Enrile in a Facebook post. 
Former senator Enrile was detained inside the Philippine National Police (PNP) General Hospital for over 150 days following his arrest in 2014 over graft and plunder charges. He was among the legislators named by so-called "pork barrel queen" Janet Lim Napoles for having pocketed government funds through fake projects and bogus non-governmental organizations. He was released on bail in 2015. 
Enrile, alongside two other senators from the opposition – former senators Jinggoy Estrada and Ramon "Bong" Revilla Jr – were the first top government officials to be arrested following revelations made by key whistleblower and former Napoles aide Benhur Luy. Estrada and Revilla are both still under detention at the PNP Custodial Center.
It was the justice department under De Lima that pursued cases against the 3.
Still referring to De Lima, Enrile's daughter added: "She knew that the cases she filed were less than forthright. She knew Benhur Luy forged their signatures. Yet she persisted. She handpicked a few Senators to persecute publicly and she was relentless."
"I do not wish any ill on the Senator but, just saying, that she also did the same thing when she was in power," she said.
De Lima has been the target of attacks by no less than President Rodrigo Duterte for her alleged ties to illegal drugs. During a speech last week in Camp Crame, Duterte hit De Lima for criticizing his administration's war on illegal drugs when she herself was "immoral."
The senator has denied any links to illegal drugs and urged the President to check his sources of information. But Duterte has insisted on De Lima's guilt and claimed that it was through the senator's bodyguard-driver, her alleged paramour, that she collected money from drug lords.
Duterte's tirades against De Lima came days before the Senate committee on justice, which the senator heads, begins a legislative hearing into allegations of summary executions during anti-illegal drugs operations by police. The hearing will investigate the rise in drug-related deaths since Duterte began his war against drugs.
More than 600 drug suspects have been killed in police operations all over the country. Police are also investigating 899 vigilante-style drug-related deaths. – Rappler.com