The PNP chief says his emotions got the better of him when he urged drug users and pushers to burn down the homes of drug lords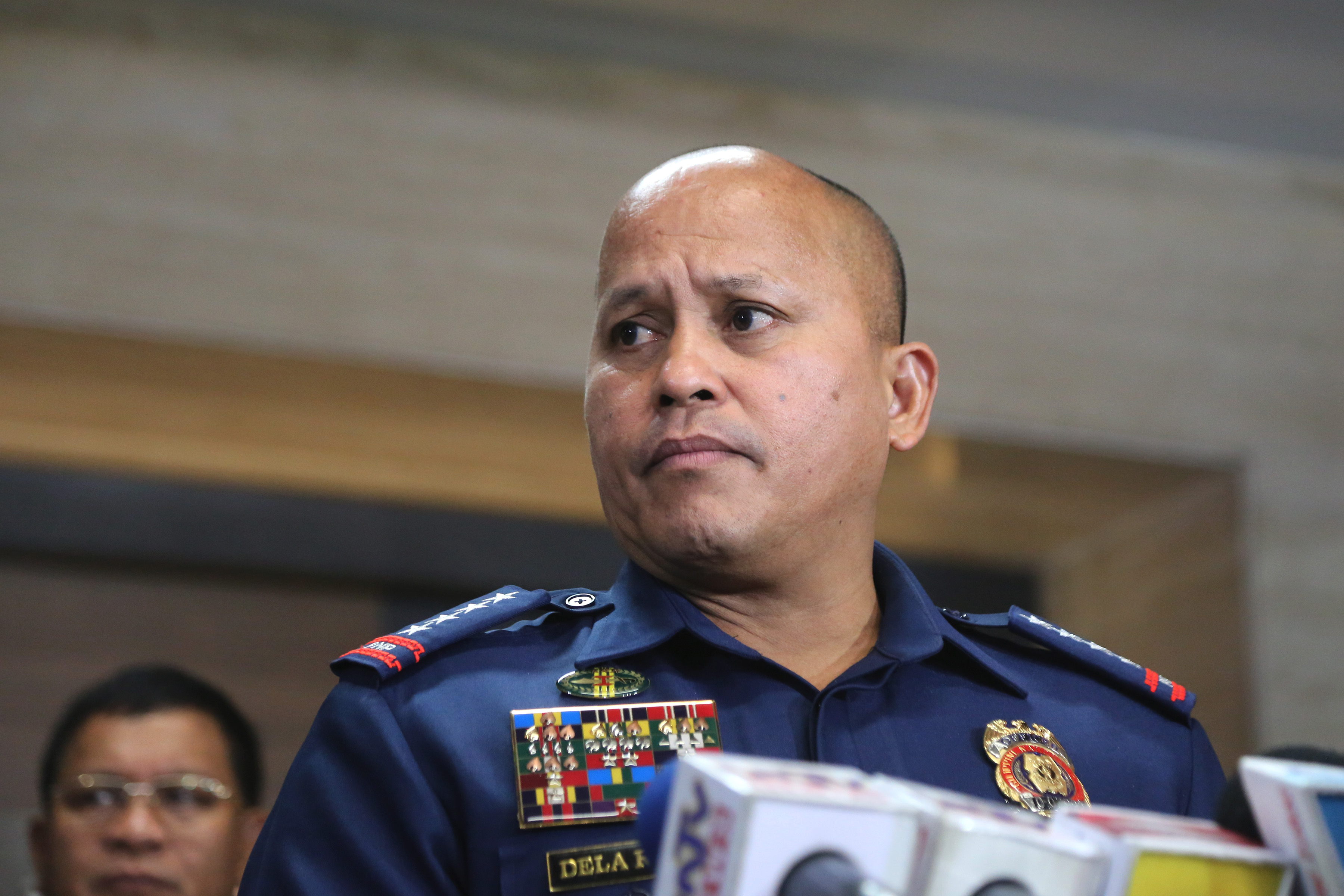 ILOILO, Philippines – Philippine National Police (PNP) chief Director General Ronald dela Rosa apologized on Friday, August 26, for seemingly inciting drug users and pushers to kill or burn down the houses of known drug lords.
Dela Rosa said in a media interview during his visit to the Western Visayas regional police office that his emotions just got the better of him when he addressed drug users and pushers who had surrendered to authorities in Bacolod City the day before.

"Sa sama ng loob ko, kaharap ko 'yung mga pobreng tao, yung mga user at pusher na mukhang zombie. Kaya sa sama ng loob ko, galit na galit ako kaya nasabi ko iyun," he said.

(I felt so bad because I was in front of these poor people, users and pushers who looked like zombies. I felt so bad and I was so angry. That's why I said it.)
In his speech on the sidelines of an official visit to the newly-formed Negros Island Region (NIR) police office in Bacolod City on Thursday, the PNP chief urged the surrendered drug personalities to change their ways because if they didn't, they would end up dead, either in a police buy-bust operation or because of drug use.
He also told them to "return to God" in their efforts at rehabilitation.  

Dela Rosa explained he felt sorry for the surrendered drug users and pushers who, he said, were "victims" of drug lords.

But the police general's "emotional outburst" did not sit well with many, who criticized him for supposedly encouraging violence and vigilantism when he, as the country's top cop, should promote the rule of law.

On Friday, an apologetic Dela Rosa said: "Kahapon, pasensiya na kung ano nasabi ko na hindi kanais-nais. Maraming nagrereact. I am very sorry; tao lang po ako na nagagalit lang. Nakikita ko ang mukha ng mga taong kaawa-awa talaga. I don't know kung mase-save pa natin sila."

(I ask for your understanding if yesterday, I said something that wasn't so acceptable. A lot of people are reacting. I am very sorry. I am only human and I got angry when I saw the faces of the people who were very pitiful. I don't know if we can still save them.)
Chief Presidential Counsel Salvador Panelo had a different explanation for Dela Rosa's statement, however: it was merely drama. "You know Filipinos, they won't listen if there is no exaggeration – it was just an exaggeration," he told Palace reporters on Friday.

Dela Rosa, like President Rodrigo Duterte, is known for his tough – and  controversial – stance against crime.

Duterte and Dela Rosa lead the country's so-called "war against drugs." To date, police have killed more than 700 drug suspects in operations around the country. Another 1,000 or so cases of suspected summary executions related to drugs are being investigated by police.

At least 9 cops and 3 soldiers have died in the two-month-long campaign.

Speaking to police personnel from Western Visayas on Friday, Dela Rosa reminded them to never let criminals get the upper hand. "Are you with me in the war against against drugs?" he asked the crowd assembled before him.

"Are you willing to die? Before dying, are you ready to kill?" he added.

Police answered "yes" to all questions.

It's not the first time Dela Rosa has been called out for his statements. Senator Leila de Lima, one of Duterte's staunch critics, earlier told Dela Rosa to avoid statements that incite violence – even if meant as a joke – because this could be misinterpreted by police on the ground.

The same statements, said De Lima, could later used as evidence against him should the International Criminal Court (ICC) decide to investigate cases of alleged extrajudicial killings. – Rappler.com