But communist rebels criticize military forces for their continuing aggressive moves in and around the areas of operations of the NPA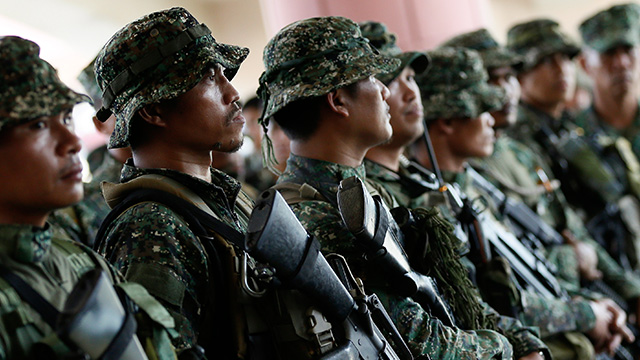 MANILA, Philippines –  The historic joint statement signed by the Philippine government and the National Democratic Front (NDF) at the Oslo talks on August 26 has been heard loud and clear in the barracks, the military said on Saturday, August 27. 
"The AFP has noted with elation and optimism this breakthrough in the peace negotiations," Marine Col Edgard Arevalo, chief of the Armed Forces of the Philippines (AFP) Public Affairs Office said in a statement.
At the resumption of the peace talks that seek to address the root causes of the longest-running insurgency in Asia, the Communist Party of the Philippines (CPP) and the New People's Army (NPA), through its political arm NDF, agreed to declare an indefinite ceasefire. (READ: Document: Agreement between PH and NDF)
"It is a laudable move on the part of the CPP-NPA-NDF to respond positively to President Rodrigo Duterte's declaration of reimposition of the ceasefire 'for as long as necessary' to attain lasting peace in the land," Arevalo said.
Before the negotiations in Oslo, Norway began, President Rodrigo Duterte restored the government's unilateral ceasefire with communist rebels effective midnight, August 21.
It came a day after the CPP-NPA declared a 7-day unilateral ceasefire that was supposed to be effective only until 11:59 pm of Saturday, August 27. 
Arevalo gave assurances that the AFP under the leadership of General Ricardo Visaya will uphold the Duterte administration's ceasefire policy.
"The nation can rely on every soldier, sailor, marines, and airmen to help provide an environment conducive to peace so that the negotiators from both panels can work under the climate of trust and the prospect of reconciliation," he said.
CPP says AFP is still aggressive
Meanwhile, the CPP welcomed the statements of President Rodrigo Duterte that encouraged soldiers and police to be friendly with NPA rebels. 
However, in a statement on Friday, August 26, the CPP also criticized the AFP for allegedly "maintaining their presence and continuing to make aggressive moves in and around the areas of operations of the NPA which form part of the territories of the people's democratic government."
The CPP also noted that the AFP units have maintained their presence not in their camps but in civilian communities in Kalinga, Isabela, Abra, Aurora, Nueva Ecija, Batangas, Quezon, Camarines Norte, Camarines Sur, Albay, Sorsogon, Northern Samar, Western Samar, Negros Occidental, Agusan del Norte, Agusan del Sur, Surigao del Sur, Davao del Norte, Bukidnon, and Compostela Valley.
"There have been persistent reports of continuing presence of armed operating troops of the AFP in barangay centers, occupying barangay halls, community schools and day care centers, senior citizen centers and other civilian structures. They continue to set up detachments or physical bases in the center of civilian population," the CPP said.
The CPP said that its NPA units have strictly complied with its 7-day ceasefire declaration. It also announced that the NPA was set to release at least 7 "prisoners of war" in Surigao and Compostela Valley. – Rappler.com