PNP chief Ronald dela Rosa has 4 months left to fulfill their promise to end – or at least suppress – the spread of illegal drugs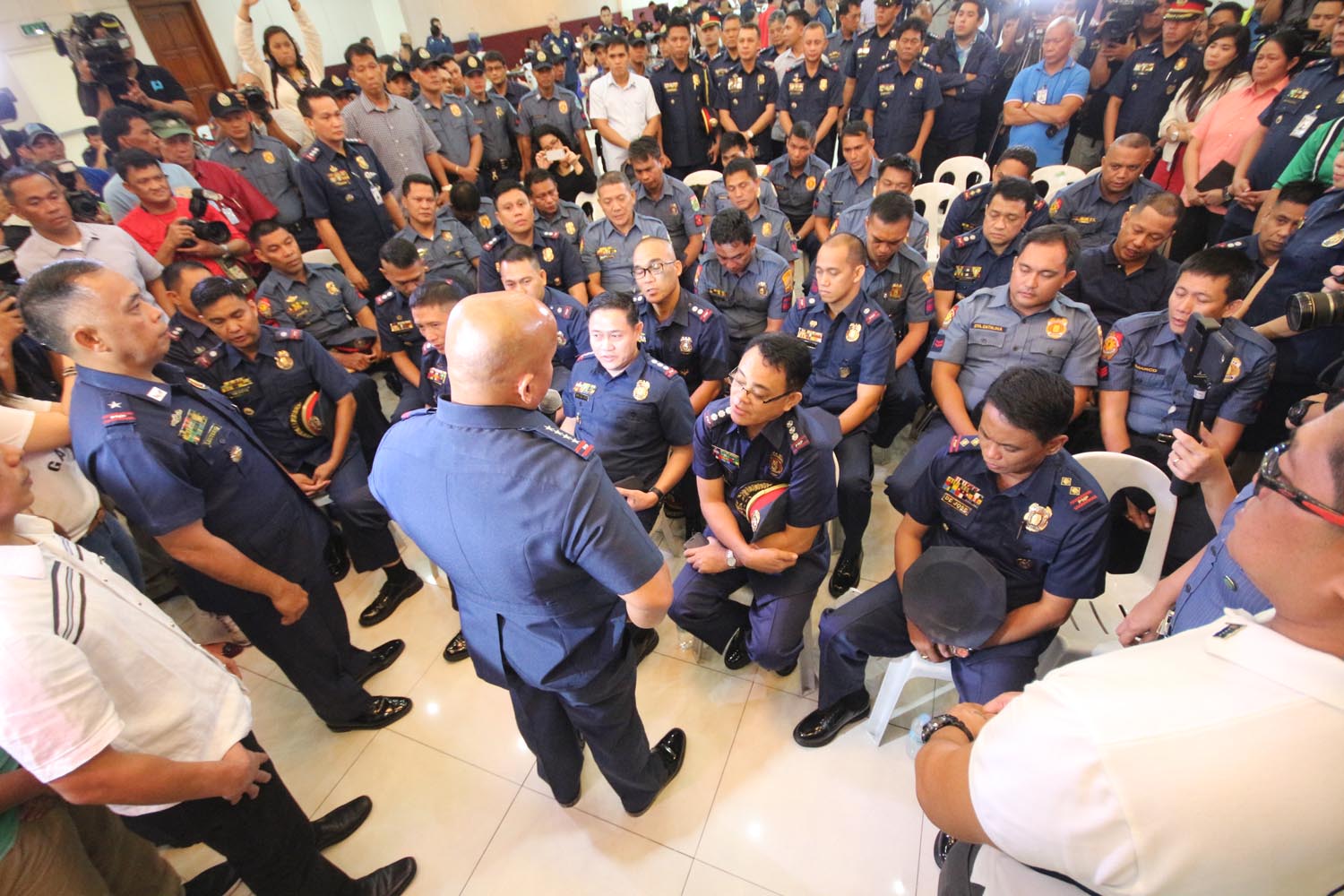 MANILA, Philippines – With around 4 months left before their deadline to "stop" illegal drugs, crime, and corruption, the Philippine National Police (PNP) – and other law enforcement agencies – are moving onto "Phase 2" of the so-called war on drugs.
"Siguro shift ng focus doon sa mga high value targets, sa HVT. 'Di ko masyadong kuwan 'yung phasing kasi 'yung iba 'yung phasing namin doon sa aming campaign plan Double Barrel. Pero 'yun nga, siguro Phase 1 doon sa street level, barangay level tapos 'yung Phase 2 dito na sa matataas, mga high value target," PNP chief Director General Ronald dela Rosa said on Wednesday, August 31, in a chance interview with reporters in General Santos City.
(I guess that means we shift focus to the high value targets. I'm not very sure about the phasing because the phasing in Double Barrel is different. But I suppose Phase 1 is at the street level, the barangay level while Phase 2 is for the high value targets.)
The shift to "Phase 2" of the campaign against illegal drugs was first mentioned by Presidential Spokesman Martin Andanar on Sunday, August 28, during a radio interview. He did not say exactly what moving on to "Phase 2" meant, however.
"Kung titignan natin mga pangalan, mga big time, mga top echelons of society na nabanggit sa drug matrix, ito ay matuturing na tagumpay na first phase. We will now move to second phase of the drug campaign. Si Pangulong Duterte na lang ang mag explain ng second phase na 'yun," said Andanar over state-run radio.
(If we look at the names of the big time people, those in the top echelons of society mentioned in the drug matrix, then we can consider the first phase a success. We will now move to the second phase of the drug campaign and President Duterte will explain this second phase.)
The "war on drugs," led mostly by the PNP, has resulted in the arrest of close to 13,000 drug personalities since the campaign began on July 1. As of August 31, the same police operations have resulted in the death of 900 drug suspects.
More than 600,000 drug users and pushers, meanwhile, have surrendered as a result of "knock and plead" operations by cops.
At least 1,000 apparent drug-related summary executions are still being investigated by cops. Critics have also accused President Rodrigo Duterte and his administration of waging a war that targets only the poor and spares the rich, and creating an environment that encourages extrajudicial killings. (READ: War on drugs: Slain 5-year-old buried in Dagupan)
Dela Rosa has denied those allegations, telling Rappler in a previous interview that retribution will come soon for the "high value targets" in the war on drugs – the drug lords.
On Monday, an Ilonggo businessman and his wife, alleged drug lords of Western Visayas, were gunned down by unknown assailants in Aklan. 
Duterte has played a very active role in the so-called "war on drugs."
Recently, he read a list of politicians, police, and judges with alleged links to the illegal drug trade. He told those people to report to either the interior department, Dela Rosa, or the Supreme Court to clear their name. 
The President has also accused Senator Leila de Lima, one of his harshest critics, of receiving drug money. The allegations came mere days before De Lima led a Senate probe into the spate of killings in the war on drugs. 
De Lima has denied the allegations but police from the Police Regional Office 1 have been investigating the names on Duterte's so-called drug matrix implicating De Lima. – Rappler.com