The PNP chief says he did not even discuss the idea of an extension with President Rodrigo Duterte but reckons the Chief Executive has seen that police are 'having a hard time'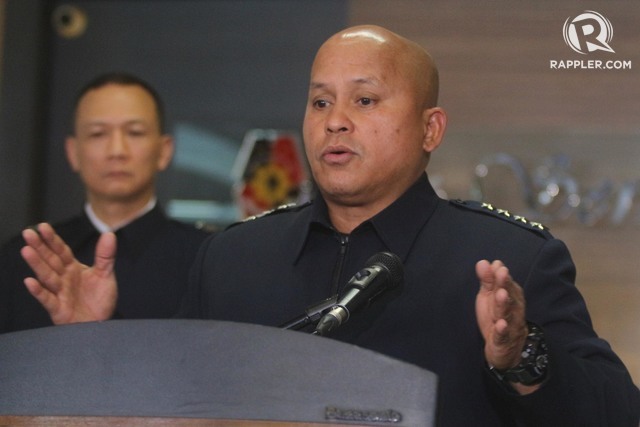 MANILA, Philippines – President Rodrigo Duterte's request for a 6-month "extension" on the "war on drugs" was a welcome surprise for Philippine National Police (PNP) chief Director General Ronald dela Rosa, who has been spearheading the police' efforts in the campaign. 
"Mas maganda [ang deadline extension] para mahuman ug tarong (The deadline extension is good so we finish this properly)," Dela Rosa told Rappler in a phone interview Sunday evening, September 18, when asked about the President's announcement.
Duterte on Sunday evening that asked for a "little extension of maybe another 6 months" at the presentation of freed Norwegian hostage Kjartan Sekkingstad in Davao City. The President, who promised to get rid illegal drugs in 6 months, also went into detail on the extent of the drug problem in the country.
Dela Rosa told Rappler that he neither asked for an extension nor broached the topic to the President. "Wala. Wala ko nangayo [ug extension] (No, I didn't ask for an extension)," said Dela Rosa, Duterte's handpicked PNP chief. 
"[Siguro] nakita [niya] na naglisod mi (Maybe he saw that we were having a difficult time)," he added.
The PNP chief said he met with the President earlier in the week but they only spoke about the spate of kidnappings in Philippine waters near Indonesia.
Thanks for extra time
"Nagpasalamat ta kay gitagaan ta'g additional time (We're thankful that we've been given additional time)," he added.
The PNP chief said, however, that the extension would not be an excuse for the police to scale down on their anti-illegal drugs efforts.
Senior Superintendent Dionardo Carlos, PNP's spokesman, said in a statement: "The PNP is focused on the task of waging war on drugs, criminality and internal cleansing as ordered by the President in the given period whether its 6 months, 1 year or 6 years. We will continue this campaign on orders by [President Duterte] and [Dela Rosa]."
Since July 1, law enforcers – PNP personnel in particular – have been at the forefront of an "invigorated" campaign against illegal drugs. 
It's a "war" that has the popular support of many Filipinos but has also drawn condemnation and concern from international circles.
As of September 18, more than 1,100 drug suspects have been killed in police operations around the country. Another 2,000 deaths – some of them, apparent extrajudicial or vigilante killings – are considered by police as "deaths under investigation." 
Dela Rosa has defended police from criticism, pointing out that those killed in police operations "fought back (nanlaban)" or endangered the lives of his men and women. The same police operations have resulted in the arrest of nearly 17,500 drug personalities. 
The PNP chief said it was the "demand" side where police have had difficulties. Aside from sting operations, police have been implementing "Oplan TokHang," a literal "knock and plead" operation to make drug users and pushers turn themselves in. 
Police knock on the doors of suspected drug users and pushers to convince them to change their ways. The lists of drug suspects typically come from local police units and local officials. The PNP chief noted that the number of "surrenderees" had stagnated over the past weeks. 
As of September 18, more than 700,000 drug users and pushers have surrendered to authorities. Police want at least 1.2 million users and pushers to "surrender" by December 2016. – Rappler.com