Senator Leila De Lima says the request for a third-party investigation is needed, as local authorities are deemed 'inadequate, compromised, or weak'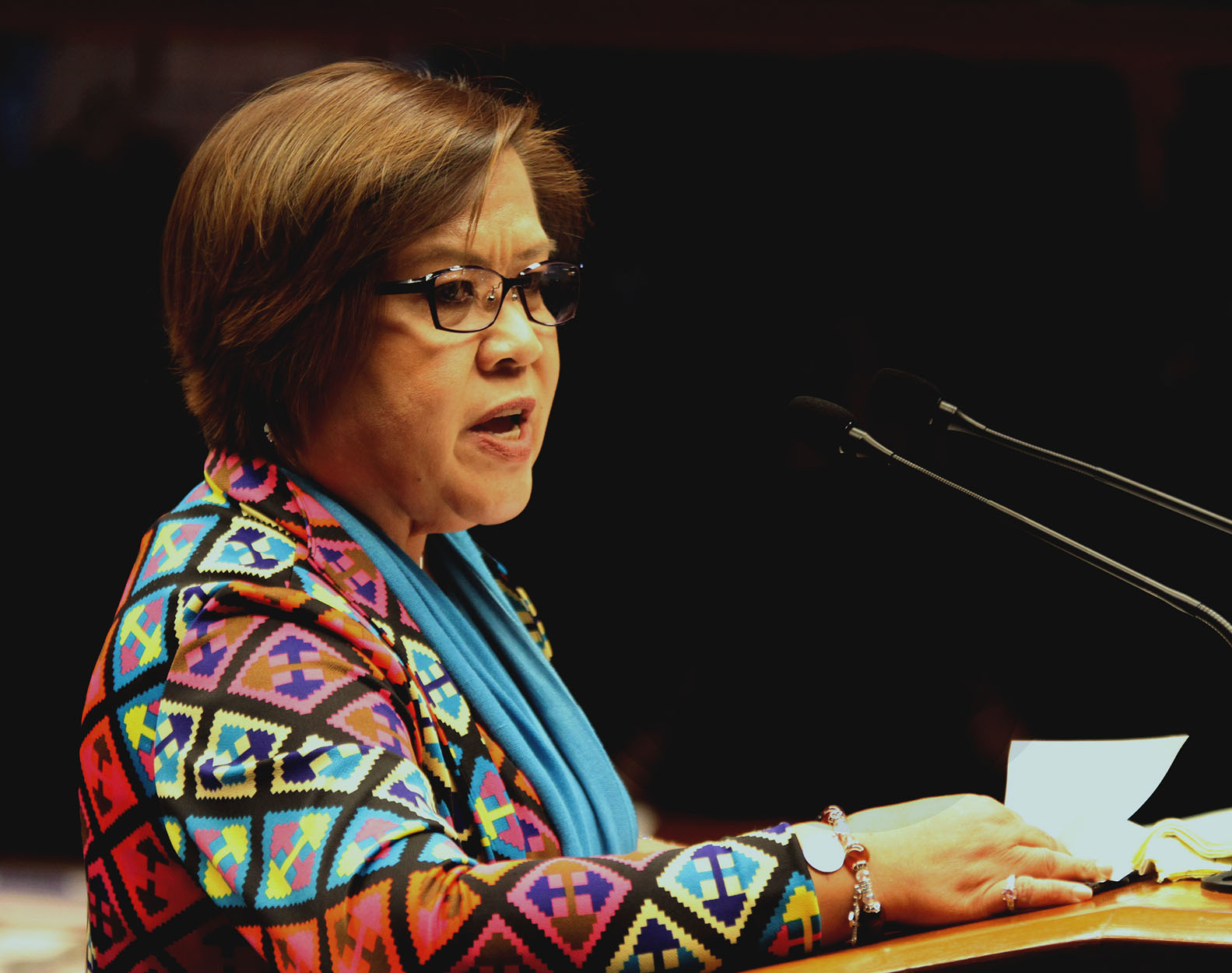 MANILA, Philippines – Neophyte Senator Leila De Lima on Wednesday, September 21, called on the Department of Foreign Affairs to invite the United Nations special rapporteur to probe the extrajudicial killings in the country under President Rodrigo Duterte.
De Lima, former chairperson of the Commission on Human Rights and justice secretary, filed Senate Resolution No. 153 urging the DFA to invite UN special rapporteur Agnes Callamard.
A third party is needed, De Lima said, to determine the "whole truth" behind the killings.
"Unless a third-party investigator comes in, there is reason to believe that we may not be able to ferret out the whole truth behind the killings, and to serve complete justice to the victims and the Filipino people," she said.
The United Nations and the European Union have expressed grave concerns over the drug-related killings in the country and have urged the government to put a stop to these killings.
"This call for a speedy and impartial investigation is justified by the perception that our local institutions of law enforcement and justice, including domestic mechanisms of accountability of public officials, appear to be either inadequate, compromised or weak," the senator said.
The fate of the resolution remains unclear to date, as Senate Majority Leader Vicente Sotto III said it would be referred to the committee on foreign relations, which is headed by Senator Alan Peter Cayetano – Duterte's staunchest ally in the chamber.
De Lima, as former justice committee chairperson, launched a Senate investigation into the matter. She was later ousted as panel head, after she presented witness Edgar Matobato, a self-confessed hitman of the Davao Death Squad, who accused Duterte of ordering killings in Davao City when he was mayor.
Obligation?
As signatory to the UN, the Philippines is obligated to conduct "prompt, impartial, and independent" probe into cases of extrajudicial killings, De Lima said. If there are questions on the government's impartiality, UN rules state that one way to conduct a probe is through a "country visit" by its special rapporteur, the senator added.
The UN's special rapporteur on summary executions earlier said Duterte's promise of immunity and bounties to security forces who killed drug suspects violated international law.
UN Secretary-General Ban Ki-moon in June also strongly criticized Duterte who, during the election campaign, promised to kill 100,000 people and dump so many bodies in Manila Bay that the fish would grow fat from feeding on them. (READ: UN human rights experts urge PH to stop drug-related killings)
Duterte, in response to the UN, threatened to leave the international body but later claimed it was just a joke. (READ: Philippines 'not leaving' UN amid Duterte threat)
Duterte also earlier invited Callamard to a public debate but retracted it later on. – Rappler.com