'After all these years, why are they only killing each other inside just now? The intended resource persons of the committee on justice were targeted,' says Speaker Pantaleon Alvarez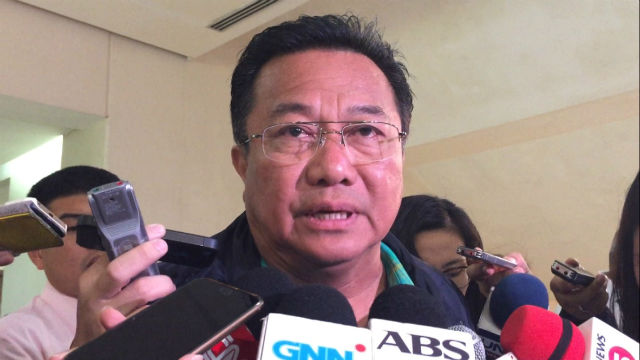 MANILA, Philippines (UPDATED) – Speaker Pantaleon Alvarez is suspicious of a riot that erupted among inmates at the New Bilibid Prison (NBP) on Wednesday, September 28, saying it may derail the ongoing House probe into the national penitentiary. 
"Well, that is sad because apparently, there are forces na ayaw na mag-testify 'yung si Jaybee Sebastian. And tingnan natin 'yung motibo, kung sino 'yung ayaw na malaman siguro 'yung katotohanan (there are forces who don't want Jaybee Sebastian to testify and we'll look for the motive, for the person who may not want the truth to come out)," said Alvarez. 
Alvarez based his suspicion on what Justice Secretary Vitaliano Aguirre II himself said were "sketchy, initial reports" regarding the death of high-profile NBP inmate Tony Co and the wounding of 4 others following a riot at Building 14, where other high-profile convicts are housed.
Based on Aguirre's statement in various media interviews Wednesday morning, Sebastian was hurt after another inmate, retired police Chief Inspector Clarence Dongail, went to Sebastian's cell after the latter called out Tony Co, Peter Co, and Vicente Sy for using shabu at Peter Co's cell.
Tony Co, who ended up dead, was reportedly the one who went to Sebastian's cell to attack Dongail. It was not clear how the other two inmates – Peter Co and Sy – got hurt as they were supposed to be in another cell.  Dongail was hurt, but did not want medical treatment outside Bilibid, Aguirre said.
The House is conducting an investigation into the proliferation of drugs in the NBP when Senator Leila De Lima was still justice secretary.
During the hearings, Sebastian was accused of helping De Lima raise funds for her 2016 senatorial campaign through Bibilid drug money.
De Lima has repeatedly dismissed the House investigation, calling it a "sham inquiry." She had also said that Sebastian was a government asset. 
On Wednesday, the senator scoffed at Alvarez's insinuation that she had something to do with the alleged riot. (Watch her press conference on Rappler)
'Not normal prison riot'
Alvarez, however, doubts that the incident at the NBP on Wednesday morning was just a normal prison riot. 
"I don't think so. Kasi, bakit naman of all those years eh bakit ngayon lang sila magpapatayan diyan sa loob? Targeted pa 'yung intended resource persons noong committee on justice," said Alvarez.
(I don't think so. After all these years, why are they only killing each other inside just now? The intended resource persons of the committee on justice were targeted.)
The House panel already plans to subpoena the following individuals for the next hearing on October 5:
Jaybee Sebastian
Ronnie Dayan, De Lima's former bodyguard and driver with whom she allegedly has an affair, and her alleged bagman
Jonel Sanchez, De Lima's bodyguard and alleged bagman
Franklin Jesus Bucayu, former Bureau of Corrections chief 
Reginald Villasanta, former Presidential Anti-Organized Crime Commission executive director
Alvarez reiterated that the House of Representatives, composed mostly of allies of President Rodrigo Duterte, is not out to condemn De Lima.
"Itong investigation na ginagawa natin sa Kongreso madalas nami-misinterpret na we are trying somebody. Kaya nila sinasabi 'yung mga hearsay rule. Alam niyo, 'di naman tayo nagpo-prosecute ng individual dito eh! Wala tayong prino-prosecute. This is not a criminal proceeding," said Alvarez.
(This investigation we're doing at the House of Representatives is often misinterpreted that we are trying somebody. That's why they're mentioning the hearsay rule. We're not prosecuting anyone here. This is not a criminal proceeding.)
De Lima is one of the staunchest critics of the President, leading a Senate investigation into the rising extrajudicial killings as Duterte wages war against drugs. 
De Lima has since been ousted as Senate committee on justice and human rights chairperson and was replaced by Senator Richard Gordon. She remains as a member of the committee. (READ: De Lima says Duterte plotted her ouster) 
According to Alvarez, he already told the House committee on justice chairperson, Oriental Mindoro Representative Reynaldo Umali, to refrain from recommending the prosecution of any individual once they finish the hearings and craft the committee report. 
"Ang kinakailangan natin dito ay maglabas tayo ng isang panukalang batas kung saan ma-address natin 'yung problema sa [New] Bilibid Prison (What we need is a law that would address the problem at the NBP)," said Alvarez. – Rappler.com