'I don't talk to criminals. He can go to the fiscal if he wants,' says President Rodrigo Duterte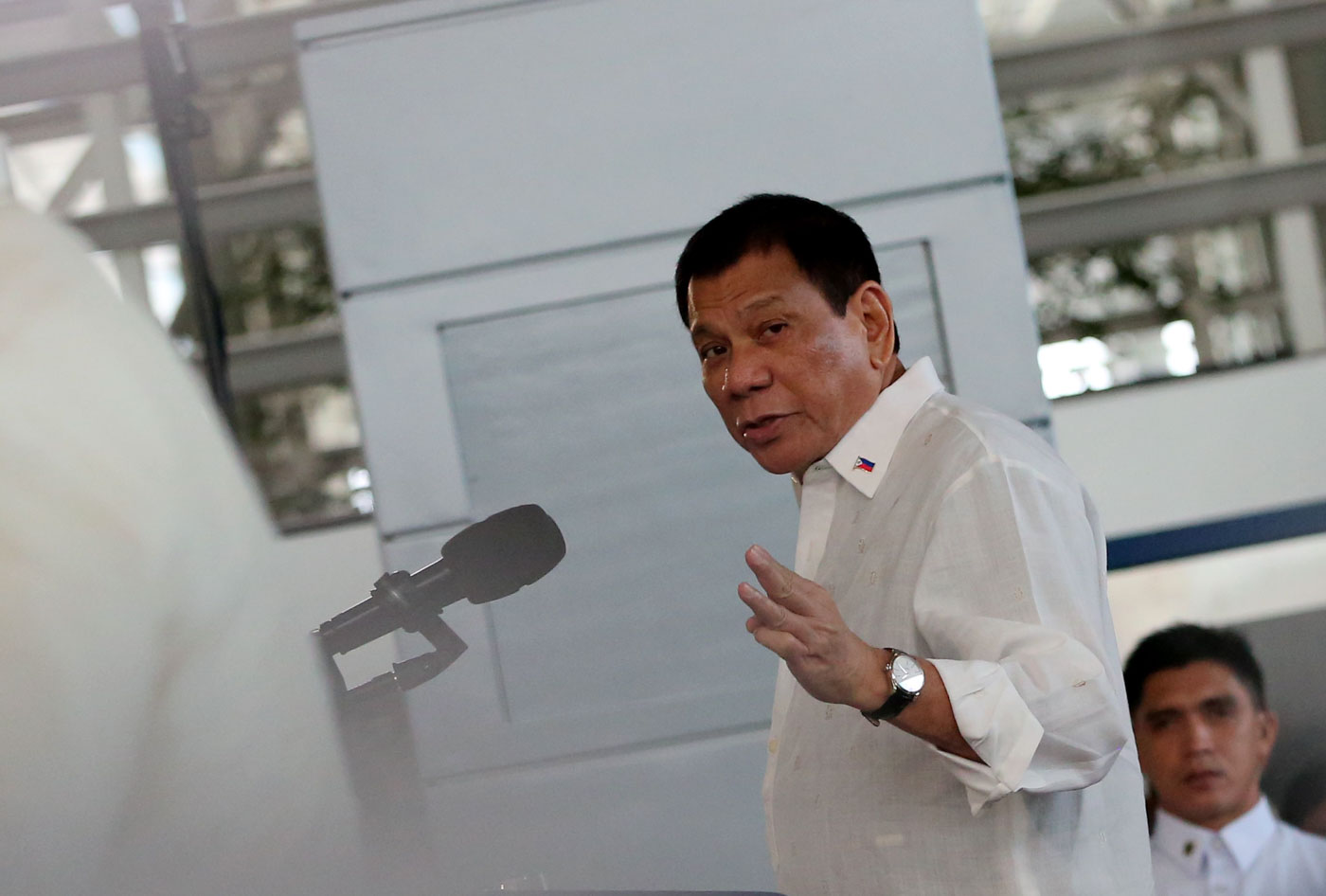 MANILA, Philippines – President Rodrigo Duterte early Friday, September 30, rejected a proposed meeting with Jaybee Sebastian, who promised to divulge only to the Chief Executive what he knew about the drug trade at the New Bilibid Prison.
"I do not talk to criminals. He can go to the fiscal if he wants," Duterte said in response to questions at a news conference in Davao City following his arrival from Vietnam, where he had a two-day official visit.
The President was asked if he would agree to meet with Sebastian who, his lawyer had said, wants to talk about the Bilibid drug trade with no one else but Duterte.
Duterte said people dealing with drugs simply "asked for it" when they got into the illegal trade.
"Sinasabi ko hiningi ninyo lahat 'yan eh (I'm saying, you asked for it)….I said be careful of what you wish for or what you want because you might get it," he said.
"Dreaming of money…at the expense of your fellow human beings. It will come. As always, the comeuppance and the law of karma, I assure you, that is a very valid universal statement," Duterte added.
Sebastian's lawyer, Eduardo Arriba, had said that Sebastian would only talk to the President. He does not want to appear at the House inquiry into the alleged proliferation of Illegal drugs at the national state penitentiary when Senator Leila de Lima was justice secretary.
Justice Secretary Vitaliano Aguirre II had in previous media interviews that he wants Sebastian to appear at the House probe as he believed that he could directly link De Lima to Bilibid drugs. Sebastian, however, wanted to limit his testimony to the alleged irregularities in food supply at the state penitentiary.
Sebastian's decision to speak up, at least to the President, comes days after a "riot" at the Building 14 of the Bilibid where one inmate, Tony Co, was killed and 4 others, including Sebastian, were hurt. Sebastian, Peter Co, and Vicente Sy are recuperating at a Muntinlupa hospital.
De Lima alleged on Wednesday that the incident was instigated by the Duterte administration to threaten inmates who refused to testify against her.
Witnesses, mostly convicts, had testified before the House committee on justice that Sebastian allegedly collected drug money at the Bilibid to fund the senatorial campaign of De Lima.
A convict had told the House panel that Sebastian, convicted for carnapping, was a feared, powerful figure in Bilibid because of his alleged links to De Lima. The embattled senator, who is at the center of the House probe, had denied the allegations and said Sebastian was a government asset.
De Lima had also said Sebastian and another inmate who testified at the congressional inquiry, Herbert Colanggo, are rivals inside the Bilibid. – Rappler.com