This is AI generated summarization, which may have errors. For context, always refer to the full article.
The bill, which covers all branches of government, seeks to mandate the disclosure of public documents on government websites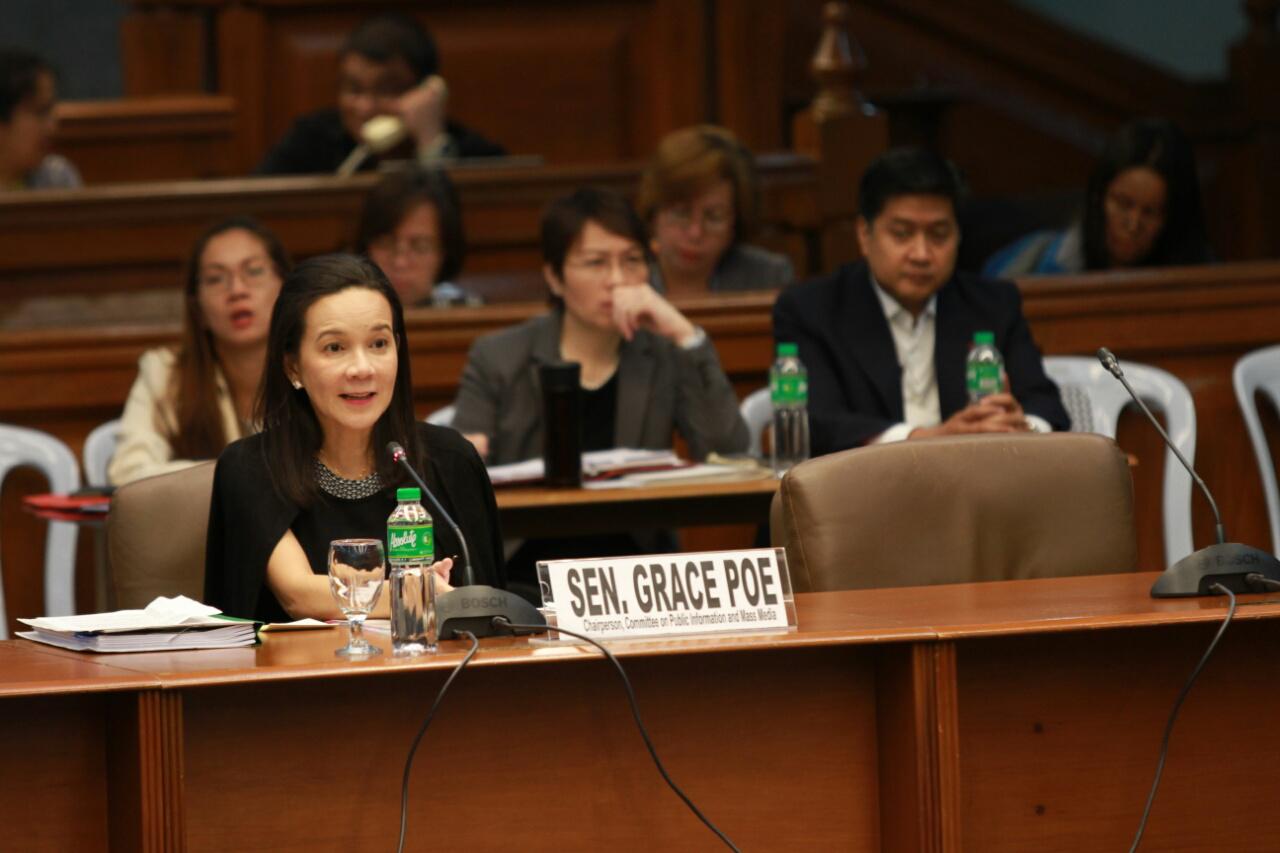 MANILA, Philippines – After only two hearings in one month, the Freedom of Information (FOI) bill covering all branches of government is now up for plenary debates in the Senate, bringing it a step closer to becoming a law.
The Senate committee on public information and mass media, headed by Senator Grace Poe, has submitted Committee Report No. 3 on Tuesday, October 18, on Senate Bill 1208 or the People's Freedom of Information Act. The measure was consolidated from 14 bills filed by senators.
In her sponsorship speech on Tuesday, Poe cited the "billions of pesos" lost to corruption over the years that could have been stemmed through an FOI law.
"In the quarter-of-a-century during which this measure was in limbo, the scandals that rocked our nation had always involved infidelity in the custody of public funds….If there's one costly lesson we have learned from our past, it is this: Secrecy corrupts, and absolute secrecy corrupts absolutely," she said.
In a statement, Poe expressed appreciation for the Duterte administration's "keen push" of the FOI bill "that would effectively make transparency, accountability and integrity as yardsticks in government performance."
"We remain confident that we will pass this FOI in the present Congress because our citizens cannot afford to wait any longer to fully exercise their constitutionally guaranteed right to access critical information," she added.
Under the Senate bill, every Filipino has a right to be given access to any public information. This right, however, is not absolute as government is not allowed to release information that would compromise national security, defense, law enforcement operations, foreign relations, trade and economic secrets, and constitutional rights to privacy and safety.
The measure covers all branches of government – executive, legislative, and the judiciary. Violators would face imprisonment of one month to not more than 6 months, and a fine ranging from P10,000 ($207.63) to P100,000 ($2,076).
Those who would "willfully destroy or sell documents" requested under the law would pay a fine of at least P500,000 to P1 million and/or imprisonment of 5 to 15 years.
In previous Congresses, the Senate also swiftly approved the FOI bill, but it got stuck at the House of Representatives, whose members have historically pushed for the inclusion of the right of reply provision. At present, the House bill is still at the committee level. (READ: Who are against the FOI bill?)
President Rodrigo Duterte earlier signed an FOI executive order, but with a long list of exceptions. (READ: Draft FOI manual includes list of 166 exceptions)
It remains to be seen if the House filled with Duterte allies and supporters are keen to pass the measure that would allow public scrutiny of their engagements. (READ: Freedom of Information law: will it pass under Duterte?)
Mandatory release of information
SB 1208 mandates the disclosure of the Statements of Assets, Liabilities, and Net Worth (SALNs) of top officials such as the President, Vice President, members of the Cabinet, members of both chambers of Congress, Supreme Court justices, members of constitutional commissions or offices, and officers of the Armed Forces of the Philippines with general or flag rank.
This is contrary to the EO's draft manual, which prohibits the disclosure of SALNs if the purpose is "contrary to morals or public policy" or for any commercial purposes other than by news and communications media "for dissemination to the general public." (READ: Poe urges Palace to reconsider 'restrictive rules' in FOI order)
It also requires all government offices to upload on their regularly updated websites public documents and transactions.
The newly-established Department of Information and Communications Technology is tasked to monitor and support all government websites. The DICT should also set standards for file formats to be used by government agencies.
The documents required to be posted on government websites are the following:
Annual agency budget

Itemized monthly collections and disbursement

Summary of income and expenditures

Component of the Internal Revenue Act utilization

Annual procurement plan and procurement list

Updated plantilla of positions and vacant positions with qualifications and requirements

Items to bid

Bid results on civil works and goods and services

Abstracts of bids as calculated

Procurement contracts entered into by a government agency

Construction or concession agreements entered into with any domestic or foreign person or entity

Private sector participation agreements or contracts in infrastructure and development projects

Public funding extended to any private entity

Bilateral or multilateral agreements and treaties in trade, economic partnership, investments, cooperation, among others

Licenses, permits or agreements granted by any government agency to any person or entity for the extraction or utilization of natural resources

Guarantees given by any government agency to any government-owned or controlled corporations (GOCCs) and to private corporations, persons, or entities

Loans from domestic and foreign financial institutions

Loans, grants, development assistance, technical assistance, and programs entered into by a government agency with public and private aid agencies or institutions

Compromise agreements entered into by a government agency with any person or entity.
The bill also seeks to mandate all government agencies to prepare FOI manuals to inform the public on procedures involved in getting the needed information.
Here is the full committee report:
FOI Committee Report by Rappler Philippines on Scribd
– Rappler.com
US$1 = P48.14