As the Philippines mulls shifting to federalism, global experts gather in a forum in Makati to share the challenges of federalism in their countries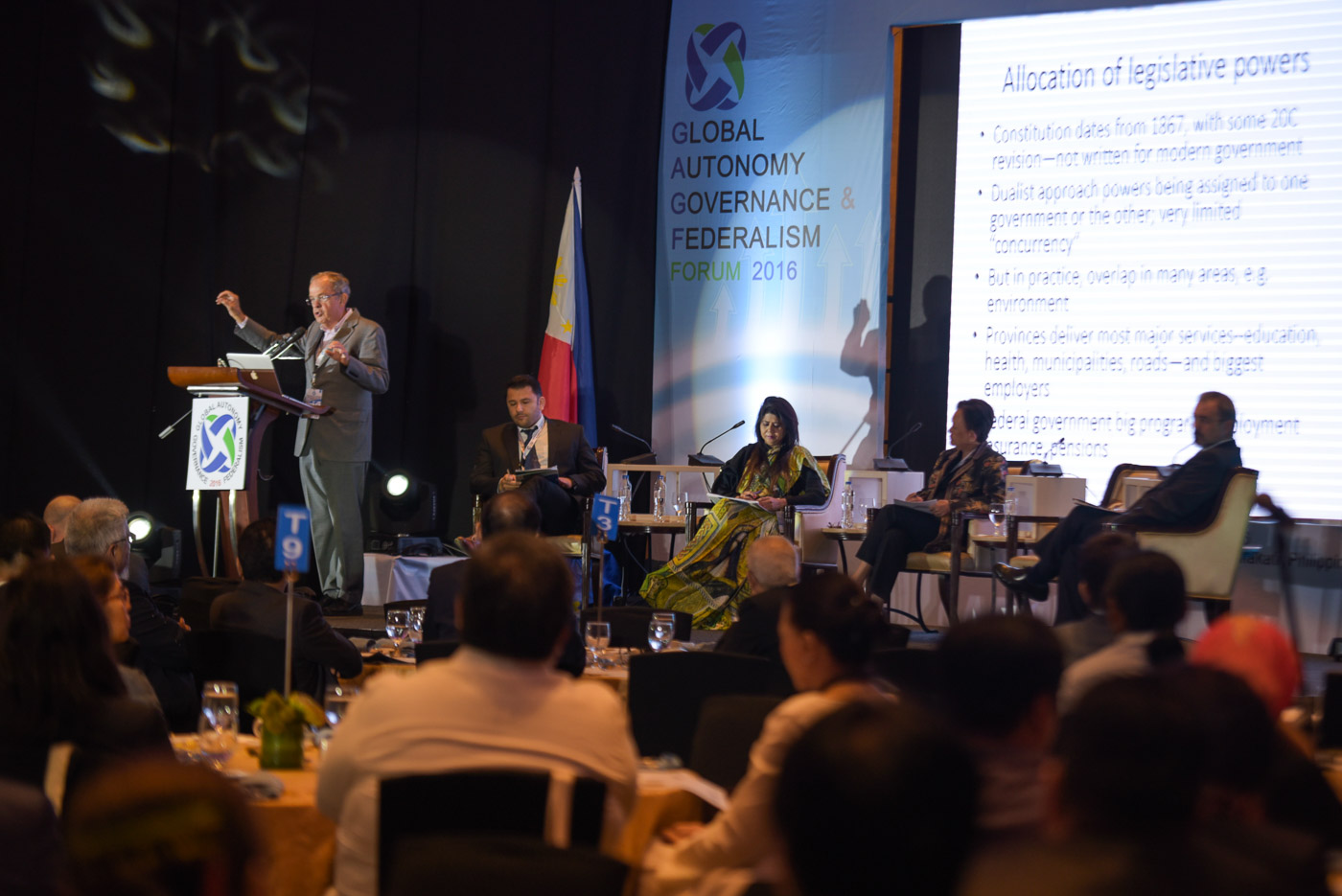 MANILA, Philippines – Global experts gathered in Manila on Wednesday, October 19, generally recommended further "decentralization" of the country's unitary government, but were not ready to say if the way to do it is through federalism, which President Rodrigo Duterte is pushing for. 
Federalism transfers powers from the central government to the regions or states. Duterte, during the campaign period, proposed that regions should keep 70% of their income and be able to decide what programs to fund. 
But federalism also has its challenges, said speakers at the Global Autonomy, Governance, and Federalism Forum (GAGF) 2016 in Makati City who shared lessons from their country experiences. 
The speakers on the first day of the two-day conference pointed out that regions can be empowered or become autonomous within the Philippines' current unitary form of government.
"We're not promoting our own system of government. Australians will tell you being a federal state brings challenges and frustrations. Australia would rather recognize appropriate autonomy and good governance are central to lasting peace and prosperity in the Philippiines, particularly in Mindanao," said Australian Ambassador to the Philippines Amanda Gorely in her keynote speech.
"Whether it is autonomy, federalism, or decentralization, it's about self determination of people in areas where they live. Whether a country is big or small, diverse or homogenous, what is good for regions is good for country over all," said Benedikt Seemann, country director of the Konrad Adenauer Stiftung (KAS), a German political party foundation.
As the global experts gathered in Makati, the House committee on constitutional amendments on Wednesday voted to change the charter through a Constitutional Assembly. It means members of Congress will be the ones to amend the Constitution. 
What is the intent?
United Kingdom Ambassador to the Philippines Asif Ahmad said Duterte might reassess his position on federalism after realizing how much reform he can implement with the powers of the presidency.
"It was very appealing for Mayor Duterte when he was simply a politician of Davao to say the idea of decentralization and devolution of power down to his level would be truly effective and make progress in his city. Perhaps sitting in Malacañang – where one can do things – he might have a slightly different view," Ahmad said during the forum. 
The UK envoy said the Philippines should be clear about its intent and should not get stuck with models. If the only intent is to spread resources equitably in regions, Ahmad said there are mechanisms to do this without amending the Constitution. 
"I would not pass value judgment if [federalism] is a good thing or a bad thing. What I'm simply saying is any design has its implications, limitations, and scope. No system will work if intent is not clear," he said.
The UK is a union of England, Wales, Scotland, and Northern Ireland. Power in UK politics used to be heavily centralized in Westminster in London, England, but it has devolved in the past decade some powers – in various formulas – to the 3 other nations. 
Gareth McGrath, parliamentary services director at the Northern Ireland Assembly, said local government units might not want all powers devolved to them. Air traffic control, for example, is a responsibility that small LGUs might not be ready to accept. 
"There is no ideal model of federalism. It has to take account local conditions, local values, and local circumstances," said McGrath. 
Federalism and the Bangsamoro
Federalism is also believed to address constitutional concerns in the proposed creation of a Bangsamoro region in Mindanao which has more powers than the current Autonomous Region in Muslim Mindanao (ARMM).
The creation of the proposed Bangsamoro region is the implementation of a peace deal between the Philippine government and the Muslim rebel group Moro Islamic Liberation Front (MILF). 
But Benedicto Bacani, conference chair and executive director of the Philippine foundation Institute for Autonomy and Governance (IAG), said formulas for local autonomy should be distinct from the "special autonomy" that is required for the situation in the ARMM.
"Local autonomy for LGUs and special autonomy for the ARMM are two distinct political regimes," Bacani said. 
The MILF during the forum called on Duterte to honor his pronounced commitment that passage of a law creating a Bangsamoro region will precede efforts to turn the country into a federal system. (READ: Federalism? Bangsamoro law first, MILF tells Duterte)
In Indonesia, Edward Aspinali of the Australian National University said, "special autonomy" worked to resolve conflict in Aceh. But federalism is not a popular proposal in the country of about 250 million people.
What worked in Aceh, he said, was that the rebel group was allowed to form a political party and has since dominated local politics. The MILF has been doing the same transition. 
The forum was not organized to advocate for or against federalism, said Bacani.
"GAGF seeks to broaden, refine, and sharpen our frame of analysis of decentralization in the Philippines, local autonomy for LGUs, special autonomy for Mindanao, and federalism," Bacani said. – Rappler.com