'This region (NIR), which supported the Vice President greatly, this is very troubling for us,' says Senator Paolo Benigno Aquino IV, the campaign manager of Vice President Leni Robredo, in Bacolod City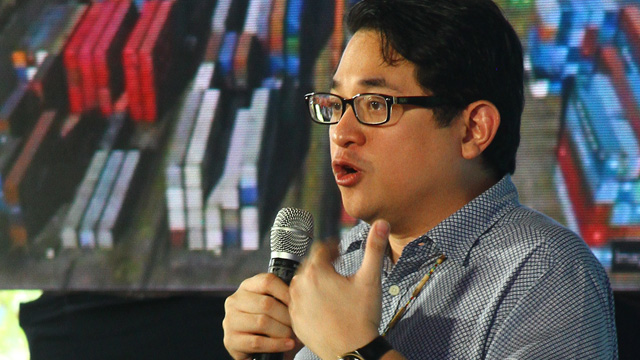 BACOLOD CITY, Philippines – Senator Paolo Benigno Aquino IV criticized President Rodrigo Duterte's introduction of former senator Ferdinand Marcos Jr in China as the Philippines' new vice president, should he win the poll protest he lodged against Vice President Leni Robredo.
For Aquino, Robredo's campaign manager in the 2016 polls, such a remark from the President is nothing but "troubling."
"Personally, as somebody who supported the Vice President (Leni Robredo), it is troubling for me. This region (Negros Island Region), which supported the Vice President greatly, this is very troubling for us," Aquino told reporters here on Thursday, October 20.
Senator Aquino also belongs to the family whose members were among the high-profile victims of former president Ferdinand Marcos' regime. He is the cousin of former president Benigno Aquino III.
On Wednesday, October 19, Duterte said before the Filipino community in Beijing, China that Marcos – who joined Duterte's state visit with his sister Ilocos Norte Governor Imee Marcos – would likely be the new vice president if he wins the election protest against Robredo. 
"Si Bingbong, ah si Bongbong…Kung manalo siya sa protest niya baka bago ang ating bise presidente," said Duterte as the Filipino audience clapped and cheered loudly for Marcos.
(Bingbong, I mean Bongbong…If he wins in his election protest, maybe we will have a new vice president.)
'Let us be vigilant'
Senator Aquino said the possible recount could endanger Robredo's post, adding that it should be "closely watched."
"We don't want our votes to be stolen. This is a call for us to be vigilant," he said.
Robredo won over Marcos by a small margin, and the latter protested Robredo's victory, claiming it was a product of poll fraud. (READ: Robredo vs Marcos: The long and winding road to the vice presidency)
Duterte, citing his friendship with the Marcoses, initially postponed giving Robredo a Cabinet position. He later appointed her as housing czar.
Duterte frequently mentions his friendship with the family, even thanking Imee for being among the few governors who supported his presidential bid. He even said the latter was among his campaign donors, although he did not declare this in his Statement of Contributions and Expenditures (SOCE).
The Ilocos Norte governor, for her part, denied contributing money for Duterte's campaign and said the President was just joking. – Rappler.com