The wife of JR Rosales comes home from the UK. A close relative says the death is 'devastating' for them.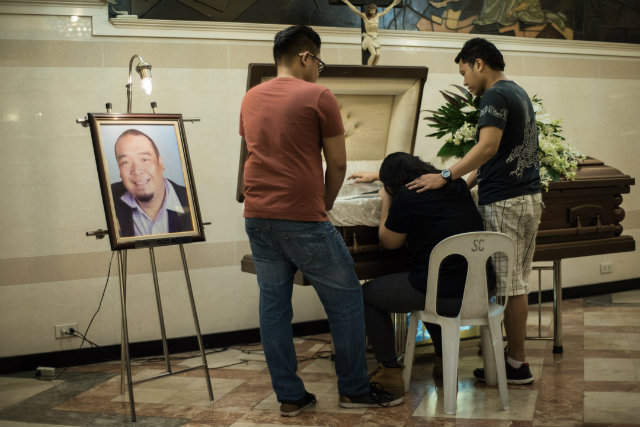 MANILA, Philippines – Queenie Rosales, a nurse in the United Kingdom, arrived in the Philippines on Thursday night, October 27, to see her husband whom she had not seen in 3 months. Only that he lay dead in a coffin, a day after he was shot by a gunman at close range.
It was the first day at the wake of Petronio "JR" Rosales, and his wife sobbed and cursed as she embraced his casket. 
"It's devastating for my family," said Rex de Guzman, a close relative of the Rosaleses. "We're in shock."
JR and Queenie had been together in the UK only a few months ago, when he decided to join her there.
But in July, JR's only sibling, Lauren Rosales, was shot dead as she was boarding a jeep in Makati to go to work. A man fired 3 bullets at her back. JR returned to Manila to help fix Lauren's social security papers. But last Wednesday, October 26, while waiting for a ride outside a bar in Makati, 2 men aboard a motorcycle arrived at the scene, one of them opening fire at JR and killing him on the spot.
Their mother remained in a state of shock, constantly weeping at the wake. (READ: Remember Lauren Rosales? Her brother JR is dead too)
"The pain is just too much that you can't feel it anymore," said De Guzman. "I'm not sure if we've gotten used to it. We are angered. We are deeply saddened."
But beyond the pain, there's palpable fear in the family.
"We're also scared for our own lives because we don't know who the enemy is, who masterminded all of these," De Guzman said. "That's the scariest part. Who knows if it could just be one of those who sympathizes with us? Someone who's here now?"
Ongoing investigation
According to the spot report released by the Makati City Police Station, JR and a friend were waiting for their Uber service when 2 men riding a motorcycle approached their position. The back rider, armed with a handgun, shot JR in the head.
The suspects escaped and headed towards Chino Roces Avenue. Police Senior Inspector Gerald Villar of the Scene of the Crime Operatives Southern Police District  recovered 1 fired cartridge case believed to be from a caliber 45 caliber pistol.
Task Force Rosales has been created to investigate the murder of the two siblings.
De Guzman said they're grateful that a task force is focused on the cases. "For these two murders are an insult to the police themselves. According to them, it's one of the unsolved cases here in Makati. So, these two murders put into jeopardy the law and order that our police are sworn to uphold."
In a separate statement, Makati Mayor Abby Binay gave a commitment to personally monitor the progress of police work in the "disturbing and brazen" killing of the Rosales siblings.
"The city government is committed as it has been from the start, to provide our law enforcement authorities all the help and resources they require. We expect no less than professional and efficient public service," Binay said. – with reports from Khristine Montenegro and Patricia Evangelista/Rappler.com