(UPDATED) When asked if President Rodrigo Duterte instructed him to make the trip to China, Senator Alan Peter Cayetano tells Rappler, 'I cannot say'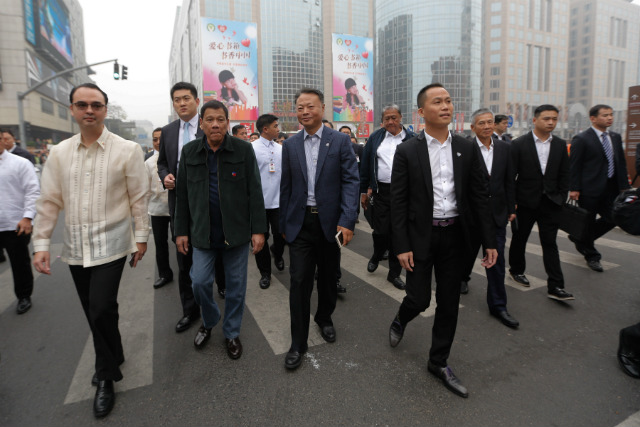 MANILA, Philippines (UPDATED) – Outgoing US Ambassador to the Philippines Philip Goldberg revealed on Tuesday, October 25, that Senator Alan Peter Cayetano made an "unpublicized" trip to China to start a "process" that led to multibillion-dollar deals with Beijing.
In an interview with journalist Karen Davila on ANC's Headstart, Goldberg said Cayetano traveled to China in June along with now Transportation Secretary Arthur Tugade. 
Cayetano was Philippine President Rodrigo Duterte's defeated running mate in the May 9 elections. Duterte earlier said he is eyeing Cayetano to become secretary of foreign affairs.
"I actually wasn't all that surprised," Goldberg said, when asked if he was surprised that Duterte, along with a huge business delegation, bagged $24 billion worth of deals from China.
Goldberg explained: "I do know that the Chinese ambassador and others in the Chinese business community were visiting President-elect Duterte quite often in the month of June."
Chinese Ambassador Zhao Jianhua visited Duterte at least twice before the President took office on June 30. Zhao first visited Duterte in May, when he delivered to Duterte a letter from Chinese President Xi Jinping. He visited him again less than a month later.
Goldberg added: "I also know, and I don't think this has been revealed publicly, but I know that Senator Cayetano, President Duterte's running mate, made an unpublicized trip to China in June along with Secretary Tugade, and so all of this was actually in train, I think, and so there were already discussions going on."
Backdoor negotiations?
"So it pre-dates a lot of the…discussion about us and our involvement and where we stood in all of this. As I say, I don't think Senator Cayetano's role was fully known publicly but he was actually starting this process way back in June," Goldberg said.
When asked if it is fair to describe this as "backdoor negotiations" with China, Goldberg answered: "I guess that's what you'd say. I don't really know because it was never explained publicly, but it's something that now is well known if not having been made public."
Cayetano on Tuesday confirmed that he went to China in June. When asked if Duterte instructed him to do this, Cayetano told Rappler, "I cannot say."
Tugade, for his part, said in a text message to Rappler on Tuesday: "If it is true that Amb. Goldberg said that, then the fabled American 'intelligence network' has miserably failed again. Tsismis 'yan!! (That's gossip!) I was never in Beijing in June!! Want proof? You can always examine my passport any time."
Cayetano and Tugade joined Duterte in his state visit to China from October 18 to 21. 
A political party source earlier told Rappler that Cayetano indeed led a delegation to China in June. The US learned about it and was upset, the source said. 
The US also reportedly knew that Duterte had invited Chinese Foreign Minister Wang Yi to his inauguration on June 30. This did not happen, but the information did reach the embassy, Rappler's source said.
Duterte is boosting ties with China as he moves away from the US, which he has criticized for its supposed hypocrisy and interference in domestic affairs. (READ: US' top Asia diplomat: Don't choose between America, China) 
This comes as the Philippines and China remain embroiled in a dispute over the West Philippine Sea (South China Sea). Experts fear that China's commercial incentives could make the Philippines concede its rights over the disputed waters. – with reports from Pia Ranada/Rappler.com