US Assistant Secretary of State Daniel Russel also finds hope in Filipino youth leaders as tensions rise between Manila and Washington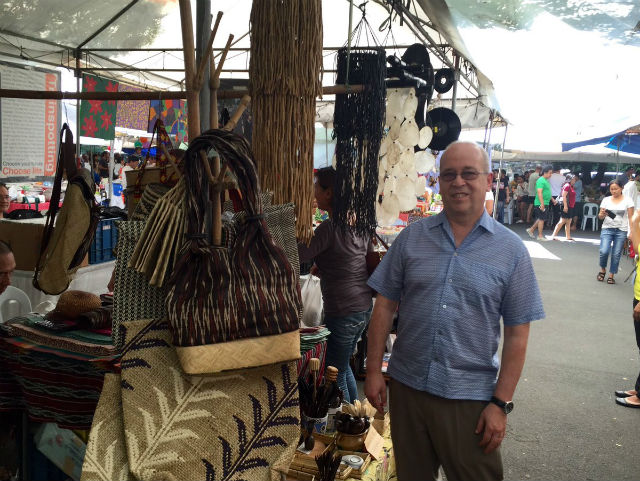 MANILA, Philippines – Facing tensions caused by Philippine President Rodrigo Duterte, the top US diplomat for East Asia found time to unwind before his meetings in Manila this week.
"I love the Philippines," US Assistant Secretary of State Daniel Russel told reporters on Monday, October 24, as he stressed the "deep wellspring of respect and affection" between Manila and Washington, despite Duterte's anti-US tirades. 
Russel's activities on Sunday, October 23, showed his softer side as a diplomat before he faced Philippine officials on Monday to raise a host of concerns about Duterte.
These issues include Duterte's "hurtful and mystifying" anti-US tirades as well as the spate of extrajudicial killings in the Philippines.
Russel, the US Assistant Secretary of State for East Asian and Pacific Affairs (EAP), was in Manila until Tuesday, October 25, for a series of meetings to clarify Philippine-US ties.
Russel, for one, said he visited the Legazpi Sunday Market in Makati City on Sunday.
Calling Russel by his nickname Danny, the EAP Bureau said on its Twitter account (@USAsiaPacific), "Danny's kids will be pleased to see these #Manila Christmas markets have him already thinking about the holidays."
Russel also watched a University Athletics Association of the Philippines (UAAP) game between De La Salle University and the University of Santo Tomas.
On top of these, Russel spoke with Young Southeast Asian Leaders Initiative (YSEALI) participants "about their projects as well as the enduring bonds between the US and the Philippines."
"This is such a young country. There is so much ambition, so much opportunity, and such a deep sense of responsibility, including and particularly on issues relating to the environment," Russel said in a roundtable discussion with Filipino journalists on Monday.
To show his affection for the Philippines, Russel even spent the first 5 minutes of his meeting with reporters on Monday by recounting the fun part of his Philippine trip.
Referring to a Filipino dessert made of fruits and shaved ice, he said: "I also had a chance to try halo-halo, which is pretty awesome. Philippine food is something that is really happening now in the United States."
"And probably the most important thing I accomplished yesterday was making it to a Christmas market," he told reporters. "I'm not going home empty-handed."
Russel on Sunday got a taste of what outgoing US Ambassador to the Philippines Philip Goldberg described as the warmest and friendliest people he has met. 
The US, however, said "unnecessary uncertainty" is clouding relations between Manila and Washington as Duterte repeatedly lambasts the US over its supposed hypocrisy and interference in domestic affairs. – Rappler.com