The President says Verzosa's Miss International 2016 win makes Filipinos proud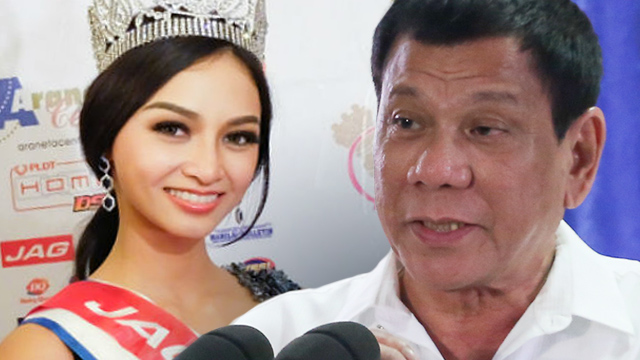 MANILA, Philippines – President Rodrigo Duterte congratulated newly-crowned Miss International 2016 Kylie Verzosa for her victory on Thursday, October 27.
Upon his arrival at the Davao International Airport on Thursday night, Duterte said he would like to meet the beauty queen.
"I'd like to congratulate the Miss International. Mabuhay ka at (May you live long and) I'd like to meet her just to congratulate her personally," he said.
Duterte had just come from Japan, the same country where the Miss International 2016 pageant was being held. The event coincided with his 3-day official visit. In fact, Verzosa and Duterte were able to meet each other there.
The Philippine President said he feels "happy" about Verzosa's win because it gives Filipinos something to be proud of.
"I am always happy if our beautiful women win all the titles because we are Filipinos," he said in a mix of English and Filipino.
"It gives us – kaonting hambog (a bit of pride). Parang mayabang tayo na, o kita mo, magaganda ang maraming Pilipina (We can be proud and say, see, many Filipinas are beautiful)," he said.
But he couldn't help taking a jab at his critics.
"Pero iyong lahat kayo diyan sa Human Rights Commission mga pangit," he said. (But all of you from the Human Rights Commission are ugly.)
Past and present members of the Human Rights Commission, like current Chairperson Chito Gascon and former chairperson Leila de Lima, have been critical of Duterte's approach to crime, blaming him for human rights violations and extrajudicial killings.
Verzosa is the 6th Filipina to win the Miss International title. – Rappler.com