The senator likewise scoffs at the House minority opinion on the probe into her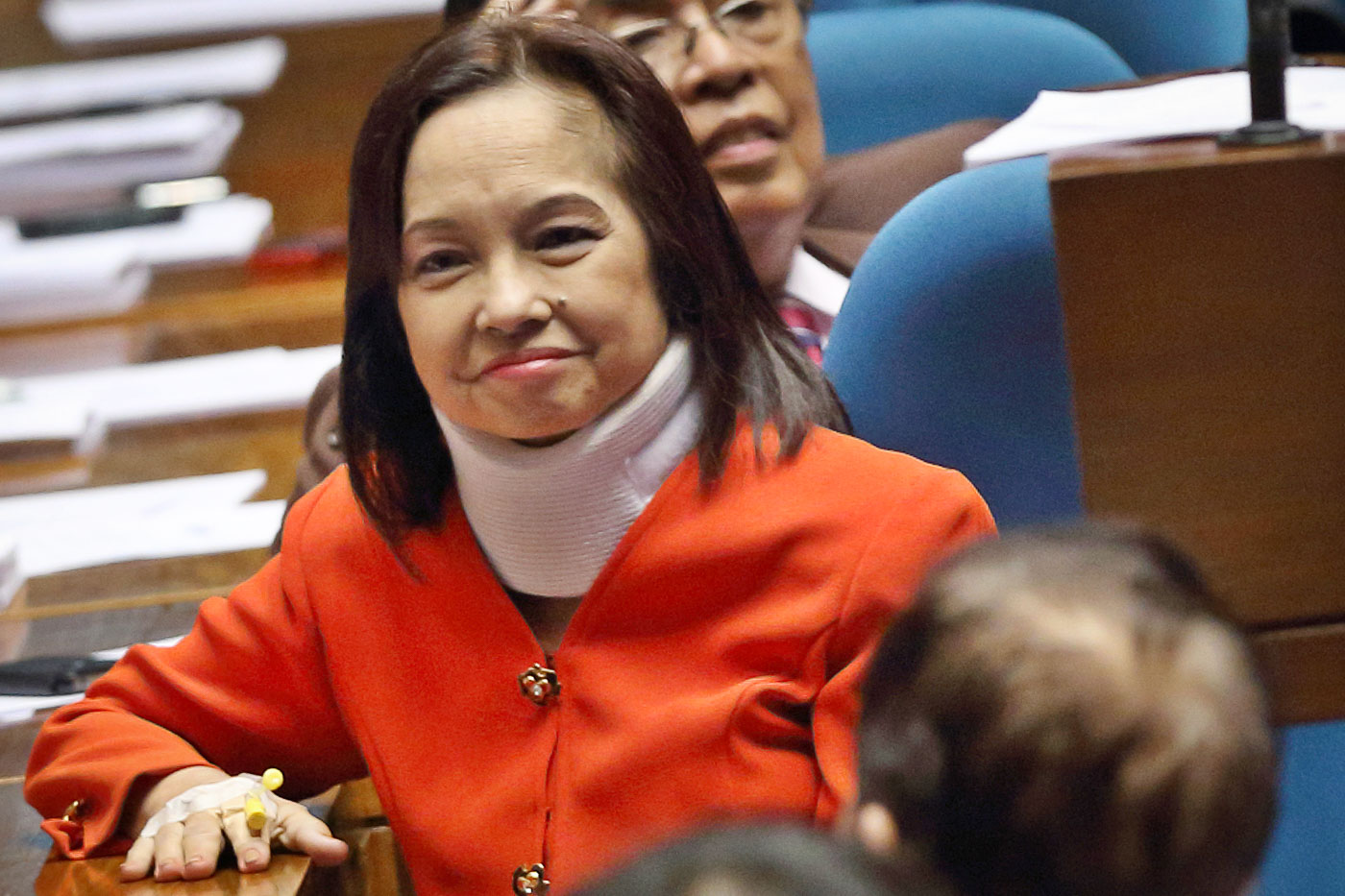 MANILA, Philippines – Senator Leila de Lima said former Philippine president Gloria Macapagal-Arroyo is among those behind the attacks against her, citing Arroyo's "alliance" with President Rodrigo Duterte.
At the Kapihan sa Senado on Thursday, October 27, the senator recalled Duterte's statements in China, when he said that De Lima would suffer the same fate as Arroyo, who was put under house arrest for plunder under the previous administration.
Duterte said that because they're now allies, De Lima said. "Dahil magkakampi sila ngayon."
Asked if she considered Arroyo as among the groups now working against her, De Lima said: "I think so," citing the fact that one of Arroyo's favorite generals, retired general Hermogenes Esperon Jr, is currently the National Security Adviser. "Analyze all of those things," she said.
Mrs Arroyo has been low-key since her release as she is undergoing treatment for a spine illness. She left for Germany last month for medical advice.
As justice secretary under the Aquino administration, it was De Lima who stopped the former president's departure for abroad in 2011. This allowed the government to prosecute and put her in jail. The Supreme Court this year acquitted Arroyo of plunder and ordered her release.
What House minority?
De Lima is smarting from a House probe into allegations that she used millions from drug lords serving time in the New Bilibid Prison to fund her senatorial campaign in May 2016.
The House panel concluded its investigation after 4 hearings and declared they have found "sufficient evidence" of her "possible involvement" in the illegal drugs trade inside the maximum security prison.
But the House minority bloc criticized the committee report for not recommending charges against De Lima. 
Minority Leader Danilo Suarez, an Arroyo ally, said De Lima should face charges for violating the Comprehensive Dangerous Drugs Act of 2002, the Code of Conduct and Ethical Standards for Public Officials and Employees, and the Anti-Graft and Corrupt Practices Act.
De Lima scoffed at the House Minority's position, accusing the bloc members of not being genuine opposition in the chamber.
"They're like a company union," De Lima said, referring to the term used for labor unions formed by management. "They're pretending they're minority, but they have their own agenda," she added. – Rappler.com