The senator says he is asking Foreign Secretary Perfecto Yasay Jr to 'protest the actions' of US Ambassador Philip Goldberg who first claimed he made the China trip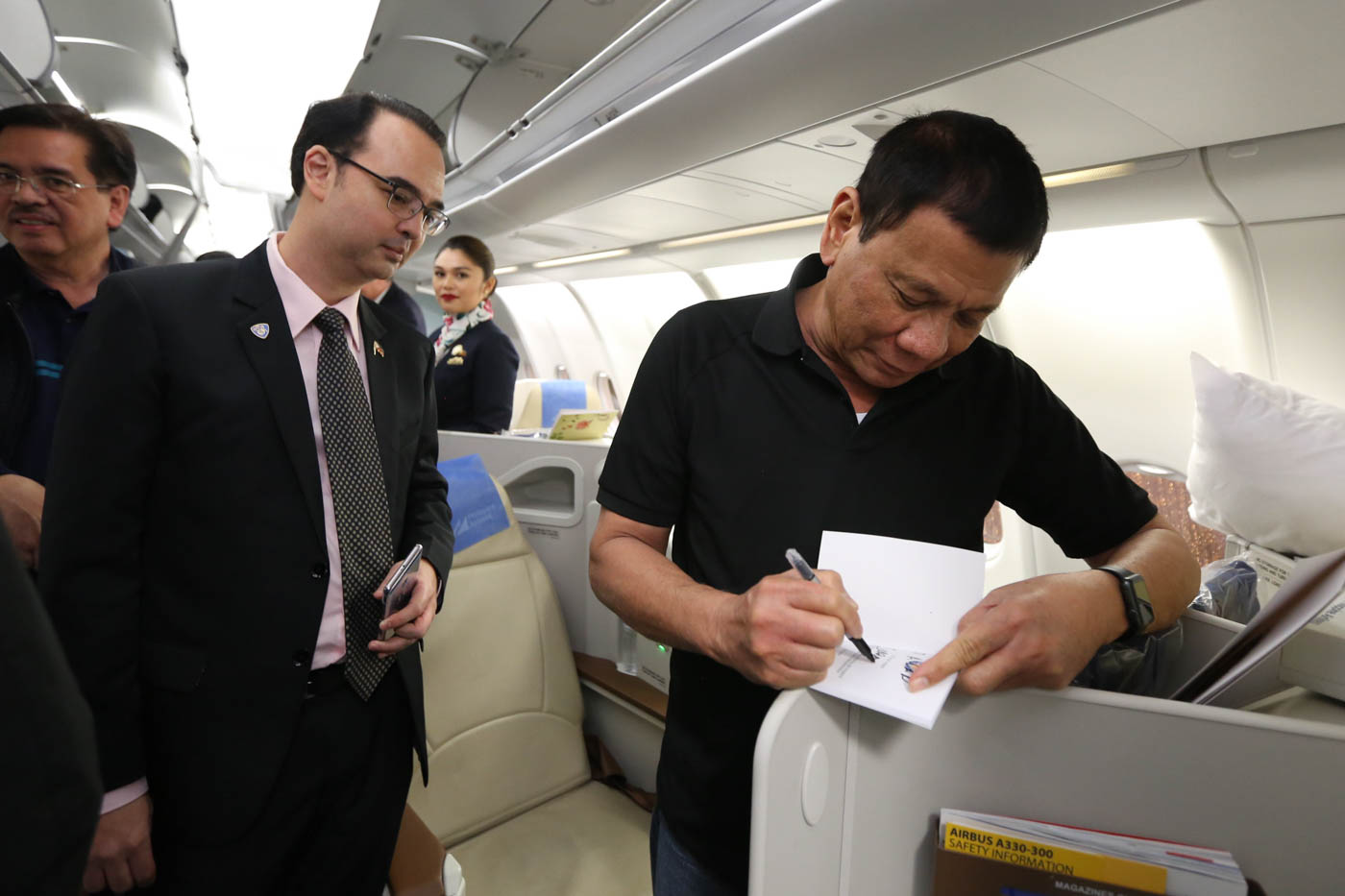 MANILA, Philippines – Senator Alan Peter Cayetano insisted there was nothing "fishy" or "malicious" about the trip he made to China last June, something revealed by United States Ambassador Philip Goldberg in an interview.
He shot back at Goldberg with his own query: is the US embassy spying on Philippine government officials?
"Is this an admission now they are spying on us, on a Cabinet member and a member of the Senate? Was there anything wrong, malicious of me going to anywhere, to China?" said Cayetano on Friday, October 28, during a Palace briefing.
Goldberg, in his interview on ANC, claimed Cayetano and Transportation Secretary Arthur Tugade made "unpublicized" trips to China in June.
Tugade has denied this claim. Cayetano previously confirmed to Rappler that he did make such a trip.
"There's nothing fishy, nothing suspicious about all of these trips," he said on Friday.
Cayetano, however, did not elaborate on what he was doing in China last June. He instead said he would make a report to the Senate "at the right time."
"At the right time, I will make a full report if at all I'm doing something, whether it's in my initiative or I was directed to," said Cayetano, who ran for vice president and was President Rodrigo Duterte's running mate in the 2016 elections.
Cayetano explained that there are many valid reasons for a lawmaker like himself to visit other countries.
"As a senator, I can meet my counterparts, I can travel. There is such a thing as interparliamentary relations," he said.
Complaint vs Goldberg
His frustration with Goldberg has convinced him to ask Foreign Secretary Perfecto Yasay Jr to "protest" the actions of the US envoy.
"I'm writing a letter to Secretary Yasay, I informed him yesterday to complain and to protest the actions of Ambassador Goldberg," he said.
The Senator also said Goldberg did not have to make a big deal out of his trip being unpublicized or not.
"We do not have departure or arrival statements so what does he mean unpublicized trip? Every time I go abroad, do I give press conferences?" he asked. 
Cayetano also blasted Goldberg for spreading rumors.
"What business does the US ambassador or any ambassador have, monitoring trips or criticizing whether its unpublicized or publicized? Is the US ambassador engaged in tsismis (rumors) and rumor-mongering, and in false information?" he said.
The lawmaker also backed up Tugade's claim that the transportation secretary did not go to China in June, saying Tugade was focused on forming his team at the time. – Rappler.com