The chief of the PNP says the mobile checkpoints will be random and short-lived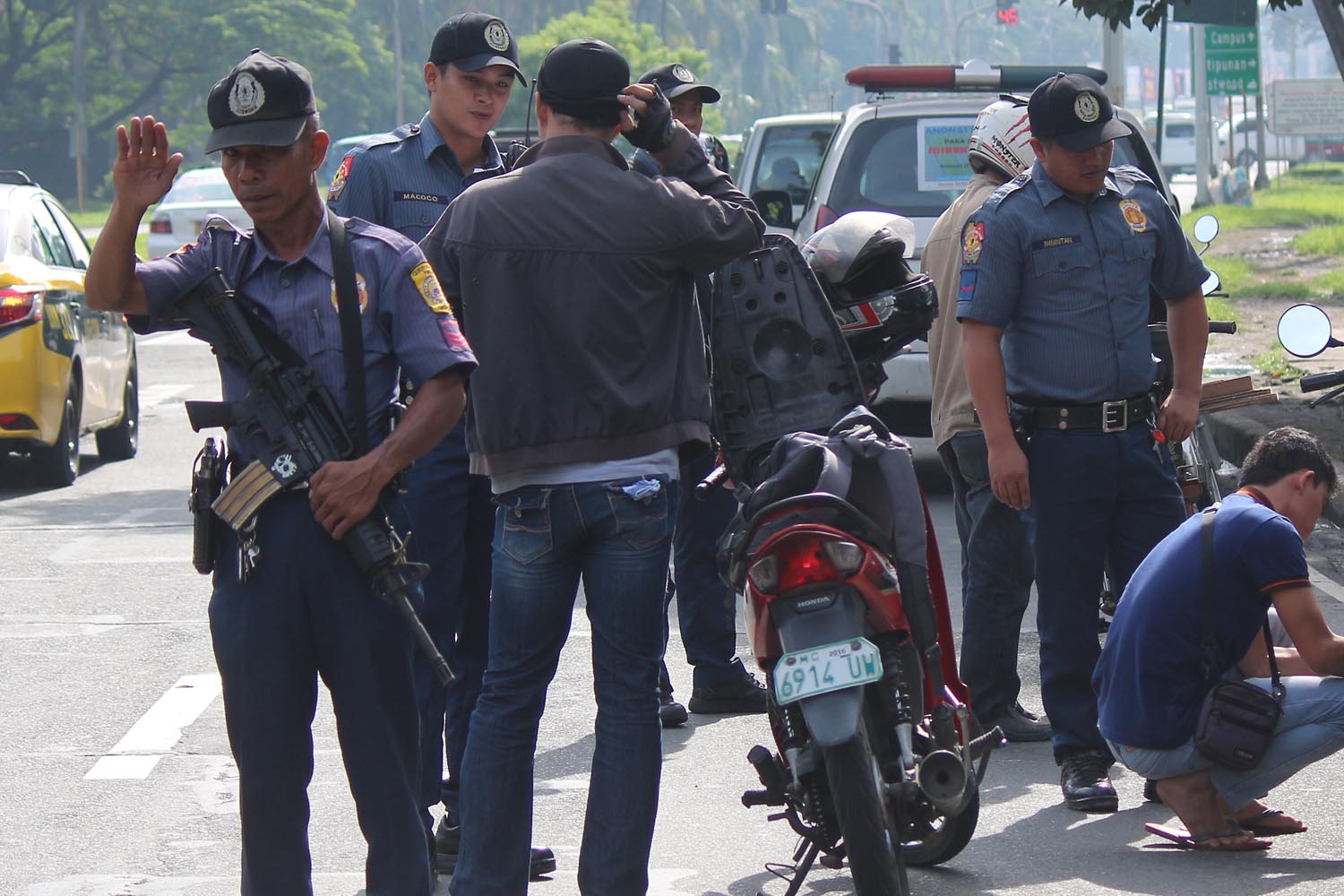 MANILA, Philippines – The Philippine National Police (PNP) will now be utilizing "mobile checkpoints" around the country, following President Rodrigo Duterte's order to dismantle fixed checkpoints nationwide.
"Tatanggalin mga fixed checkpoints. Magkakaroon lang ng mobile checkpoints kung kinakailangan (We'll remove fixed checkpoints. We'll set up mobile checkpoints if necessary)," PNP chief Director General Ronald dela Rosa told Rappler in a text message on Monday, October 31.
Speaking in Cotabato City on Saturday, October 29, the President said checkpoints should only be there if there is "A1 information" that wanted suspects would be passing through the area.
Since declaring a "state of national emergency" in early September, the PNP has set up fixed checkpoints around the country.
In Metro Manila, for instance, these checkpoints are found in areas with high vehicle traffic and at entry and exit points of cities.
"Except if it is necessary. Only if it is necessary. Only if there is specific reason to do it, I am ordering all checkpoints dismantled," said Duterte, who noted that unnecessary checkpoints only complicate the lives of ordinary Filipinos.
Asked if the removal of fixed checkpoints would affect the PNP's efforts against crime, Dela Rosa said it wouldn't.
"Maging handicap 'yan sa mga law enforcers na pangongotong lang ang nasa isip. In fact, fixed checkpoints have become irrelevant because criminals have been evading them," he told Rappler.
(It will only be a handicap to law enforcers who only have extortion in mind. In fact, fixed checkpoints have become irrelevant because criminals have been evading them.)
According to the 2013 PNP Operational Procedure Manual, checkpoints are where "police check vehicular/pedestrian traffic in order to enforce circulation control measure and other laws, orders, and regulations."
Police at the checkpoints must be in their uniforms at all times and a marked police vehicle must be in the immediate vicinity as well.
The same applies to "mobile checkpoints." 
Random checks
Dela Rosa said the mobile checkpoints will be "random and surprise checkpoints that are short-lived." 
The same manual states that mobile checkpoints "are authorized only when established in conjunction with ongoing police operations. Only officially marked vehicles with blinkers turned on, if available, shall be used in establishing mobile checkpoints." 
The PNP's Director for Operations Chief Superintendent Camilo Cascolan, meanwhile, explained that the positions of mobile checkpoints may be "moved every hour or two." 
"Sagabal kasi kung minsan ang fixed [checkpoints], lalo na sa (Fixed checkpoints can sometimes be a hassle especially along the) highway from Cotabato to Davao," said Cascolan, who used to be the deputy chief for administration of the Davao Regional Police Office. 
Duterte placed the entire country under a "state of national emergency" following a blast in his hometown of Davao City that claimed the lives of at least 14 and injured over 60 people. (READ: Diokno to Duterte: Why the continued state of national emergency?) – Rappler.com