The other respondents in the complaint are former BuCor director Ricardo Rainier Cruz, and former New Bilibid Prison Superintendent Richard Schwarzkopf Jr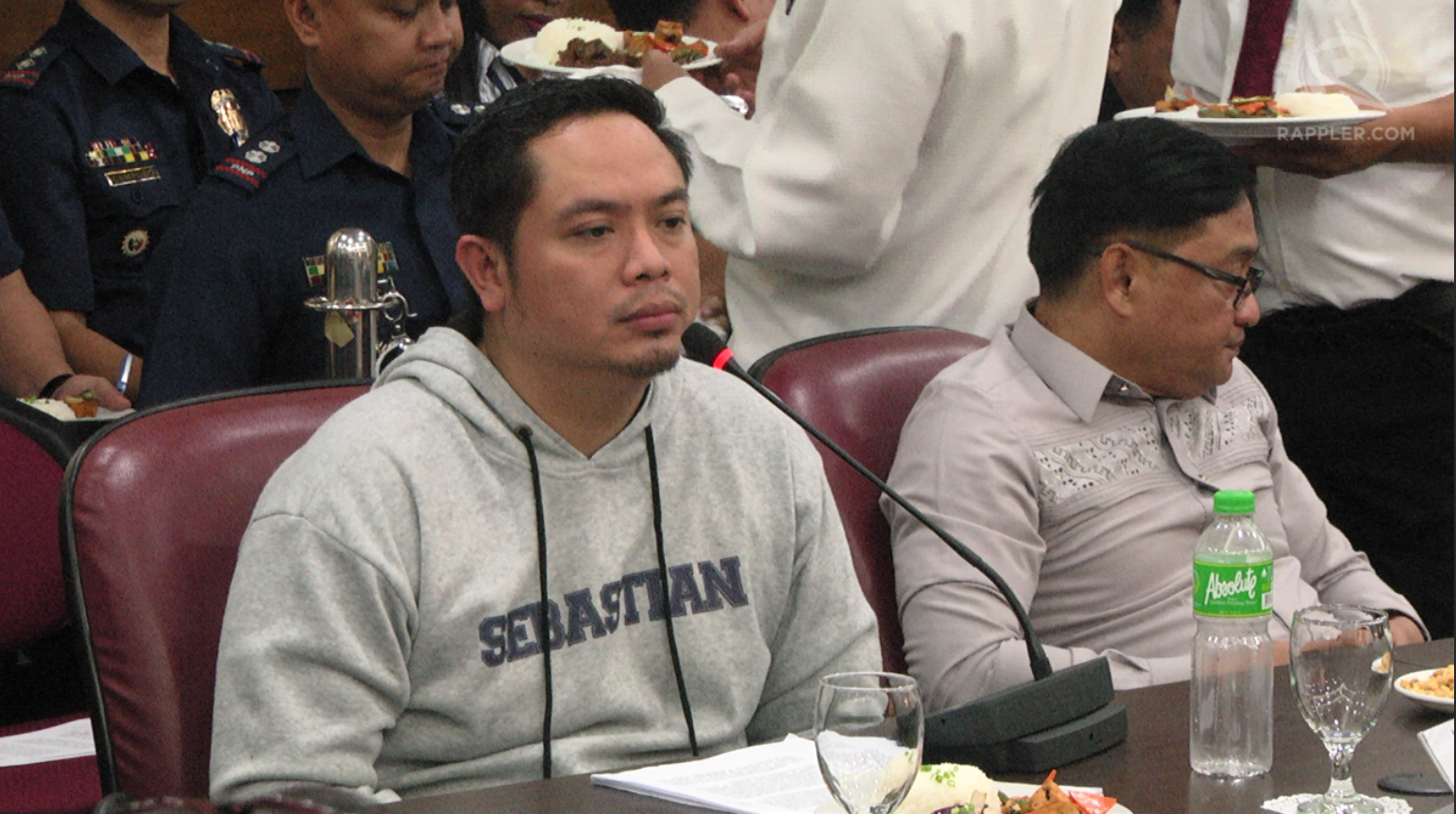 MANILA, Philippines – Convicted kidnapper and carnapper Jaybee Sebastian filed criminal and administrative charges against Senator Leila de Lima, and former officials of the Bureau of Corrections (BuCor) and the New Bilibid Prison (NBP) before the Department of Justice on Friday, November 4.
Sebastian's wife, Roxanne, was the affiant in the complaint filed by his lawyer, Eduardo Arriba.
The other respondents are retired Army general Ricardo Rainier Cruz, former BuCor director; and Richard Schwarzkopf Jr, former NBP superintendent.
The justice department had earlier tagged Sebastian as the "favored inmate" of De Lima during her time as justice secretary. A House probe into allegations on De Lima's links to the drug trade in Bilibid presented other convicts who had testified against Sebastian, saying he was the supposed collector of funds for De Lima. (READ: LIST: Witnesses vs De Lima granted immunity from suit)
Justice Secretary Vitaliano Aguirre II noted at the time that Sebastian refused to testify against the senator.
But days after Sebastian was wounded in a riot inside the Bilibid, he faced the House probe and declared that he gave De Lima millions for her senatorial bid.
In his complaint last Friday, Sebastian accused De Lima, Cruz, and Schwarzkopf of violating Republic Act 3019 or the Anti-Graft and Corrupt Practices Act, the Code of Conduct and Ethical Standards for Public Officials and Employees, and RA 9745 or the Anti-Torture Act of 2009.
The allegations against the 3 stemmed from Sebastian's transfer to Building 14 at the maximum security compound, where the so-called Bilibid 19 – high-profile inmates – were also jailed and reportedly posed as a threat to his safety. They were transferred there following the Bilibid raids led by De Lima in December 2014.
Sebastian's lawyer had earlier said that his client suffered "mental torture" and a violation of his constitutional right against solitary confinement and torture, when he was placed in solitary confinement in Building 14.
Link to Bilibid drugs
In his complaint, Sebastian alleged that De Lima committed indirect bribery for "requiring Mr Sebastian to make funds, through illegal drug trade, and for receiving illegal drug money and using the same to finance her candidacy for Senator during the May 9, 2016 national elections."
Sebastian also accused De Lima of violating Presidential Decree No. 46, which makes it punishable for public officials and employees to receive, and for private persons to give, gifts on any occasion. He alleged that De Lima broke the law when she revealed that Sebastian was a "government asset," which he denied at a House hearing on October 10.
He cited Section 3(k) of RA 3019 which lists as a corrupt practice "divulging valuable information of a confidential character, acquired by his office or by him on account of his official position to unauthorized persons, or releasing such information in advance of its authorized release date."
In early October, Sebastian, through his lawyer, was supposed to file graft and torture charges against the same personalities before the Office of the Ombudsman, but it was not accepted then as the complaint was not subscribed before a notary public.
A month later, the complaint was filed with the DOJ, but with some additional charges, including the allegations that De Lima benefitted from the drug trade at the Bilibid, and had required Sebastian to get funds for her senatorial bid. Sebastian made the same allegation during the House hearing.
The complaint against the senator is the latest to filed before the DOJ in connection with allegations of her involvement in the Bilibid drug trade when she was justice secretary – an accusation first made by President Rodrigo Duterte.
De Lima had strongly denied the allegation and claimed that it was borne out of the President's "personal vendetta" against her for initiating a Senate inquiry into the spate of extrajudicial killings linked to Duterte's war on drugs. (READ: The public trial of Leila de Lima)  – Rappler.com