'I'll go to jail if I did something wrong. But what's important is that I'm honest. I did not lie,' says the PNP chief, whose recent US trip was shouldered by Senator Manny Pacquiao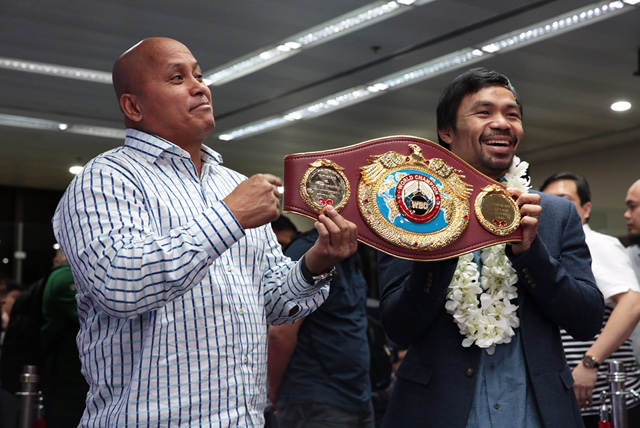 MANILA, Philippines – There are no regrets in Philippine National Police (PNP) chief Director General Ronald dela Rosa's mind, even if the Ombudsman ordered a probe into his recent all-expenses-paid trip to Las Vegas.
"My respect to the Office of the Ombudsman remains and I respect their functions… but anyway, the truth will come out and I hope there will be a fair interpretation of the law so that nobody is aggrieved. On my part, if the investigation concludes that I did something wrong, then I'm ready to go to jail," Dela Rosa said during a press conference on Monday, November 14.
The Ombudman last week announced it had launched an investigation into Dela Rosa's visit to Las Vegas for Senator Manny Pacquiao's boxing match against Jessie Vargas.
In media interviews, Dela Rosa himself said he did not spend anything for the trip because Pacquiao shouldered the airfare, tickets, hotel accommodation, and even allowances of the PNP chief and his immediate family members.
"I'll go to jail if I did something wrong. But what's important is that I'm honest. I did not lie. I told the truth to be transparent. If I did that then I'm man enough to go to jail if proven guilty," he added.
Rappler sources at the Office of the Ombudsman explained that Pacquiao has "an ongoing transaction with Dela Rosa." It was the neophyte senator who moved to declare the committee on justice and human rights, then headed by Duterte critic Senator Leila de Lima, vacant.
The PNP chief is a "person of interest" for the boxer-turned-senator because he appeared before Senate hearings on alleged extrajudicial killings, the same sources said.
Dela Rosa said he and Pacquiao have been friends long before the latter became a boxing champion. The PNP chief himself boxed as an amateur during his years in the Philippine Military Academy (PMA) for "additional allowance."
"We're the same, we relied on boxing as a possible avenue to improve our lives," explained Dela Rosa.
Dela Rosa on Monday did not seem worried at all about the probe. Speaking before police in Camp Crame during the Monday flag raising ceremony, Dela Rosa even cracked a joke about the Ombudsman's actions.
The PNP chief said various private individuals and groups had pledged to help the ongoing war on drugs. But the police force must first scrutinize these proposals, he said, or they risk an investigation by the Ombudsman. 
'Quality time with family'
Pacquiao has defended Dela Rosa from criticism, insisting that there was nothing wrong with accepting the all-expenses-paid trip. To this, Dela Rosa said: "I'm thankful that Senator Pacquiao is defending me. Who else will help each other? Of course us, those who were born poor. We help each other." 
The PNP chief is no newbie to Pacquiao fights. He also watched an August 9 fight between Pacquiao and Timothy Bradley Jr in Las Vegas, based on photos posted on his Facebook page.
"Anyway, I have no regrets because I was given quality time with my family and it was for free. So it's okay if I go to jail as long as my family is happy. I did not steal that money nor did I ask for it. I never asked for it. Senator Pacquiao, my kumpare and my friend offered it with no strings attached. As far as I'm concerned, my conscience is clear," said Dela Rosa.
The PNP chief's wife, two daughters, and only son joined him in Las Vegas. 
Dela Rosa may have violated two laws prohibiting public officials from accepting gifts: Presidential Decree No. 46 and Republic Act 6713, or the code of conduct for public officials. 
The laws, explained lawyer Arno Sanidad, a professorial lecturer at the University of the Philippines College of Law, aim to thwart any possibility of graft or corruption by making it illegal for public officials to receive or solicit gifts of value. – Rappler.com