Senate President Aquilino Pimentel III defends anti-Marcos protesters after Communications Secretary Martin Andanar calls them 'temperamental brats'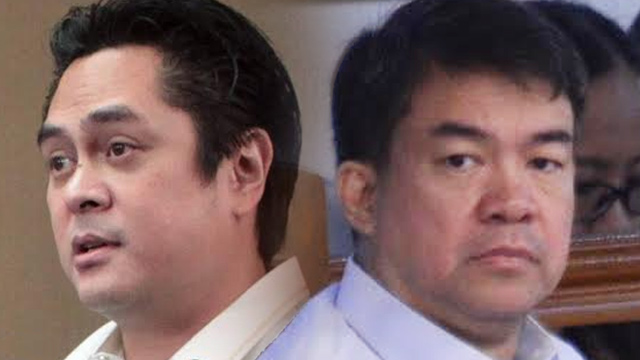 MANILA, Philippines – Review your history. They are not "temperamental brats."
This is what Senate President Aquilino Pimentel III told Palace Communications Secretary Martin Andanar after the latter slammed those who oppose the upcoming hero's burial for the late dictator Ferdinand Marcos.
The anti-Marcos protesters are "principled," said Pimentel, contrary to Andanar's statements. Many of the protesters, added the Senate President, come from the poorest sectors of society and therefore, cannot be labeled as "brats."
Pimentel's father, former senator Aquilino Pimentel Jr, was among the prominent human rights activists during the Martial Law era under Marcos. Pimentel's political party PDP-Laban, of which President Rodrigo Duterte is part of, was established in the 1980s to fight the authoritarian regime.
"Of course, this is a very emotional issue. But they're not brats actually. A lot of protesters are coming from poorer segments of society," Pimentel told reporters on Monday, November 14.
"They can never be called brats. These are actually principled positions. So Martin Andanar should review his history," Pimentel said.
In his newspaper column, Andanar likened Marcos' critics to protesters of US President-elect Donald Trump's victory, saying they are not followers of the law. For Andanar, the Supreme Court's decision allowing the burial of Marcos at the Libingan ng mga Bayani is final.
"Both the Americans protesting the outcome of a fair election and the Filipinos objecting to the well-considered ruling of our own Supreme Court are undermining institutions. They are temperamental brats refusing to concede to the outcome of regular processes," Andanar wrote.
Self-righteous
Andanar, in the same column, also denounced critics for putting pressure on Duterte to change his mind, calling them "self-righteous."
These efforts, Andanar said, are futile as the President is already "bent" on pushing through with the burial.
"As a last card, the antiburial people now intend to apply pressure on President Duterte to reverse his position allowing Marcos to be buried in the Libingan. They argue that what is now legal may not be moral," he said.
"That is a chronically self-righteous thing to say. One might counterargue that what is moral may not be legal. Unfortunately for them, the President is bent on ending the divisive acrimony," Andanar added.
Pimentel, for his part, is still not giving up that the President would still change his mind: "Habang may buhay, may pag-asa." (While there is life, there is hope.)
This is not the first time the communications team of Malacañang has expressed support for the late dictator. In September, the Official Gazette was accused of historical revisionism, after it posted a tribute for Marcos' 99th birth anniversary which downplayed Martial Law.
Duterte, as early as the campaign, had already vowed to put the issue to rest and allow the hero's burial for the former president.
He also revealed that Marcos' daughter, Ilocos Norte Governor Imee Marcos, helped him in his presidential campaign by contributing funds. The governor, however, denied it. – Rappler.com