President Rodrigo Duterte and Senator Manny Pacquiao also discuss the controversial all-expenses paid trip accepted by PNP chief Ronald dela Rosa from Pacquiao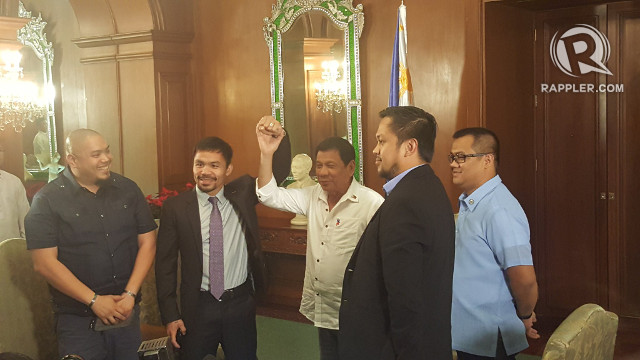 MANILA, Philippines (UPDATED) – As befitting two friends, the meeting between President Rodrigo Duterte and Senator Manny Pacquiao at Malacañang Palace began on a high note.
Pacquiao was in the Palace to pay a courtesy call on Duterte on Monday evening, November 14.
After walking into the room where Pacquiao had been waiting, Duterte raised the boxing champion's hand in a gesture of victory and said, "For president na 'to ha! (He's for president!)" in front of media.
While it sounded like an endorsement of a presidential bid, Duterte is also known to pay generous compliments and make teasing remarks about friends.
But Duterte would later repeat this remark during Pacquiao's 38th birthday party on December 17, when he referred to the boxer as "president-to-be."
Vegas trip a 'donation'
But, other than the idea of a Pacquiao presidency, there was something else up for discussion between the two.
Before media were ushered out of the room, Duterte could be heard talking about the Las Vegas trip of Philippine National Police (PNP) chief Ronald dela Rosa, which was funded by Pacquiao.
He seemed to say Dela Rosa should not be held criminally liable for accepting an all-expenses-paid trip from Pacquiao to watch the latter's fight against American boxer Jessie Vargas.
Duterte called Pacquiao's financing the trip a "donation."
"'Yung expenses, kaya mo man, it's commensurate to your wealth so ang binayaran mo doon para makapanood siya ng skill mo, there is no criminal liability there," the President said.
(You can afford the expenses, it's commensurate to your wealth. So the fact that you paid for him to watch you display your boxing skills, there is no criminal liability there.)
Reporters were unable to clarify what the President meant because the portion of the meeting open for media coverage was coming to a close.
Duterte also said Pacquiao was right in defending Dela Rosa.
"Tama 'yung pagdepensa mo kay Bato (It was right to defend Bato)," said Duterte.
He congratulated Pacquiao for defeating Vargas.
"I would like to send warmest congratulations from [the] Filipino people and government to the senator for doing us proud," said the President. – Rappler.com