'He was only thinking out loud, na ano ba 'yung mga weapons, ammunition, methods available to him,' Senate President Aquilino Pimentel III recalls the President telling lawmakers while discussing his war on drugs at a Palace meeting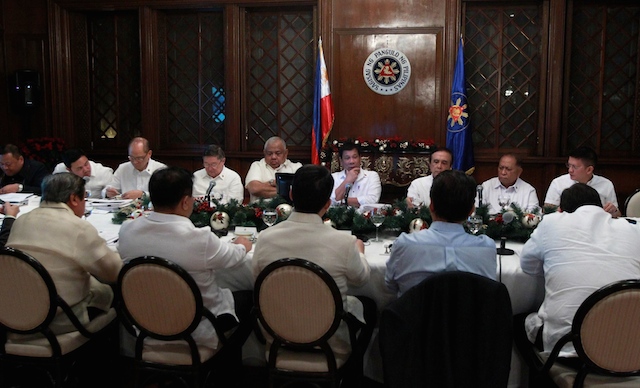 MANILA, Philippines – It was just a "passing thought."
This was what President Rodrigo Duterte supposedly told lawmakers at the mini-Legislative Executive Development Advisory Council (LEDAC) meeting on Monday, November 14, regarding his warning that he would suspend the writ of habeas corpus to quell lawlessness.
Senate President Aquilino Pimentel III and Majority Leader Vicente Sotto III said that based on Duterte's statements at the meeting, the Chief Executive was not serious when he made the warning. (READ: Duterte to suspend writ of habeas corpus if 'forced')
"Nasabi niya lang, he was only thinking out loud na ano ba 'yung mga weapons, ammunition, methods available to him," Pimentel told reporters on Tuesday, November 15.
"Walang sinabi na kung itutuloy ba (There was no mention if he would push through with it). Pinakita niya sa amin 'yung (He showed us) enormity of the drug problem because he showed to us a dossier, reports he has in his position, 6 inches thick – names of government personalities involved in drugs," he added.
Pimentel said they only discussed the issue in passing, as the meeting mainly focused on the fight against illegal drugs.
At the launch of the Pilipinong May Puno Foundation in Davao City on Friday, Duterte said he was considering the move if lawlessness, particularly the illegal drugs trade, persists in the country.  The writ of habeas corpus is a safeguard against warrantless arrests.
'Not serious'
Sotto said Duterte's warning was only a "passing thought," adding the President might have said that in case his administration fails to end the problem of illegal drugs.
Duterte earlier promised he would end criminality in 3 to 6 months but later requested a 6-month extension.
"Sinabi niya lang na it was a thought, napag-iisipan pero hindi naman kailangan gawin (He just mentioned that it was a thought, something being considered but not necessarily something to be carried out)," Sotto said.
"Siyempre iba lang, jumpy lang 'pag nakakarinig ng ganoon (Of course some get jumpy when they hear such a statement). I don't think the President is seriously considering it at all. It was just a passing thought," he added.
Sotto said Duterte also told lawmakers that even martial law could not immediately solve the problem of drugs.
"Siguro nasabi niya 'yun because in the event na the government will not be successful in curtailing the problem of illegal drugs. Kahit martial law, 'di rin masusugpo 'yan basta-basta, sinabi niya rin 'yun," Sotto said.
(Maybe he just said that in the event that the government will not be successful in curtailing the problem of illegal drugs. He also said that even martial law could not immediately solve the problem of drugs.)
He said lawmakers present no longer raised the issue after the President's clarification: "Wala nang nag-raise. Not serious at all  (Nobody raised it. Not serious at all)."
Several senators and congressmen had raised the alarm over Duterte's pronouncement. They said there is no basis for such a warning as the government itself already cited a decline in the number of crimes in the country following the administration's crackdown on illegal drugs.
Aside from this, the issue of tax reform, counter-measures for revenue loss, and amendments to the Anti-Money Laundering Act were tackled at the mini-LEDAC meeting. Pimentel said the issue of emergency powers to solve the traffic crisis was not discussed, as well as the planned hero's burial for former president Ferdinand Marcos.
Pimentel, who strongly opposes the burial, earlier said he would talk to the President about it. There was no time for that last night, said Pimentel, as it was not a legislative issue.
Pimentel and Sotto said the first official LEDAC of the Duterte administration is scheduled in December. Eleven senators and 6 congressmen attended the Monday meeting. – Rappler.com