Communications Secretary Martin Andanar does not understand that the Marcos burial will only 'reopen the wounds of oppression,' says Congressman Edcel Lagman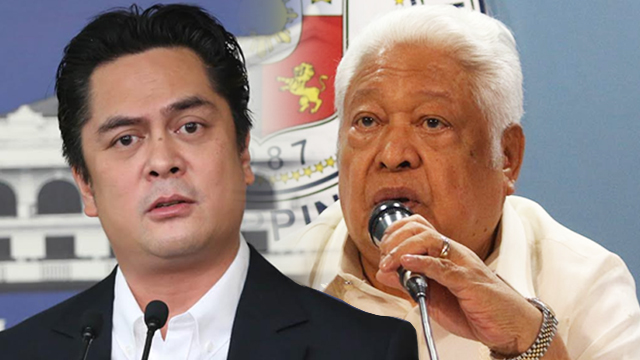 MANILA, Philippines – Albay 1st District Representative Edcel Lagman called out Palace Communications Secretary Martin Andanar for slamming those opposed to the burial of the late dictator Ferdinand Marcos at the Libingan ng mga Bayani.
"It is Secretary Andanar who is the incorrigible brat because he fails to understand history with respect to the Marcos atrocities committed during Martial Law, the perpetuation of injustice as well as impunity against the victims of the Marcos regime when he would justify the burial of the late dictator in the Libingan ng mga Bayani," said Lagman in a press conference on Tuesday, November 15. 
In his newspaper column, Andanar likened Marcos' critics to protesters of US President-elect Donald Trump's victory, saying they are not followers of the law. Andanar said the Supreme Court's (SC) decision allowing Marcos' interment is final and those who oppose it are "temperamental brats." For this, he was criticized by Senate President Aquilino "Koko" Pimentel III, who advised Andanar to "review [his] history."
Lagman is among the petitioners who filed cases seeking to bar Marcos' burial at the Libingan ng mga Bayani. He belongs to a family of anti-Marcos activists. His brother Filemon (better known as Popoy) was a communist guerrilla who was slain in 2001.
The SC, voting 9-5, junked the petitions and President Rodrigo Duterte already gave his go signal for the interment. (READ: Supreme Court: Marcos was not pure evil) 
While the children of Marcos – Ilocos Norte Governor Imee Marcos and former Senator Ferdinand "Bongbong" Marcos Jr – are hoping that the SC ruling would lead to "national healing," Lagman begged to differ. 
"The majority decision failed to realize that closure is the happy and welcome ending to a tragedy or misfortune. In the case of the burial of the late dictator in the Libingan ng mga Bayani, this will not be for closure because it will reopen the wounds of oppression. It would relive the haunting memories of torture and mayhem, and it would perpetuate injustice and impunity. All at the expense of the victims of Martial Law," said Lagman. 
"How can there be closure if one who has been condemned as a dictator, one who has been confirmed as a plunderer, and one who has been criticized as violator of human rights – not only by the Supreme Court in several decisions but by international courts as well – lead to closure when his burial would sanctify evil and would allow one who is a dictator, a despot, a plunderer, and an oppressor of human rights to be buried in a memorial for good men?" he added.
Petitioners including Lagman have already filed two separate petitions for a status quo ante order before the SC so as not to render moot their motion for reconsideration which they intend to file. – Rappler.com