AKO Bicol Representative Rodel Batocabe argues that a person regarded as a hero by one region may not be recognized by other regions. Case in point, former president Marcos.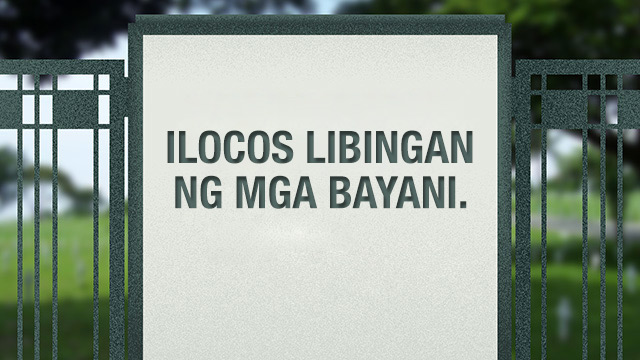 MANILA, Philippines – AKO Bicol Representative Rodel Batocabe is proposing the creation of regional pantheons to serve as the final resting place for people regarded as local heroes.
Batocabe filed House Bill (HB) Number 4388 or the "Regional Pantheon Act of 2016" on Tuesday, November 15, exactly a week after the Supreme Court (SC) junked the petitions seeking to bar the interment of the late strongman Ferdinand Marcos at the Libingan ng mga Bayani (LNMB) or Heroes' Cemetery.  (READ: Supreme Court: Marcos was not pure evil) 
The children of the former president – Ilocos Norte Governor Imee Marcos and ex-senator Ferdinand "Bongbong" Marcos Jr – are hoping that the SC ruling would finally heal the wounds of the Marcos regime, a period marred by killings, torture, disappearances, media oppression, and corruption. 
But the petitioners, Martial Law victims, and other activists maintained that Marcos does not deserve a grave at the Libingan ng mga Bayani because of the state-sanctioned human rights abuses during his 21-year rule. (READ: Human rights abuses under Martial Law? Ask Ramos – Imee Marcos)
In his explanatory note, Batocabe explained that the word "hero" is a "relative" term usually earned by a person because of his or her "sterling and inspiring qualities" that endear him to a group of people. 
"More often than not, these virtues and qualities become apparent in times of conflict, adversities, emergencies, and unusual circumstances. Conflicts in history usually involve two clashing forces or groups of people, and whichever side is victorious writes history in their favor," said Batocabe. 
"There is usually a protaganist, and the hero is the one who championed the cause of the victorious side. As such, a hero to others may be a villain to some," he added.
Ilocano hero
Batocabe said that geography is also factor, because a person considered to be a hero in one region may not be recognized by those in other regions. 
For the lawmaker, the ongoing dispute on Marcos' burial is "the most obvious example" of this because the issue has continued to "polarize" Filipinos after almost 3 decades. (READ: Only mass civil disobedience can block Marcos' burial) 
While Marcos and his relatives have supporters nationwide, the most loyal of them come from Ilocos, the stronghold of the family.
Should HB Number 4388 be passed into law, it would amend Republic Act Number 289, which provides for "the construction of a national pantheon for presidents of the Philippines, national heroes, and patriots of the country" to include regional pantheons. (READ: FAST FACTS: Libingan ng mga Bayani)
"The controversy that arose out of the contentious issue of whether former president Marcos deserves to be buried at the LNMB could be avoided in the future if this bill is enacted into law, as the regionalization or localization of persons qualified to be heroes will be left to the people of a particular region and will not be subject to criticism, as their decision will not be imbued with a national character," said Batocabe.
He also said that having regional pantheons is "keeping with the idea" of decentralization under federalism, which has long been championed by President Rodrigo Duterte. 
Batocabe had previously suggested to the Marcos family that they consider building a heroes' cemetery for the former president in Laoag, the capital of Ilocos Norte. – Rappler.com