Martires says that while they spent 4 hours with the President last August in Davao City, he did not ask about any case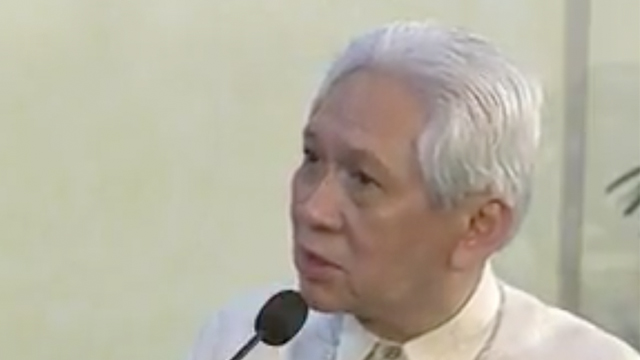 MANILA, Philippines – Sandiganbayan Associate Justice Samuel Martires on Wednesday, November 16, told the Judicial and Bar Council (JBC) he did not pay a courtesy call on President Rodrigo Duterte.
"In all honesty, your honor, I did not make a courtesy call to the President, neither did the Justices [Jose] Hernandez, [Geraldine Faith] Econg, and [Alex] Quiroz make that courtesy call," Martires said, answering a question from JBC regular member Maria Milagros Fernan-Cayosa. 
Trying to dispel questions about independence, he further explained how he met the President last August.
"We went to Davao City to conduct an out-of-town hearing. We arrived in Davao on a Sunday. We were informed that afternoon when we arrived that the President was going back to Manila. On Tuesday, I was asked by one of the justices if I am willing to see the President, and naturally, and a person in a sane mind will always say yes. Who am I to say I don't like to see the President? So I said yes."
On Thursday, August 4, as they were on their way to meet the President, Martires said he suddenly received a text message from retired justice Teresita Baldoz telling him: "Wow, you are going to see the President."
Baldoz told him she learned about the meeting from radio dzMM. His wife also texted him about the meeting, this time hearing the news from ABS-CBN. 
"I was really angry, I was angry at the President's men, especially the ones handling media, for leaking this information to the media. I was telling the other justices that I will confront whoever is handling the media affairs of the President, that this is a private affair, this is a private invitation from the President. It will give a very bad impression to the public that we are going there because the President is going to ask us for something." 
Martires said while they did talk to the President and spent 4 hours with him, Duterte made no mention of any case or ask about any case. 
Their conversation, Martires said, revolved around the war on drugs, Duterte's life as a student, his experience with his professor identified as the late Justice Arsenio Solidum, and the history of Muslims. 
"Actually the President told us I respect the judiciary, I will never interfere with the affairs of the judiciary," he explained, adding that he almost did not join the group who went to see the President that evening. 
In August, Chief Justice Maria Lourdes Sereno stressed the need to keep courts independent as justices paid courtesy calls on Duterte. She hoped the courtesy calls would not affect the separation of branches in government.
Independence
Another JBC regular member, Jose Mejia, asked Martires on Wednesday for assurance that the Sandiganbyan justice will maintain his independence should he be appointed as one of the associate justices in theSC. 
Martires asserted that he has always maintained his independence even before joining the judiciary. He lamented how he was called pro-Marcos during former president Ferdinand Marcos' time, and pro-GMA (Gloria Macapagal Arroyo) when Benigno Aquino III became president. 
"But as I had said in one of my decisions, that the Court should not be influenced by any king or president. We should only rely and make our own decision pursuant to the evidence presented and the applicable law," he said. 
Martires said he maintained independence in the Garcia case "even if it meant that President Benigno Simeon Aquino III was mad at the Sandiganbayan, particulary at me and Justice Baldoz."
"I insisted on what is right, and I didn't care what Malacañang would do to us. I even heard I was the subject of a background investigation whether I earned from that case or not. But I maintained what I thought was right, I insisted that the Office of the Solicitor General cannot intervene or appear before the Sandiganbayan."
Martires, who was appointed to the anti-graft court in 2005, penned the resolution approving the Garcia plea bargain deal that allowed the former military comptroller to petition for the lesser charge of direct bribery and money laundering, instead of plunder. In exchange, Garcia will have to surrender P135.43 million of his assets.
This deal triggered the impeachment move against Omdbusman Merceditas Gutierrez, who eventually resigned before her impeachment trial even began.
In 2011, Martires also wrote the decision dismissing a case against then Davao City mayor Rodrigo Duterte over the demolition of a park installed by his political rival in 2008.
The JBC will be interviewing applicants eyeing the two slots in the SC on Wednesday and Thursday, November 16 and 17.
The posts in contention will be vacated by Associate Justice Jose Perez and Associate Justice Arturo Brion, who will reach the mandatory retirement age of 70 on December 14 and 29, respectively.
A shortlist of candidates will be submitted by the JBC to Duterte, who will appoint the new SC magistrates. Under his term, Duterte will get to appoint 10 SC magistrates to replace retiring justices in the next 3 years. – Rappler.com