'The killing of his father, Mayor Espinosa, might have been a warning to him to cooperate, same thing that was done to Jaybee Sebastian to testify against me,' says the embattled senator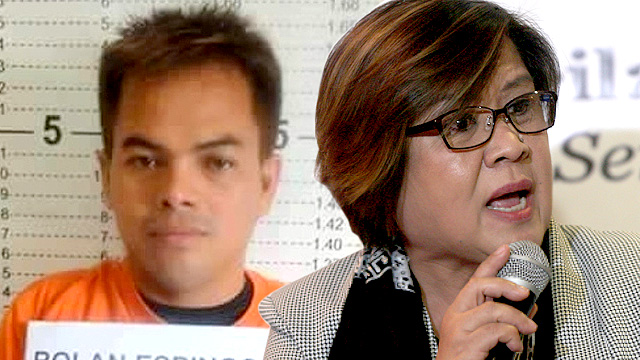 MANILA, Philippines – For Senator Leila de Lima, it goes without saying that alleged drug lord Kerwin Espinosa would also link her to the illegal drug trade.
De Lima said this on the expected arrival of Espinosa on Friday, November 18, a month after his arrest in Abu Dhabi in October.
De Lima said she expected Espinosa to be threatened, just like the others, to point to her as among his alleged protectors in government so he would not suffer the fate of his father. Albuera mayor Rolando Espinosa Sr, who had earlier surrendered to authorities and promised his full cooperation with them, was killed in a police operation inside his prison cell in Leyte.
"I am anticipating that. Hindi na po ako magugulat kasi puro ganoon ginagawa nila, Papabalikin siya rito, i-se-secure siya, and then mag-o-offer ng immunity dahil nga ilalagay sa WPP (Witness Protection Program). So ako na naman ituturo niyan," De Lima told reporters on Wednesday, November 16. (READ: Aguirre offers witness protection to Kerwin Espinosa)
(I am anticipating that. I would not be surprised because that's what they are doing all this time. He would be asked to return here, he would be secured, and then he would be offered immunity because he would be placed under the WPP so he could point at me.)
Warning 
"Baka nga 'yung pagpatay sa tatay niya, si Mayor Espinosa, was a warning sa kanya na mag-cooperate siya, na ganoon din ang ginawa kay Jaybee Sebastian (to testify against me)," said the senator. 
(The killing of his father, Mayor Espinosa, might have been a warning to him to cooperate, same thing that was done to Jaybee Sebastian to testify against me.)
De Lima is among the names in the father and son's "pink" and "blue" books, which supposedly contain the list of public officials receiving money from the Espinosas. The senator has repeatedly denied any links to illegal drug trade, saying all these are mere "fabrication." (READ: Politicians, police, media: Who were named in Espinosa's affidavit?)
Witnesses who testified at the congressional inquiry into the drug trade at the national penitentiary when De Lima was justice secretary – mostly convicts granted immunity from suit for their testimonies – had accused De Lima of getting bribes from drug lords in the New Bilibid Prison, through her former bodyguard, Ronnie Dayan.
Inmate Tomas Doniña was the latest in the expanding list of inmates with allegations against De Lima. He claimed he stabbed convicted kidnapper and carnapper Jaybee Sebastian at the New Bilibid Prison on September 28 to stop the latter's testimony against De Lima at a congressional probe.
Justice Secretary Vitaliano Aguirre II has offered witness protection to Espinosa, should he be qualified under the program. Philippine National Police chief Director General Ronald dela Rosa earlier said Espinosa would be detained at the top cop's official residence in Camp Crame to ensure his protection.
The Senate plans to invite Espinosa in its probe into the death of his father.  
Senator Panfilo Lacson, chairman of the committee on public order leading the probe, has called the younger Espinosa the "be-all and end-all" and "central figure" in the sequence of events. (READ: Lacson: 'Kerwin Espinosa must live to tell his story') – Rappler.com