Filipinos give the administration a 'very good' rating in promoting human rights, despite criticism that the Duterte government's anti-drugs campaign has led to human rights abuses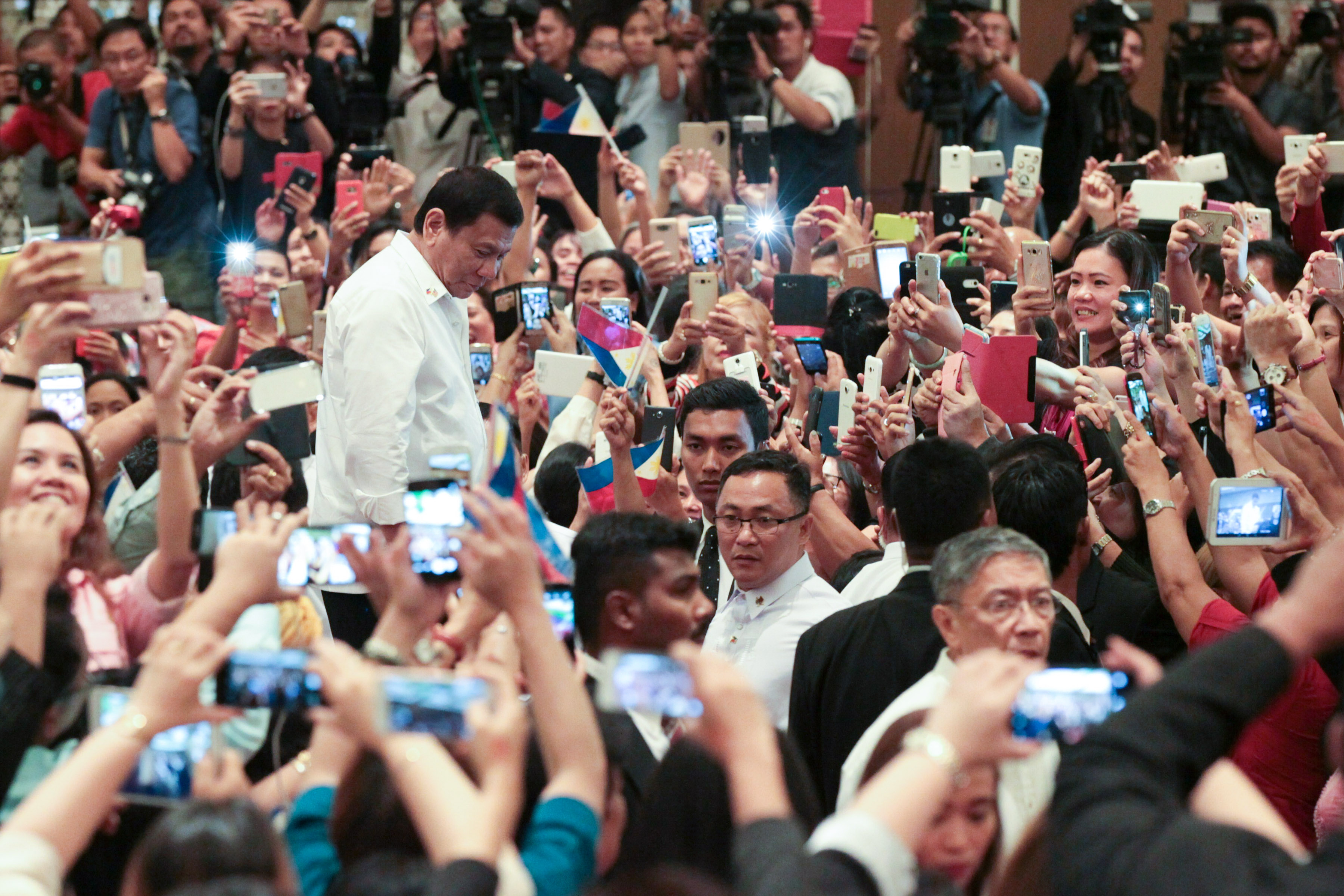 MANILA, Philippines – The Duterte administration netted a "very good" satisfaction rating in its first 3 months, according to a Social Weather Stations survey.
The survey, first published in BusinessWorld on Thursday, November 17, shows that respondents gave the Duterte government a rating of +66, corresponding to a "very good" rating.
Contributing to the score was the "excellent" satisfaction rating of +78 which respondents gave for President Rodrigo Duterte's campaign against illegal drugs, reflecting previous surveys that showed his "drug war" is popular among Filipinos.
The Duterte administration was also given a "very good" satisfaction rating (+63) for "promoting human rights," despite criticism from the United Nations, European Union, and United States officials including US President Barack Obama that the anti-drugs campaign was engendering human rights abuses.
Respondents also gave the Duterte administration a "very good" score on issues like "helping the poor," "promoting the welfare of OFWs (overseas Filipino workers)," "eradicating graft and corruption," "fighting terrorism," "defending the country's territorial rights," and "distributing lands to deserving tillers under land reform."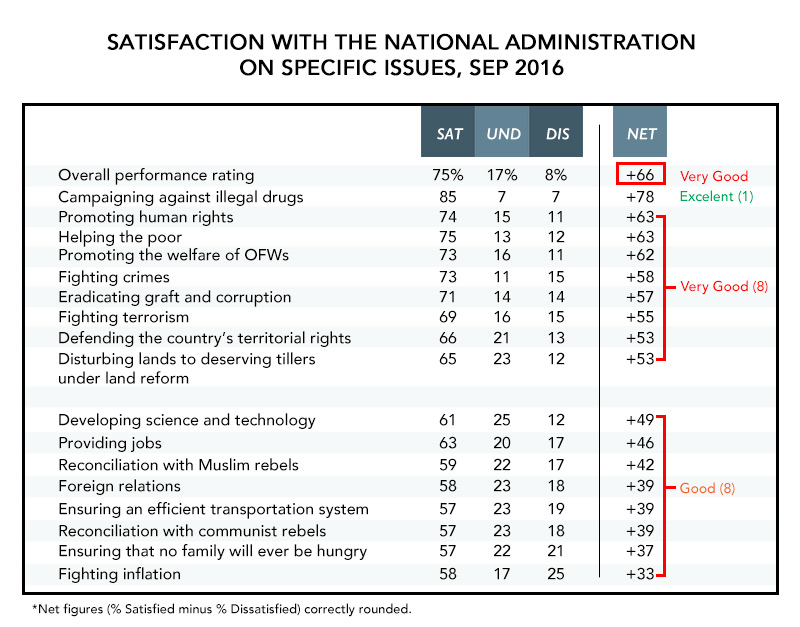 It scored "good" on ensuring an efficient transportation system, providing jobs, reconciliation with Muslim rebels, foreign relations, fighting inflation, and fighting hunger.
Mindanao, Duterte's home region, is the happiest with his administration, giving it a net satisfaction rating of +81. The National Capital Region gave it a "good" score, +66, while Visayas gave it a score of +62. Balance of Luzon is the least satisfied with the Duterte government although the score it gave, +60, is still classified as a "very good rating."
The Duterte government received a slightly higher net satisfaction rating than the Aquino government's rating (+64) in its first 3 months.
Graphs showing results of the same survey since the 1980s or 1990s show the Duterte administration broke records on several fronts.
It is the administration that netted the highest satisfaction rating in helping the poor since the Ramos administration.
It gained the highest rating among administrations since the Estrada presidency in satisfaction with the government's reconciliation with Muslim rebels, in fighting hunger, fighting inflation, and fixing the transportation system.
No post-Marcos administration since 1986 has scored as high in satisfaction for its fight against crime as the Duterte government.
Malacañang welcomed the survey results. Communications Secretary Martin Andanar said the "very good" rating is a "source of inspiration and strength to the President and his entire team to rid society of drugs, criminality, and corruption while bringing the fruits of sustainable inclusive development down to our grassroots." – Rappler.com