(UPDATED) PNP chief Ronald dela Rosa leads cops in escorting former fugitive Kerwin Espinosa from NAIA upon his arrival from Abu Dhabi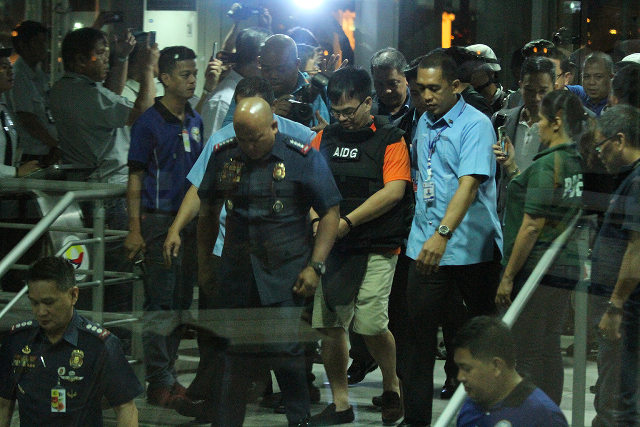 MANILA, Philippines (UPDATED) – Kerwin Espinosa, the alleged Eastern Visayas drug lord whose father was recently killed in jail, arrived in the Philippines early morning Friday, November 18, almost 5 months after he fled the country.
No less than Philippine National Police (PNP) chief Director General Ronald dela Rosa received Espinosa from inside the plane that landed at around 4 am at the Ninoy Aquino International Airport (NAIA) Terminal 1 via a Philippine Airlines flight straight from Abu Dhabi.
The alleged drug lord fled the Philippines in late June this year, hiding in 4 other cities abroad before he was finally cornered in Abu Dhabi. From the Philippines, Espinosa fled to Kuala Lumpur, then to Phuket and Bangkok, and then to Hong Kong and eventually to Abu Dhabi.
En route to Manila, Espinosa was escorted by at least 3 senior officials from the PNP. He was in handcuffs, and was also wearing a bulletproof vest when he left the plane.
WATCH: Dela Rosa fetches Kerwin Espinosa from plane. by @pnppio pic.twitter.com/2RtcQqmtnN

— Bea Cupin (@beacupin) November 17, 2016
Espinosa was brought to Camp Crame, where he went through booking procedures before his transfer to the camp's detention center. 
At a press conference later in Crame, Espinosa said he was willing to tell all. But he denied allegations he's a drug lord. (READ: Kerwin Espinosa: I will tell all but I'm no drug lord)
Justice Secretary Vitaliano Aguirre II earlier said he was willing to admit Espinosa into the Witness Protection Program should he agree to cooperate in the investigation. 
Espinosa also said he believed his father was killed in a rubout, not in a legitimate police operation.
In an earlier press conference, Dela Rosa said Espinosa was the key in mapping out and chasing after personalities involved in the illegal drugs trade, at least in Eastern Visayas. (READ: Kerwin Espinosa 'missing piece' in puzzle')
Kerwin is the son of the late Mayor Rolando Espinosa Sr of Albuera, Leyte.
The Espinosas were among the first high-profile personalities publicly named in the first months of President Rodrigo Duterte's war on drugs. Duterte had warned father and son to surrender, following a police raid in Albuera where P11 million worth of shabu was seized at a tennis court near their residence.
Duterte in August said that if the two resisted their warrantless arrest, police had been given a "shoot on sight" order.
First to surrender 
Mayor Espinosa "surrendered" to Dela Rosa within 24 hours of Duterte's warning. The older Espinosa then admitted that his son was a drug lord, but denied that he was his protector or that he benefited from the proceeds of the narcotics trade.
The mayor stayed with Dela Rosa for a while, but eventually left and returned to Albuera, where he executed an affidavit that pinned down at least 50 personalities – from neophyte Senator Leila de Lima to local officials – who supposedly accepted "protection money" from his son.
Chief Inspector Juvie Espenido, Albuera police chief, said as many as 255 persons were named in the affidavit.
On October 5, Mayor Espinosa was arrested for violating the country's firearms and illegal drugs laws. Kerwin has standing warrants for the same violations.
A month later, in the wee hours of November 5, Mayor Espinosa was gunned down after he supposedly shot it out with police who were serving him a search warrant inside the sub-provincial jail in Baybay City, Leyte.
The police operation is now a source of controversy. Legislators have accused the Eastern Visayas Criminal Investigation and Detection Unit personnel of "premeditating" the killing of the mayor. – Rappler.com