The alleged drug lord says he would only respond to questions about Senator Leila de Lima to the people he has chosen to speak with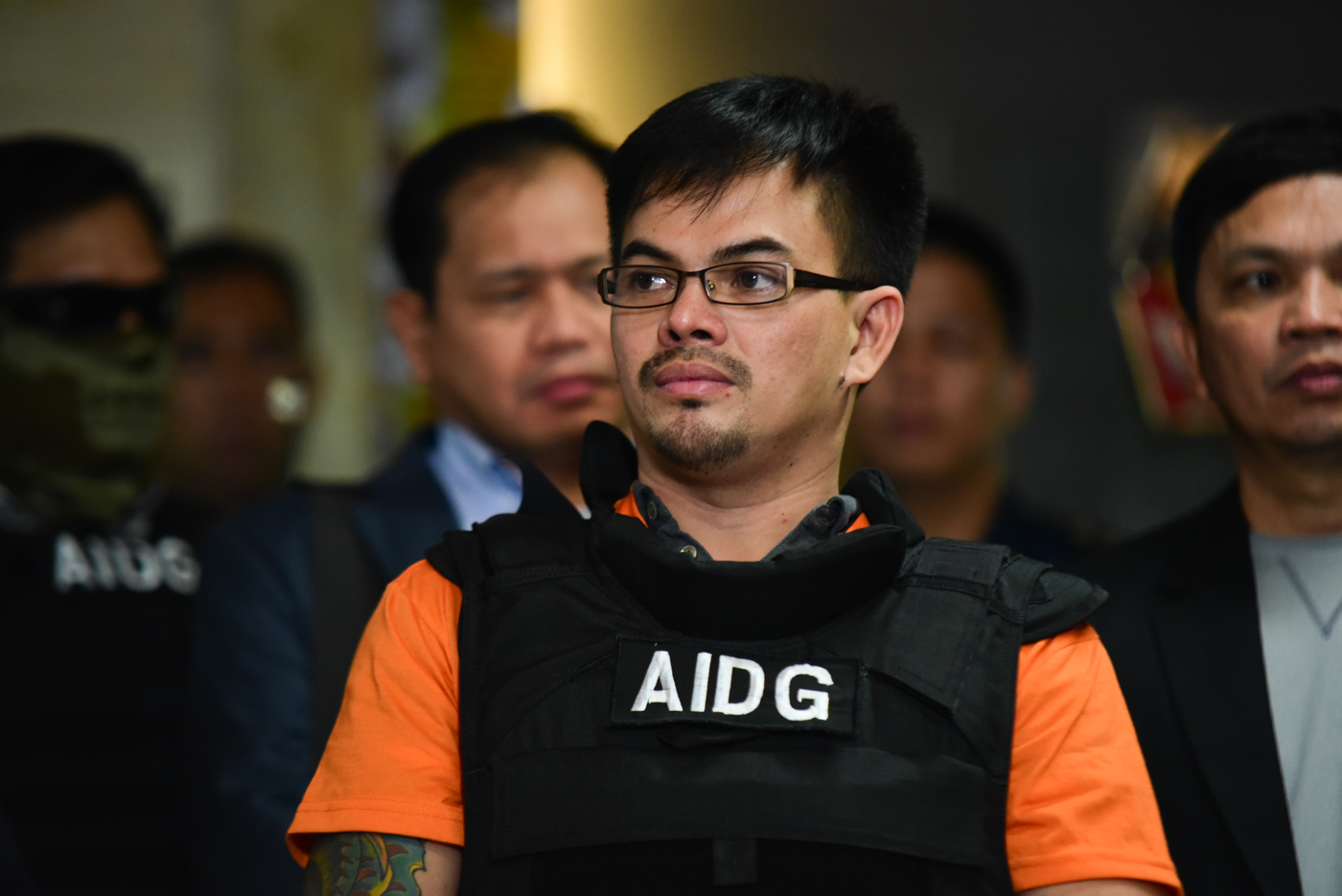 MANILA, Philippines – "No comment," at least for now.
The country's top policeman may see him as the "missing piece in the puzzle" on the illegal drugs trade in Eastern Visayas, but alleged drug lord Kerwin Espinosa would spill no secrets on Friday, November 18, especially when asked about the supposed involvement of Senator Leila de Lima in his illicit trade.
"I have no comment. I already told Colonel [Senior Superintendent Alberto] Ferro all the information," Espinosa said during a press conference Friday morning, after he arrived from a 9-hour flight from Abu Dhabi to Manila.
He was asked if he knew the former justice secretary, who was supposedly in his list of government protectors – a claim first made by his late father, Albuera Mayor Rolando Espinosa Sr.
Mayor Espinosa, in affidavits executed before he was killed in a questionable police operation, claimed De Lima was among the many politicians who collected money from his son. A photo of De Lima with Kerwin and another woman was attached to the same affidavit as supposed proof that the two knew each other.
"Masasagot ko 'yan kung nandiyan na ang lawyer ko. Ma-justify ko 'yan lahat. May pagsasabihan ako na tao (I can only answer that when my lawyer is here. I can justify all that. I've told people already)," said Espinosa in an interview with ABS-CBN when asked about De Lima's alleged involvement.
Asked about his photo with De Lima that has since gone viral, Espinosa said: "No comment muna ako diyan. Doon na lang sa mga taong naisip kong pagsasabihan ko (No comment on that for now. I'll talk about it with the people I've decided to speak to)."
Espinosa and his father were among the first alleged drug personalities President Rodrigo Duterte named – and later, challenged to surrender – in the country's war on drugs after a police operation near their Albuera home yielded over P11 million in shabu.
The PNP would later say that Mayor Espinosa was part of Duterte's list of drug personalities, supposedly because he was "protector" to son Kerwin.
The younger Espinosa returned to the Philippines more than 3 months after his father "surrendered" to police and got the assurance that as long as he cooperated with authorities, his safety would be ensured. Mayor Espinosa, however, was killed in a police operation in his jail cell in Baybay City, Leyte, on November 5.
Upon his arrival in Manila, the younger Espinosa was escorted by hundreds of police led by no less than Philippine National Police (PNP) chief Director General Ronald dela Rosa.
While admitting his involvement in illegal drugs, Espinosa insisted that he was no drug lord though said he was willing to say what he knows about the drug trade. (READ: Kerwin Espinosa: I will tell all but I'm no drug lord)
Dela Rosa had earlier said Espinosa's network extends beyond the Eastern Visayas region and into nearby Central and Western Visayas.
Even before Espinosa set foot in the Philippines Friday morning, De Lima said she wouldn't be surprised if the alleged drug lord tagged her as a protector. A case has been filed against De Lima before the Ombudsman in Leyte based on the late Albuera mayor's affidavit.
Espinosa is set to execute an affidavit in Camp Crame, where he will be detained. – Rappler.com