The PNP chief brushes off Senator Leila de Lima's warning to alleged Eastern Visayas drug lord Kerwin Espinosa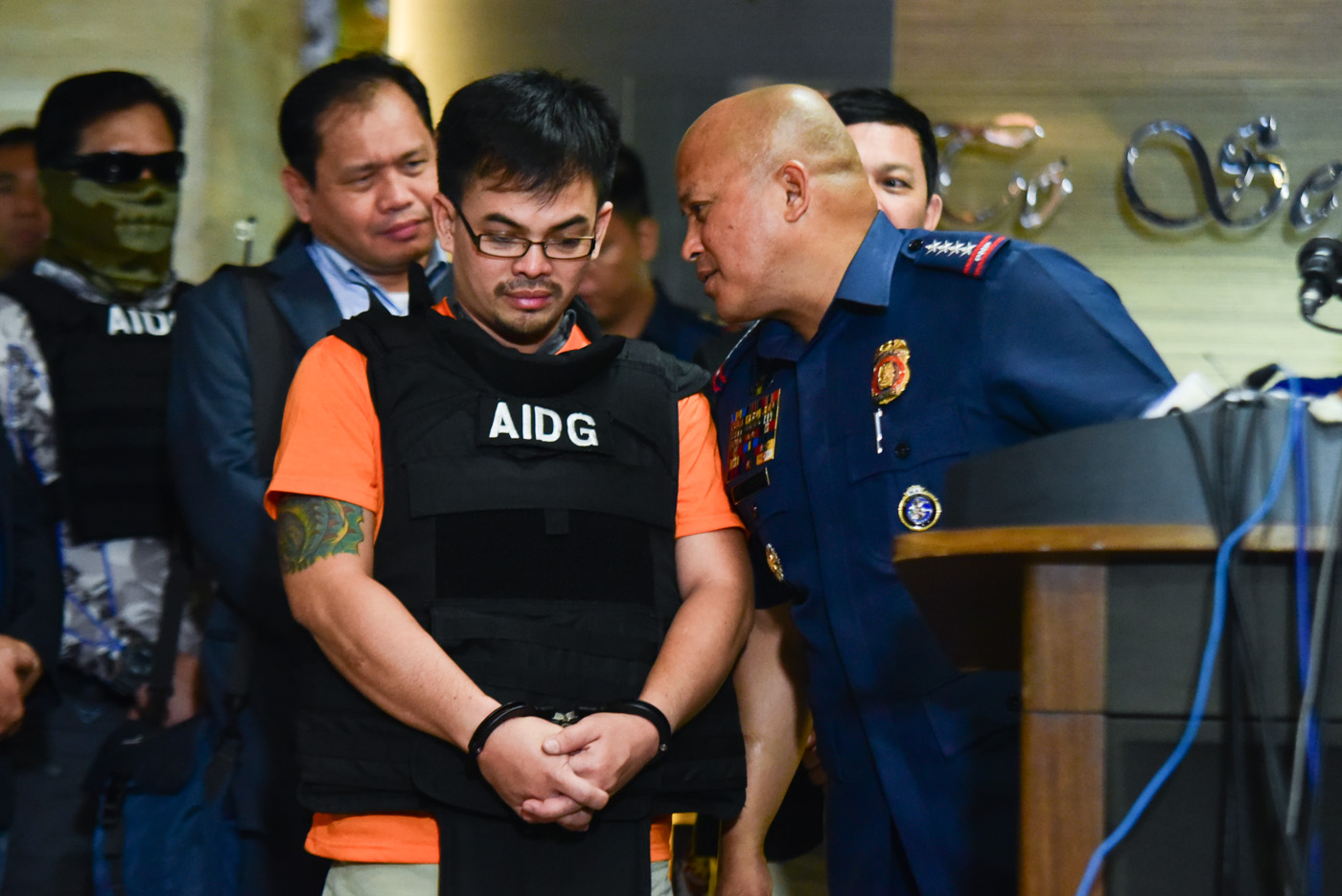 MANILA, Philippines – "Over our dead body."
Philippine National Police (PNP) chief Director General Ronald dela Rosa on Monday, November 21, repeated his commitment to secure alleged Eastern Visayas drug lord and potential state witness Kerwin Espinosa, amid claims by an opposition senator that he would suffer the same fate as his slain father.
"The whole organization, all 160,000 of us, if there's a scalawag who wants Kerwin dead, that's a small percentage compared to the entire PNP. As far as I know, we are doing our best to secure Kerwin Espinosa," Dela Rosa said in a press conference.
On Sunday, November 20, Senator Leila de Lima warned Espinosa that cooperating with the government would not assure him of his safety. (READ: De Lima to Kerwin Espinosa: Gov't will make sure you'll die)
"Sooner or later this government is going to make sure you end up like your father," she said in a statement, referring to the late Albuera mayor Rolando Espinosa Sr, who was shot by police in his jail cell after he supposedly fought back as they tried to serve a search warrant against him.
"Mabuti pa siya, alam niya anong mangyayari kay Kerwin. Kami we are doing anything we can to secure him," quipped Dela Rosa, when asked to react to De Lima's statement. 
(Good for her that she knows what's going to happen to Kerwin. We're just doing anything we can to secure him.)
De Lima is among the politicians alleged to have links to the Espinosas, among the first public officials named in President Rodrigo Duterte's war on drugs. De Lima, in turn, has been among Duterte's fiercest critics. The President himself has accused De Lima of protecting drug lords – supposedly including those incarcerated at the New Bilibid Prison.
The late Albuera mayor had said that De Lima accepted money from his son in the past. In his affidavit, he also attached a photo of De Lima and Kerwin together in Baguio City.
De Lima has denied these allegations while the younger Espinosa has chosen to remain mum about the former justice secretary's alleged involvement in the drug trade.
Espinosa will face a Senate probe into his father's death this week, where he is expected to name the public officials who allegedly benefited from his illegal drugs operations.
In a separate interview with media, Senator Panfilo Lacson said the hearing will be held at Camp Crame, where Espinosa is detained. The alleged drug lord arrived in the Philippines last week after spending over 5 months overseas. 
Lacson, who chairs the Senate committee investigating the mayor's death, said Espinosa mentioned "new names" in his draft affidavit.
Dela Rosa had earlier said that Espinosa was the "missing piece in the puzzle" that is the Visayas drug trade. He said Espinosa would be able to pinpoint personalities involved in the drug trade in the Central, Western, and Eastern Visayas regions.
Espinosa wants to be covered by the government's Witness Protection Program in exchange for his testimony. – Rappler.com