Labor Secretary Bello says that with the cooperation of employers and management groups, ending illegal contractualization by end of 2017 is 'doable'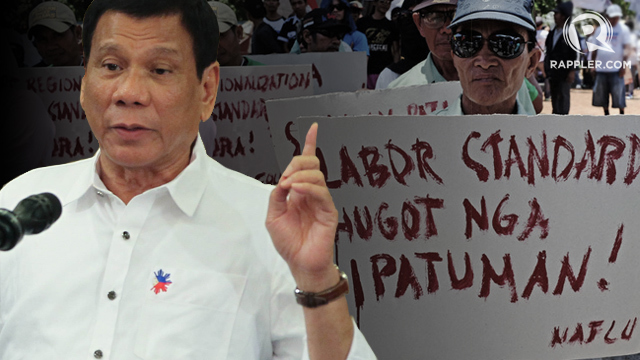 MANILA, Philippines – As of the second week of November, 25,000 workers have been regularized under the Duterte administration, Labor Secretary Silvestre Bello III said Tuesday, November 22.
"As of two weeks ago, we already registered the regularization of not less than 25 [thousand] contractuals," he said during a Palace news briefing.
The figure is an update of statistics the Department of Labor and Employment reported last October 4: that 10,532 workers were regularized by 195 employers.
But Bello admitted that 25,000 is a small fraction, less than 1%, of the more than 250,000 contractual workers in the Philippines.
The progress being made, however, makes him confident that the target of "zero illegal contractuals by 2017" is "doable."
President Rodrigo Duterte, when he was still a presidential candidate, promised voters he would end contractualization during his term. (READ: After Day 100: How Duterte gov't can fight contractualization better)
Bello later on said that Duterte's promise of zero illegal contractuals excludes what the law allows – some forms of contractual work when companies need to hire workers on a seasonal or demand basis.
Asked what the DOLE would do about contractual government workers, Bello said such workers are not under the scope of his department.
"Government workers are beyond our jurisdiction. That's with the DBM (Department of Budget and Management) and Civil Service Commission," he said. 
Another promising development in the fight against illegal contractualization, he said, is cooperation with management groups and companies with the help of the Department of Trade and Industry.
Management and employers' groups came up with a proposal for service providers or manpower agencies to assume the role of employer of workers currently considered contractual.
"The workers will become employees so there is now employer-employee relationship, no more 'endo,'" said Bello.
"Endo" is a term for end-of-contract, an illegal form of contractualization.
But labor groups consulted by the DOLE in summits in Luzon, the Visayas, and Mindanao oppose the idea.
"When we consulted with labor groups, they don't want it, they are against it," said Bello.
The DOLE is now working to solve the impasse between the two sides. – Rappler.com