'He will be a friendly witness... All that Congress will ask, he will answer,' says PNP chief Ronald dela Rosa on Senator Leila de Lima's alleged bagman Ronnie Dayan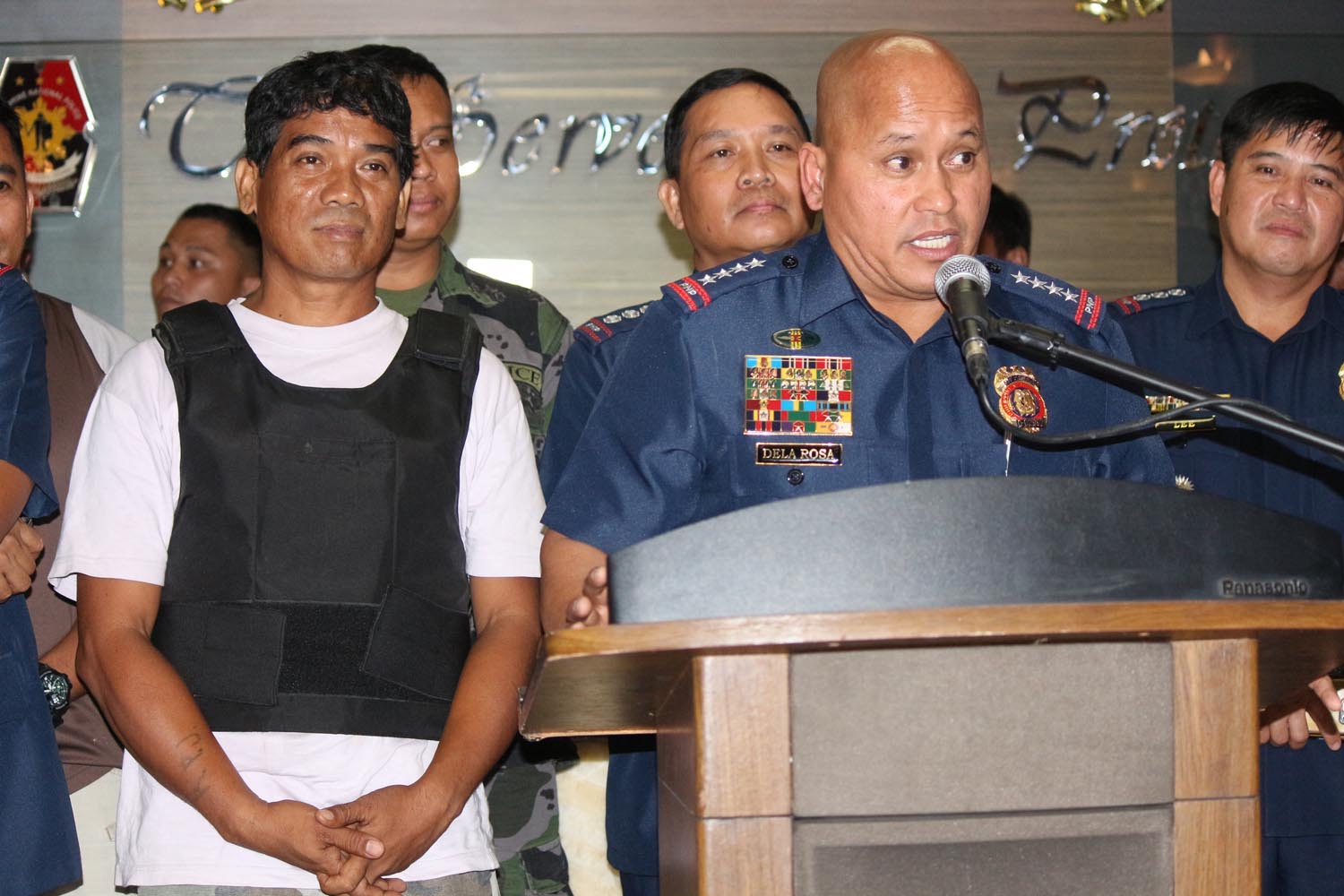 MANILA, Philippines – Ronnie Dayan, former aide and alleged bagman of Senator Leila de Lima, will be a "friendly witness" during the House of Representatives' probe into the illegal drug trade inside the New Bilibid Prison (NBP), said Philippine National Police (PNP) chief Director General Ronald dela Rosa on Tuesday, November 22.
"I told him, 'You're free to choose. You can either be a friendly witness or a hostile witness. It depends upon your choice.' But he will be a friendly witness. He's willing to tell all, all that he knows. All that Congress will ask, he will answer," Dela Rosa said in a press conference to present Dayan, who was arrested by several police units in San Juan, La Union.
More than a month ago, the House committee probing the drug trade in the high-security prison had issued an arrest warrant after Dayan failed to show up despite several attempts to summon him.
He had reportedly wanted to surrender to police for a while, but at the same time attempted to evade capture. Police nabbed him while he was in a hut located in a far-flung part of the municipality.
Right after his arrest, Dayan was brought to the PNP headquarters, Camp Crame, where he was presented to the media and later, underwent booking procedures. He would be turned over to the custody of the House of Representatives.
Dayan is among the main characters in a vast subchapter of President Rodrigo Duterte's war on drugs. De Lima, who was justice secretary under the former administration, is being accused by no less than Duterte himself of protecting several high-profile drug lords and personalities.
Bilibid inmates turned witnesses earlier claimed they gave De Lima millions of pesos to help fund her 2016 senatorial campaign. Dayan had supposedly either facilitated the fundraising or collected the money in behalf of De Lima.
7-year relationship, mum on drug links 
It was also in Camp Crame in August that Duterte first publicly accused De Lima of having a "driver and lover" who supposedly collected drug money in behalf of the former justice secretary.
De Lima confirmed earlier this month that she was in a relationship with Dayan that lasted "a few years."
Dayan admitted as much during the press conference on Tuesday, telling reporters that their relationship lasted for 7 years and ended in 2014. "It's true, we were in a relationship for 7 years," he said.
But he was shielded from answering whether or not the allegations of him being a bagman were true.
"He'll answer that [during the House hearing]. We don't want to preempt Congress," Dela Rosa repeatedly told reporters who asked questions about De Lima and Dayan's supposed involvement in illegal drugs.
De Lima has repeatedly denied the allegations against her. (READ: De Lima to Duterte: 'What do you want from me? Do you like me?')
Dayan said he last heard from De Lima after the 2016 elections because she supposedly thanked him for his help.
When asked what sort of help that was, Dayan said he personally campaigned for her, going as far as putting up posters of the Liberal Party candidate.
Dayan will be the second of De Lima's former aides to testify before the House committee. Joenel Sanchez, a member of the Presidential Security Group (PSG) who was assigned to De Lima for over 5 years, previously spoke before the committee. Sanchez confirmed De Lima and Dayan's relationship but denied being linked to illegal drugs himself.
Dela Rosa made it a point to deny any allegations of coercion or pressure on Dayan.
De Lima's former aide arrived at the Camp Crame lobby in a white shirt, shorts, and slippers. He was not handcuffed but was wearing a bulletproof vest.
"We did not exert undue duress or pressure on him. Again, you're witness – he's alive," said Dela Rosa. – Rappler.com