(UPDATED) House Sergeant-at-Arms Roland Detabali says Ronnie Dayan has access to television but cannot use communication devices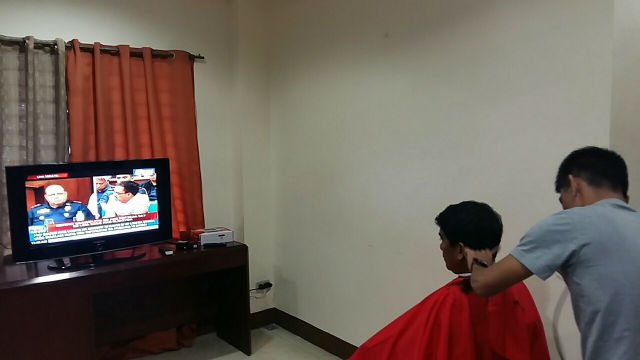 MANILA, Philippines (UPDATED) – House Sergeant-at-Arms Roland Detabali gave assurances that Ronnie Dayan, Senator Leila de Lima's ex-security aide turned lover and alleged bagman, is safe under the House of Representatives' custody a day before Dayan is set to face the justice panel.
"Okay naman siya dito sa Congress. Kasama niya actually 'yung family niya, 'yung wife and daughter niya… Safe siya," Detabali told Rappler on Wednesday, November 23, a day after Dayan was arrested by police in La Union and later appeared at two press conferences – one at Camp Crame and another at the House.
(He's okay here in Congress. He's with his family, his wife and daughter. He's safe.)
According to Detabali, Dayan's wife and child had joined him on his trip from La Union to Manila, and the 3 spent the night inside the House Legislative Security Building, where Dayan's detention room is located. Guards are keeping watch inside and outside his room.
A television has been provided for the Dayans, but Detabali said they have no access to mobile devices.  
"Na-check up siya ng doctor natin sa Congress kasi may bruises pa siya. Nagpapasok din kami ng barber para gupitan siya para sa hearing bukas," added Detabali. 
(Our doctor here in Congress conducted a check-up on him because he still has bruises. We also asked a barber to enter to cut his hair for the hearing tomorrow.)
House justice panel chairperson Reynaldo Umali said that Dayan's siblings also visited him on Monday. 
Dayan is set to testify as the House committee on justice reopens its probe into the narcotics trade inside the New Bilibid Prison (NBP), where past witnesses alleged that Dayan supposedly collected millions of pesos in drug money for his former boss, then justice secretary De Lima. (READ: The public trial of Leila de Lima) 
No less than President Rodrigo Duterte himself first brought to public attention Dayan and De Lima's relationship and supposed links to the prison drug trade in August, prompting Dayan to go into hiding.  
The justice panel had ordered Dayan's arrest and cited him in contempt for failing to appear during the October 6 hearing despite a subpoena.
After police arrested Dayan in San Juan, La Union on November 22, Dayan admitted having a 7-year relationship with De Lima and claimed he acted as her bagman for transactions with alleged Eastern Visayas drug lord Kerwin Espinosa in 2014. (READ: Kerwin Espinosa: Albuera top cop introduced me to Ronnie Dayan) 
De Lima has denied Dayan's claim about supposedly receiving drug money, saying it is "absolutely untrue."
According to Umali, lawyers Manny Buenaventura and Abet Reyes from the Integrated Bar of the Philippines will be two out of the 3 legal counsels who will be assisting Dayan in drafting his affidavit and giving his testimony. 
Umali added that Dayan is free to go home after Thursday's hearing, since no arrest warrant stemming from a criminal case has been issued against him.
"Pagkatapos ng (After the) hearing, he's a free man. Kaya lang naman siya inissuehan ng warrant (A warrant was only issued against him) was because he did not honor the House his presence when he was ordered to do so," said Umali. – Rappler.com