The President affirms his trust in Lopez, saying, 'She's very strict, I like that. She's not corrupt, I like that'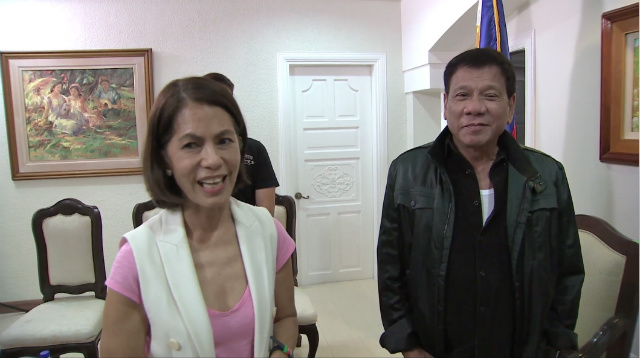 MANILA, Philippines – President Rodrigo Duterte has reappointed Gina Lopez as Environment Secretary after the Commission on Appointments bypassed her confirmation.
"I reappointed her. Na-bypass 'yan (She was bypassed), but I like her," said Duterte on Monday, November 28, during the inauguration of an Iloilo coal-fired power plant held in Malacañang Palace.
Duterte affirmed his trust in Lopez, a long-time advocate for the environment who began her term as secretary by auditing mining firms.
"She's okay. She's very strict, I like that. She's not corrupt, I like that. And she cannot be corrupted, I also like that. Why? I want my country also at least relatively safe from predators of all sorts," said Duterte.
Lopez was among the Cabinet officials whose appointments were not confirmed by the Commission on Appointments after Congress adjourned and went on recess last October.
Executive Secretary Salvador Medialdea said in a PhilStar report that Lopez' name would be added to an earlier list of officials reappointed for confirmation by the CA.
In her 5 months in office, Lopez has carried out an energetic campaign to audit mining firms.
After the audit was completed, the Department of Environment and Natural Resources recommended the suspension of 20 mining companies aside from already suspending 10 firms. – Rappler.com