This is AI generated summarization, which may have errors. For context, always refer to the full article.
The self-confessed member of the Davao Death Squad, a key witness at the Senate probe into extrajudicial killings, also accuses the President of committing genocide and crimes against humanity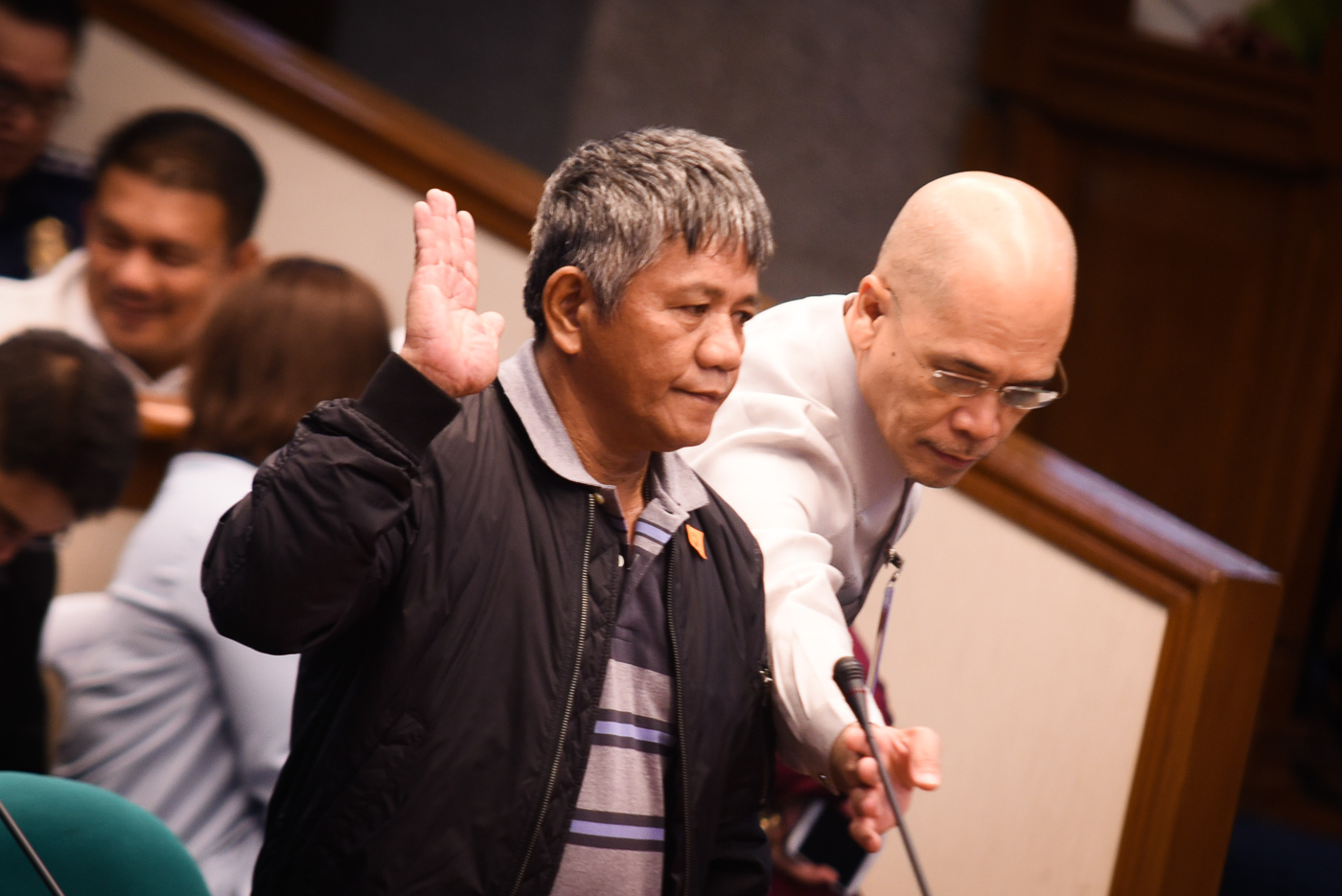 MANILA, Philippines – Self-confessed hitman Edgar Matobato has filed criminal and administrative complaints against President Rodrigo Duterte, Davao City Vice Mayor Paolo Duterte, Philippine National Police chief Director General Ronald dela Rosa and 25 members of the so-called Davao Death Squad (DDS) over alleged summary executions in Davao City.
Matobato through his lawyer, Jude Sabio, filed his complaint-affidavit before the Office of the Ombudsman Friday morning, December 9.
‪He accused the President of violating the following laws: ‬
‪Article 248 of the Revised Penal Code (RPC) or murder‬
‪Article 267 of the RPC or kidnapping ‬
‪Republic Act (RA) 9745 or the Anti-Torture Act ‬
‪RA 9851 or the Philippine Act on Crimes Against International Humanitarian Law, genocide and other Crimes Against Humanity ‬
The other alleged DDS members in the complaint are:
Retired Senior Superintendent Dionisio Abude
Senior Police Officer 3 Arthur Lascañas
Senior Police Officer 4 Bienvenido Laud
Senior Police Officer 4 Sanson Buenaventura
Chief Inspector Jacy Francia
Chief Inspector Fulgencio Pavo
Chief Inspector Ronald Lao
Senior Police Officer 4 Jim Tan
Senior Police Officer 1 Reynante Medina
Senior Police Officer 1 Bienvenido Furog
Senior Police Officer Vivencio Jumawan
Senior Police Officer Rizalino Aquino
Senior Police Officer Enrique delos Reyes Ayao
Senior Police Officer 3 Donito Ubales
Senior Police Officer 3 Jun Laresma
Senior Police Officer 1 Jun Bisnar
Senior Superintendent Rey Capote
Senior Superintendent  Tony Rivera
Retired Police Officer 3 Arnold Dechavez
Colonel Isidero Florivel
Ludy Pagidupon
Jojo Bosa
Romel Capitana
Intsik Tan
Boboy Maldito
In his complaint, Matobato said he filed the complaint to seek "justice" for the alleged victims of the DDS. (READ: Edgar Matobato: Liar or truth-teller?)
'Thousands murdered'
In his affidavit, Matobato alleged that the DDS was responsible for over a thousand murders in Davao City from 1988 until September 2013, the time he left the group. (READ: TIMELINE: Witness lists killings allegedly 'ordered by Duterte')
The group allegedly formed by Duterte mainly targeted robbers, rapists, and other suspected criminals in Davao City when the President was mayor.
"Si Mayor Duterte ang pinakamataas at pinaka-lider sa DDS. Ang code name niya sa mga Lambada Boys ay 'Charlie Mike' o 'Harry/Hari.' Halos lahat ng operations ay dapat cleared kay Duterte," Matobato said in his affidavit.
(Mayor Duterte is the leader of the DDS. The Lambada Boys' code name for him is "Charlie Mike" or "Harry/Hari." Nearly all operations have to be cleared with Duterte.)
The Lambada Boys are allegedly the precursors of the DDS.

He alleged that Duterte would even participate in the group's operations, which Matobato had also narrated when he testified before a Senate inquiry into extrajudicial killings.
"Siya (Duterte) ang nag-uutos sa pagpatay. Kapag kilala ang biktima o big-time, pumupunta si Duterte sa Laud Quarry para siguraduhin na yun nga ang target at para manood sa pagchop-chop ng bangkay," Matobato said in his affidavit.
(He ordered the killings. If the victim is known or big-time, Duterte would go to the Laud Quarry to make sure of the identity of the target and to watch the dismemberment of the corpse.)
Matobato accused Vice Mayor Duterte of ordering the killing of businessman Richard King, which the official had categorically denied.
Protection from a 'serial killer'
Malacañang dismissed the complaint as "nothing but harassment" since Duterte cannot be sued while he is president.
‪Sabio said he and his client are aware of the President's immunity from suit while in office but believed it was time to challenge this presidential privilege.

‪"Siguro napapanahon na kailangan pag-aralan iyon ulit. Paano nga naman [kung] ang ating Pangulo ay isang serial killer?" Sabio told Rappler in a phone interview.  "Hindi naman siguro [intensyon] ng nasabing privilege ay para maupo ang isang serial killer sa bansa." ‬

‪(Maybe it's time to study it. What could we do if the sitting President is a serial killer? It is not the intention of the said privilege to allow a serial killer to lead the country.)‬
Senator Leila de Lima, Duterte's fiercest critic in the Senate, earlier filed a petition for writ of habeas data against Duterte before the Supreme Court, to "test" the doctrine of presidential immunity
Matobato first came into public view when he testified at the Senate probe into extrajudicial killings when De Lima still chaired the committee on justice and human rights.
The former hitman claimed during the September hearing that Duterte ordered summary executions in Davao City during when he was mayor.

The President has repeatedly denied the existence of the DDS, saying there was "no honor" in extrajudicial killings, though he made contradictory statements before he formall joined the presidential race. (READ: 'Duterte: Am I the death squad? True' and WATCH: Rappler Talk: Human Rights Watch on Duterte and the death squads in Davao)
The Senate panels that investigated the spate of killings in the Duterte administration's war on drugs had also concluded that the President had no hand in the killings, and there is no proof of the DDS' existence. The committees on justice and human rights, and public order and dangerous drugs, however, recommended the criminal investigation of Matobato's allegations.
Matobato, a former Davao City employee, is facing charges for illegal possession of firearms in 2014. The case is pending before a court in Davao City.
Matobato, who posted bail, is under the custody of Senator Antonio Trillanes IV.
De Lima and Trillanes had sought Senate protection for Matobato but this motion was denied. – Rappler.com