This is AI generated summarization, which may have errors. For context, always refer to the full article.
Human Rights Watch releases its World Report 2017, and warns of a 'new generation' of populist leaders making a mockery of human rights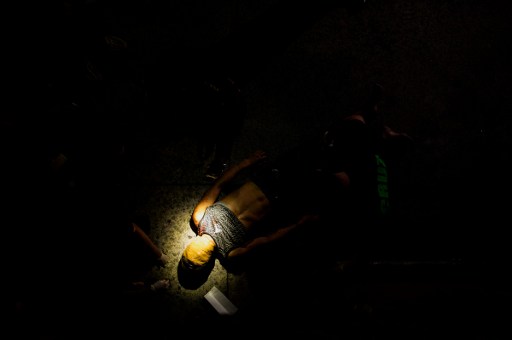 MANILA, Philippines – International rights organization Human Rights Watch (HRW) has included Philippine President Rodrigo Duterte among populist leaders who have intensified the "flouting of human rights."
In HRW's World Report 2017, released Thursday, January 12, HRW Executive Director Kenneth Roth warned of "a new generation" of authoritarian populists turning human rights protection on its head. 
"When populists treat rights as an obstacle to their vision of the majority will," Roth said, "it is only a matter of time before they turn on those who disagree with their agenda."
The report is a 687-page review of human rights practices in more than 90 countries.
In his introduction, Roth spoke of the appeal of populism, coming at a time of "mounting public discontent over the status quo," with "an increasing sense that governments and the elite ignore public concerns."
He described populist leaders as those who claim to speak for the people, yet "treat rights as an impediment to their conception of the majority will." 
"President Rodrigo Duterte of the Philippines has openly called for summary executions of suspected drug dealers and users—and even of human rights activists who defend them," Roth said.  
Roth decried Duterte's human rights record along with those of other world leaders. He enumerated Russian Prime Minister Vladimir Putin's "authoritarian rule," one he called "no worse than the West's increasingly troubled human rights record, China's Xi Jinping, who "pursued the toughest crackdown on critical voices in two decades," as well as the silencing of opposition voices he attributed to both Turkish President Recep Tayyip Erdoğan and Egyptian President Abdel Fattah al-Sisi of Egypt.
Killings 'a cornerstone of government policy'
In a statement released on the same day as the report, the rights body accused the President of making extrajudicial killings part of national policy. Duterte's war on drugs, said HRW, "unleashes a rights calamity."
From July 1, 2016 to January 12, 2017, according to numbers released by the Philippine National Police, there have been at least 6,273 deaths linked to the war on drugs, with at least 4,049 deaths were marked as deaths under investigation.
The government records 2,224 suspected drug personalities killed in police operations, what HRW says constitute "a nearly 20-fold jump" over the 68 police killings recorded in the first half of 2016. (READ: In the Name of the Father)
"In the name of wiping out 'drug crime,'" said Phelim Kine, deputy Asia director at Human Rights Watch, "President Duterte has steamrolled human rights protections and elevated unlawful killings of criminal suspects to a cornerstone of government policy."
Kine added that "friends of the Philippines" should "make clear that it can't be business as usual until the killings stop and there are meaningful moves toward accountability." 
Although the report's section on the Philippines focuses on extrajudicial killings and the drug war, HRW also includes other key issues, including the rights of indigenous peoples, violations of reproductive health rights, child labor, and stigma and discrimination related to the HIV/AIDS crisis. – Rappler.com