Groups march to Mendiola to push for the Freedom of Information bill on the eve of a crucial congressional hearing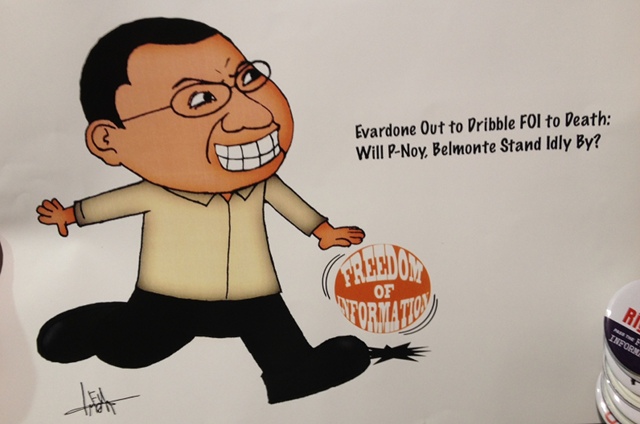 MANILA, Philippines – Groups supporting the Freedom of Information (FOI) bill marched to Mendiola on Monday afternoon, November 12, the eve of a crucial House of Representatives committee hearing on the bill.
One of these groups, the FOI Youth Initiative (FYI), slammed members of the House Committee on Public Information for a "long overdue" meeting on the FOI bill, attributing this to "excuses." One of these is the lack of an available room as committee chair Rep Ben Evardone said last October 9.
"We in the FOI Youth Initiative have had enough of the excuses and delaying tactics from those who fear transparency and accountability. We expect none of these tomorrow in the committee hearing. And we expect that our supposed representatives will attend this important meeting," FYI said in a statement.
FYI marched, along with the rest of the Right to Know, Right Now! Coalition, the day before the anticipated meeting on Tuesday, November 13. Other media organizations, like the Center for Media Freedom and Responsibility, joined the rally.
The marchers urged President Benigno Aquino III to prioritize the FOI bill, even as the President earlier said it is not a priority.
"We urge our legislators, especially the members of the Committee on Public Information, to rally behind this measure to show that they truly represent the Filipino people in our desire for a government that is open and honest," FYI said.
Earlier, the Right to Know, Right Now! Coalition said the FOI bill needs to be approved on second and third reading in both chambers of Congress before the legislative session adjourns on December 22. Otherwise, the bill will not go through the bicameral conference committee as early as January, when session resumes.
If passed, the FOI bill will require the government to publicly disclose documents on request or on demand.
"Citizens need and must know how public officials exercise their powers and authorities, how they spend public funds, what contracts and agreements they sign and seal on our behalf, what policy issues bother them that must also bother us so we may participate in making decisions," said the Right to Know, Right Now! Coalition in a pooled editorial last August 15.

"Citizens need and must know what programs exist for the delivery of the most basic services, as well as how they can access with success and within reasonable time frames the most relevant public documents they need to secure and safeguard their most basic needs. Indeed, in the panoply of rights, the right to information is both the most supreme and the most fundamental as it is the bedrock of all our rights to education, property, livelihood, even life," the coalition said. – Rappler.com