(UPDATED) Speaker Pantaleon Alvarez says congressmen in the majority bloc have agreed to remove several other crimes from the list as well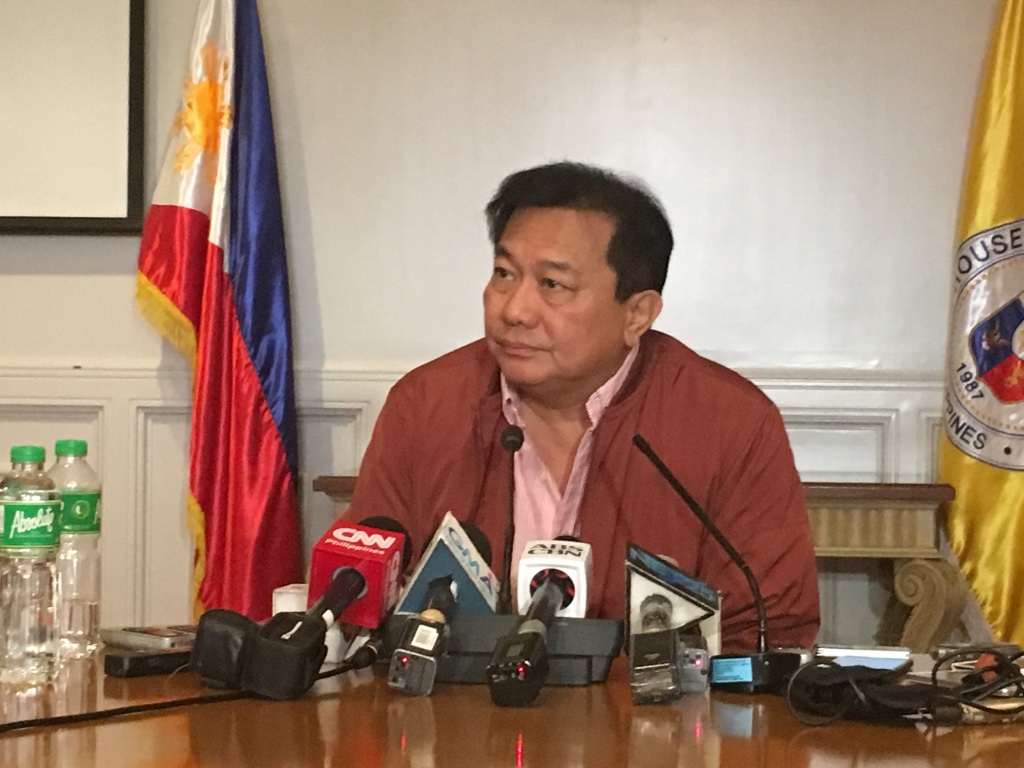 MANILA, Philippines (UPDATED) – Congressmen in the majority bloc agreed to take out plunder from the list of crimes punishable by death under controversial House Bill Number 4727.
Speaker Pantaleon Alvarez said on Wednesday, February 8, that this was among the decisions made by majority congressmen during their caucus, where they also decided to remove the mandatory penalty of death provisions under HB 4727. 
"Napagkasunduan na hindi na natin gagalawin 'yung plunder law kasi as it is, capital punishment na 'yun (We agreed not to touch the plunder law anymore because as it is, the law is imposing the capital punishment)," Alvarez said.
Instead, judges will be given the option to punish perpetrators of heinous crimes with reclusion perpetua or life imprisonment to death, he said.
Criminals sentenced to reclusion perpetua serve a 20- to 40-year jail term, eligible for parole after 30 years.  
Through Republic Act (RA) Number 7659 signed into law by former president Fidel Ramos, RA 7080 or the plunder law was amended to punish convicted public officers with "reclusion perpetua to death" in December 1993.
But through RA 9346, the Philippines abolished death penalty in 2006 under then-president and now Pampanga 2nd District Representative Gloria Macapagal-Arroyo, who remains opposed to the restoration of capital punishment.
Under RA 9346, the effects of RA 7659 and other laws, executive orders, and decrees imposing the death penalty were "hereby repealed or amended accordingly."
Alvarez, however, said opposition lawmakers may move to restore plunder in the list of crimes under HB 4727. 
Apart from plunder, Alvarez said the congressmen agreed to remove other crimes under the bill but he could not recall them during the interview.
"Ah, hindi ko maalala, marami 'yan eh (Ah, I can't remember because they are many)," he said.
Majority Leader Rodolfo Fariñas also said lawmakers will remove several crimes under HB 4727, but added that he would reveal them once the substitute measure has been drafted.
Apart from plunder, the 20 other heinous crimes listed under HB 4727 in its current form are as follows:
Treason
Qualified piracy
Qualified bribery
Parricide
Murder
Infanticide
Rape
Kidnapping and serious illegal detention
Robbery with violence against or intimidation of persons
Destructive arson
Importation of dangerous drugs and/or controlled precursors and essential chemicals
Sale, trading, administration, dispensation, delivery, distribution, and transportation of dangerous drugs and/or controlled precursors and essential chemicals
Maintenance of a drug den, dive, or resort
Manufacture of dangerous drugs and/or controlled precursors and essential chemicals
Possession of dangerous drugs
Cultivation or culture of plants classified as dangerous drugs or are sources thereof
Unlawful prescription of dangerous drugs
Criminal liability of a public officer or employee for misappropriation, misapplication, or failure to account for the confiscated, seized and/or surrendered dangerous drugs, plant sources of dangerous drugs, controlled precursors and essential chemicals, instruments/paraphernalia and/or laboratory equipment including the proceeds or properties obtained from the unlawful act committed
Criminal liability for planting evidence concerning illegal drugs
Carnapping 
The Speaker, a staunch ally of President Rodrigo Duterte, is determined to have the bill passed on 3rd and final reading before the 17th Congress takes a break on March 18.
He said House leaders will be stripped of their leadership titles if they vote against HB 4727. – Rappler.com