Senator Risa Hontiveros says there seems to be an 'obsession with death' under the Duterte administration – from the death penalty to extrajudicial killings due to the war on drugs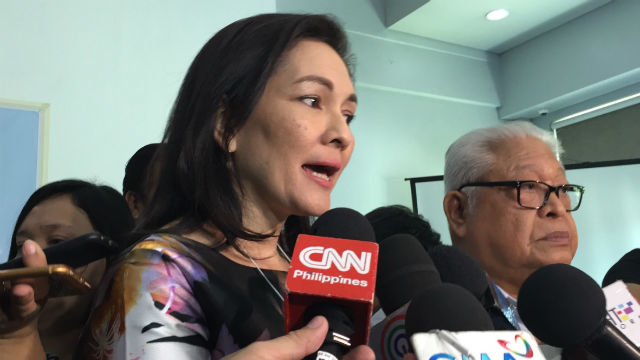 MANILA, Philippines – Senator Risa Hontiveros said "some kind of necrophilia" seems to exist under the administration of President Rodrigo Duterte, given the spate of extrajudicial killings since he won the 2016 polls. 
Hontiveros made the statement after attending the Legislators for Life: A Dialogue on the Death Penalty and Regional Responses forum by the ASEAN Parliamentarians for Human Rights on Wednesday, February 15. (READ: ASEAN lawmakers: PH will lose int'l credibility if death penalty returns)
A reporter asked Hontiveros and Albay 1st District Representative Edcel Lagman how to explain the "seeming obsession with death" under Duterte, who waged a bloody war on drugs and is currently supporting the return of the death penalty for heinous crimes.  
"Bakit nga ba parang may obsession sa kamatayan – from death penalty to itong teribleng phenomenon ng extrajudicial killings? Parang nagmumukhang may some kind of necrophilia going on na. Baka 'yun din ay paliwanag kung bakit lumabas 'yung teribleng comment nung nakaraang panahon tungkol doon sa ginahasa at pinatay na Australian missionary," said Hontiveros.
(Why does there seem to be an obsession with death – from the death penalty to this terrible phenomenon of extrajudicial killings? It's like there's some kind of necrophilia going on already. Maybe that can explain that terrible comment in the past about the Australian missionary who was raped and killed.)
She was referring to the controversial joke about the 1989 rape incident involving an Australian missionary that Duterte made during the campaign period. 
When Duterte won the 2016 elections, he made good on his promise to start a war against illegal drugs, which has led to over 7,000 deaths, both from legitimate police operations and apparent summary killings. 
Lagman, another anti-death penalty lawmaker, shared Hontiveros' sentiments. 
"I cannot understand why the administration is enamored with retrogressive measures like the death penalty as well as the reduction of the age of juvenile culpability. And also trying to pursue a violent and deadly campaign against the drug menace when the experience of other countries like Thailand, United States, and Colombia would show that violence against the drug menace is not successful. It is not the solution to drug trafficking and drug abuse," he said. 
According to Hontiveros, the country needs a more "positive, life-giving, and edifying" leadership. 
"Dapat sana ang mood ng governance natin ay mas positive, mas life-giving, mas edifiying. Kasi sa dami ng problema nating mga Pilipino, we want that kind of unifying leadership lalo na mula sa ating top elected official. Gusto natin less divisiveness, mas inspiration, mas mga positive alternatives at solusyon sa ating mga problema," she said. 
(The mood of governance we have should be more positive, life-giving, edifying. Because of all the problems of the Filipinos, we want that kind of unifying leadership especially from our top elected official. We want less divisiveness, more inspiration, and positive alternatives and solutions to our problems.)
Reimposing the death penalty is a priority of Duterte. The President's ally Speaker Pantaleon Alvarez is bent on passing House Bill Number 4727 by March, even threatening to strip lawmakers of their leadership titles if they vote against the measure.
The Senate, however, is poised to kill the death penalty bill as several senators believe bringing back the capital punishment would violate the Philippines' obligations to an international treaty signed in 2007.
Hontiveros said on Wednesday that of the 24 senators, 13 are likely to block the death penalty measure. 
"Kung tama ang bilang namin, maaaring more or less simple majority na kami na kontra sa reimposition ng death penalty. Maaaring more or less 13," she said. 
(If our count is correct, we are more or less going to form the simple majority against the reimposition of the death penalty. We are perhaps more or less 13.) – Rappler.com