This is AI generated summarization, which may have errors. For context, always refer to the full article.
(3rd UPDATE) 'It's time to unmask this guy,' says Senator Antonio Trillanes IV of President Rodrigo Duterte, as he revives accusations the President had P2.4 billion in his bank accounts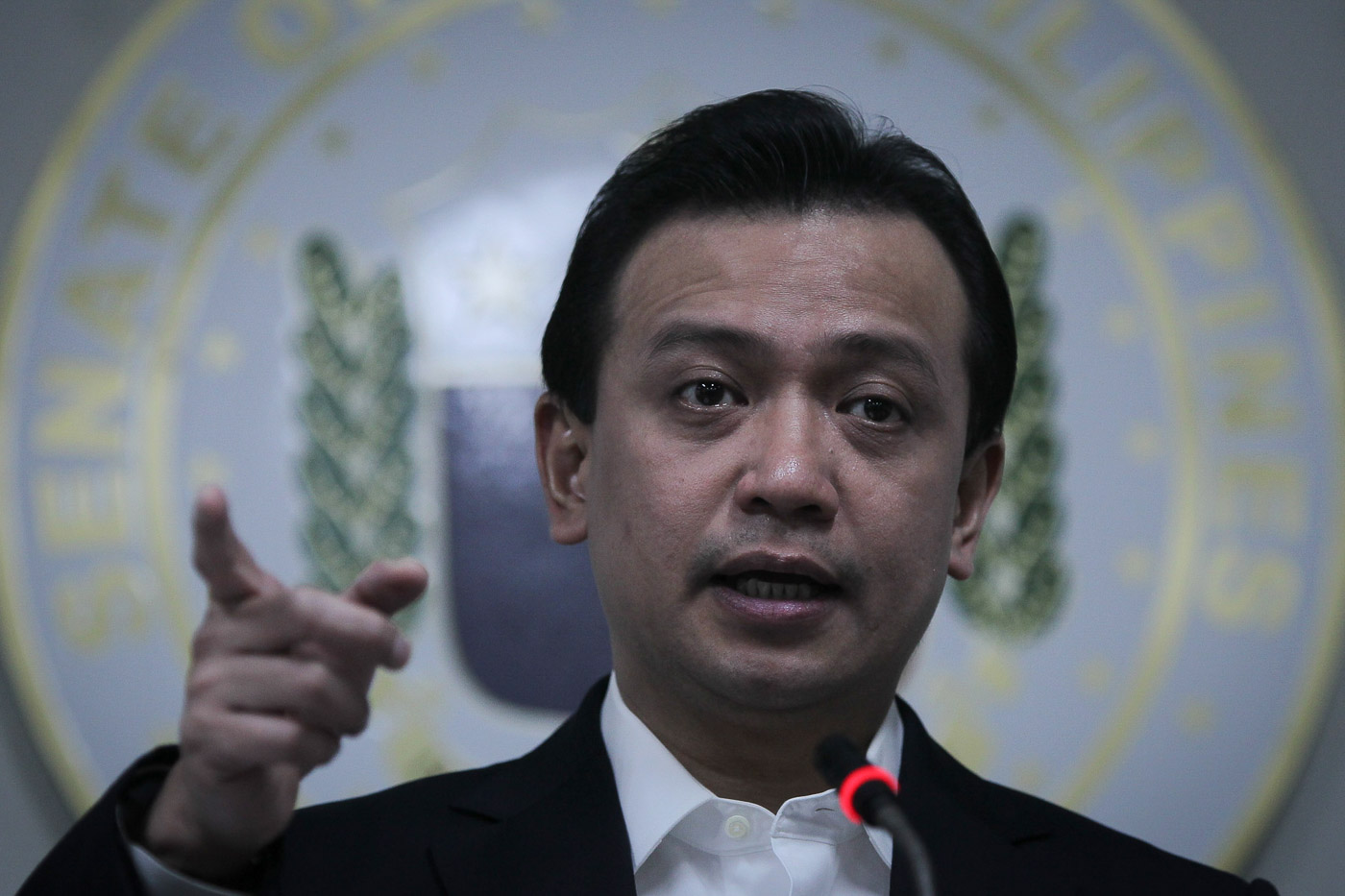 MANILA, Philippines (3rd UPDATE) – It was a throwback of sorts on Thursday, February 16, as Senator Antonio Trillanes IV revived his challenge to President Rodrigo Duterte to "prove him wrong" that he had as much as P2.4 billion in his bank accounts not declared in his Statement of Assets, Liabilities, and Net Worth when he was mayor.
"Ilabas mo ang tapang mo dito. Ipakita mo na mali ako (Show how brave you are now. Prove me wrong)," Trillanes said in a news briefing where he distributed copies of documents he obtained from concerned citizen "Joseph de Mesa," after validating their authenticity.
Trillanes, among Duterte's staunchest critics, alleged that the President had accumulated P2.4 billion in several Bank of the Philippine Islands (BPI) accounts, one at the branch in Julia Vargas in Ortigas, Pasig City.
It's the same allegation he made during the 2016 campaign period when the senator, running as an independent vice presidential candidate, accused Duterte of corruption during his stint as Davao City mayor. 
This time, however, Trillanes provided to media the supposed transaction records of bank accounts owned by Duterte, his 3 adult children, and his common-law wife, Honeylet Avanceña, from 2006 to 2015.
Trillanes said he was reviving the issue of Duterte's bank accounts supposedly because his questions remain unanswered. The senator, whose term ends in 2019, said he is willing to step down from his post if his allegations turn out to be a dud. 
"Sinabi niya na papatunayan niya. Wala naman, 9 months na. So, Mr President, panahon na [na sagutin ito] at mamaya't-mayain kita. Hindi ko bibitiwan ang isyu na ito," Trillanes said.
(He said he would prove me wrong. But nothing has happened and it's been 9 months already. So, Mr President, it's time [to answer this] because I won't stop reminding you. I won't let go of this issue.)
The bank accounts listed under Duterte are mostly accounts owned alongside his children, two of whom are also elected officials in Davao City – Sara is the mayor while Paolo is the vice mayor. 
Trillanes said the money that went into Duterte's accounts – a mix of inter-account bank transfers, purchases of insurance policies, credit memos, and deposits – were not just from campaign contributions, and allegedly "showed a pattern of behavior" of corruption.
He said among the notable transactions were those involving Davao City businessman Sammy Uy, the President's friend and campaign contributor, who reportedly gave a total of  P120 million to members of the Duterte family.
'Time to unmask'
The senator said aside from getting the documents, he felt it was time to revive his challenge to Duterte as the noise of the campaign had died down. He also reiterated his vow to resign from the Senate if he would be proven wrong.
"It's time to unmask this guy," he said, referring to the President.
He said his objective in reviving the allegation was to "inform the public," especially those who supported Duterte on the strength of his campaign promises.
"Maraming naloko. Noong kampanya, hindi napakinggan ito….Ngayon nakikita na ang kalidad nitong Pangulo natin. Mas bukas na ang kanilang pag-iisip (Many were fooled. This was drowned out by the campaign noise… Now, they can better see the quality of our President. Their minds are more open now)," he said.
Asked about the simple lifestyle shown by the President, including his humble home in Davao City, Trillanes reiterated his earlier claim that Duterte owned other properties. (READ: Rodrigo Duterte's 386 P. Guevarra property)
Trillanes filed a plunder complaint against Duterte days before the May 2016 elections, for allegedly having ghost employees at the Davao City Hall under his watch.
'Political noise'
Malacañang and administration alllies dismissed the allegations as "political noise."
Presidential Spokesperson Ernesto Abella said in a news briefing on Thursday that Duterte would respond to the allegation "if necessary and if within the right context… but not just to respond to some grandstanding."
"It's a rehash of items that have been already discussed 3 days before elections. So basically, he's just bringing up old issues. Now, if he truly has something in mind then he probably should just go through the proper authorities in order to be able to lay down something like this. It's best to do it according to due process," Abella said.
He said in another media interview that Duterte "faces humongous challenges in nation-building and he has better things to do with his time than to be explaining something that had already been gone through in the past."
"We have a political landscape where people tend to make this kind of noise. The President is not focused on these things. He's not trying to defend himself; the President is more focused on nation-building," Abella added.
As far as Malacañang is concerned, Duterte had already "addressed" the allegation.
"This should be properly addressed at the proper venue. If he thinks he has something else, he should raise it to the proper authorities. As far as the Palace is concerned, it has already addressed this….I think there should be a more civilized way of handling these things rather than grandstanding, don't you think?" Abella said.
Senator Alan Peter Cayetano, Duterte's vice presidential candidate during the 2016 elections, dismissed Trillanes' move as a "desperate attempt to stop the reforms" of the current administration.
Cayetano, who like Trillanes is a member of the Nacionalista Party, said in an interview with reporters after Trillanes' press briefing that his party mate's patrons might have been adversely affected by these reforms.
"He should have come out with this before June 30 because [Duterte] did not have immunity [from suit] then," he added. – with a report from Pia Ranada / Rappler.com