The Liberal Party president reminds Senate President Aquilino Pimentel III that 20 of 29 bills nearing approval into law are 'being defended' by LP senators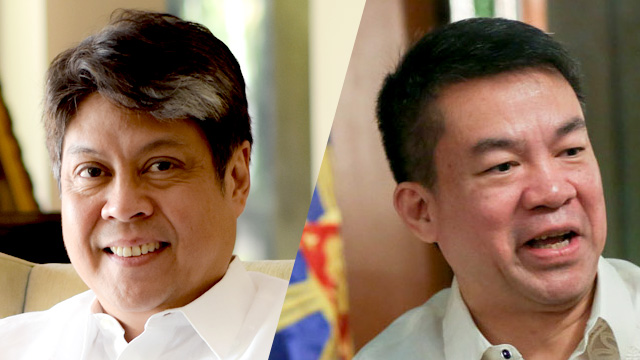 MANILA, Philippines – Liberal Party president Senator Francis Pangilinan hit back at Senate President Aquilino Pimentel III for saying LP senators "hampered" the Senate's legislative agenda.
On Monday, February 27, a day after Senator Leila de Lima's arrest on drug charges, the Senate ousted LP-allied senators – Pangilinan, Paolo Benigno Aquino IV, Franklin Drilon, and Risa Hontiveros – from their committee chairmanships. (READ: 15 senators planned LP ouster in Pacquiao's house)
Pimentel said the revamp was necessary as work in the chamber has been affected "to the detriment of public interest."
"There have been instances where the majority, instead of closing ranks, ended up divided," Pimentel said in a statement.
Pangilinan slammed Pimentel's claim, saying 20 of 29 bills nearing approval into law are sponsored by LP senators.
"How can work in the Senate be hampered by the now minority members, including 4 from the Liberal Party, when almost 70% (20 of 29) of the bills now a couple of steps into becoming a law are being defended by us?" Pangilinan said in a statement on Tuesday, February 28.
Pangilinan also said one of the two laws passed so far in the 17th Congress – the postponement of the barangay and Sangguniang Kabataan elections – was even supported by De Lima, as it was referred to her committee on electoral reforms as secondary committee.
The LP, he added, supported the passage of the 2017 national budget, as only Senators Panfilo Lacson and Sherwin Gatchalian opposed it.
"It is simply untrue that LP senators hampered the legislative agenda. How is this possible when two out of the administration's 3 priorities – death penalty and the lowering of criminal age of responsibility – are with the justice committee and not our committees?"
Rubberstamp Senate?
Pangilinan, Aquino, and Hontiveros earlier raised questions on the independence of the Senate.
Pangilinan said the reorganization was done to prevent the chamber from investigating potentially harmful issues against the Duterte administration.
"It is therefore inaccurate and factually erroneous to say that the reorganization was due to hampered work. On the contrary, it was undertaken to ensure that the Senate toes the line on issues that may have a negative impact on the administration," he said.
Pangilinan further said the majority was divided only on certain issues, not on the legislative agenda – the hero's burial for strongman Ferdinand Marcos, the extrajudicial killings in the war on drugs, the investigation into the bribery scam in the Bureau of Immigration, and the testimony of retired Davao City cop Arturo "Arthur" Lascañas on the Davao Death Squad.
"Nevertheless, despite having a different stance on several life-and-death issues that impact our people's lives, we remained with the majority in the Senate because this precisely allowed us to work as our oath of office requires," he added. – Rappler.com