Senator Manny Pacquiao, CA environment committee chair, says aside from at least 27 complaints against the environment chief, there are also CA members opposed to her confirmation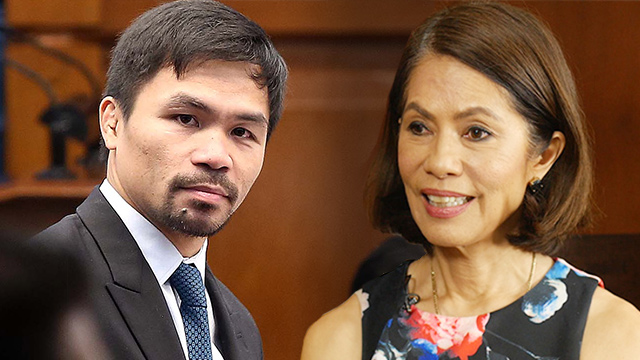 MANILA, Philippines – Neophyte Senator Manny Pacquiao admitted on Wednesday, March 1, that the complaints filed with the Commission on Appointments against the confirmation of Environment Secretary Gina Lopez have given him a "headache."
Pacquiao, chairman of the Commission on Appointments committee on environment and natural resources, was referring to at least 27 oppositions filed with the CA to block Lopez's confirmation, after the environment department  ordered the shutdown and suspension of some mining operations.
"Sumakit na nga ulo ko dahil sa dami ng oppositors, naka-abang na. And then siyempre as chairman, papakinggan din natin panig nila and 'yung ibang mga (CA) members, di natin mapipigil sila kung ayaw nila," Pacquiao told reporters on Wednesday, March 1.
(I'm having a headache because of the many oppositors who are all waiting. And then of course as chairman, I have to listen to their sides and other [CA] members, we also cannot stop them if they don't want her [confirmed].)
Pacquiao said there are also CA members who are opposed to Lopez's confirmatio, mostly from the House contingent. (READ: Lopez urges CA: 'Make decisions based on common good')
"Meron dito [Senate], meron sa House. Halos sa House, mas maraming kontra (There are some here in the Senate, and some in the House. But there are more dissenters in the House),"said Pacquiao.
The senator, however, refused to disclose his definitive stance on Lopez's confirmation, saying he would listen to both sides. He described Lopez as his long-time "partner."
"As chairman of the committee, siyempre gusto natin [siyang maconfirm]. Pero hindi lang naman ako mag-isang magdedesisyon. Maraming members magdedesisyon, so depende na 'yan," he added.
(As chairman of the committee, of course I want [her confirmed]. But I won't make the decision on own own. Many members will make that decision, so it depends.)
Only 2 favor Lopez
So far, only two senators in the CA environment committee have publicly declared their support for Lopez – Senate climate change committee chair Loren Legarda and Senator Joseph Victor Ejercito.
Citing the environment degradation due to mining that he supposedly saw years back, Ejercito said he believes Lopez could reverse the damage.
"Parang Holocaust; dinaanan ng nuclear bomb sumabog na. Wala ako nakita ni isang puno for two hours na bumabiyahe – lahat brown. So tumatak sa aking isipan kaya sabi ko nung nakita ko si Secretary Lopez, pinaglalaban na proteksyonan ang kalikasan," Ejercito said.
(It's like the Holocaust; as if a nuclear bomb had been detonated. I didn't see a single tree during the two-hour travel – everything was brown. That stuck to my mind so I said when I saw Secretary Lopez, she is fighting to protect the environment.)
Ejercito's support for Lopez does not come as a surprise. The Ejercito-Estradas and San Juan's Zamora family, who has mining interests, have been at odds since their family members ran against each other in the 2016 local elections in San Juan City. (WATCH: Zamoras, Estradas clash for control of San Juan)
San Juan Representative Ronaldo Zamora is the vice chairman of the CA and an ex-officio member of the committee. His older brother, Manuel Zamora, is the founder and chairman of Nickel Asia Corporation. The lawmaker served on the board of Nickel Asia until his retirement from the company in 2013.
Lopez had earlier cited this as one of the problems she faced at the CA.
"The problem with the CA – I mean, I'll just be really open about it, 'no (ok)? – the chairman of the Commission on Appointments in Congress is a miner," Lopez earlier said.
Legarda, for her part, said more than supporting Lopez, she has been trying to convince other colleagues to vote for the latter's confirmation.
"Everybody knows that. Secretary Gina Lopez knows that I support her. Even more than support her, I'm trying to convince others to support her in the CA, that's another matter," Legarda said.
'Willing to listen'
Senator Alan Peter Cayetano, a staunch ally of President Rodrigo Duterte and a CA committee member, said he was willing to listen to both sides.
"I am willing to listen because you need someone who will be very strict sa [with regards to the] environment but someone who will not kill the industry. She's saying that's her. Let's give her a chance but let's also give a chance sa lahat ng umaangal (to all those who oppose her)," Cayetano said.
Cayetano is known to be an ally of the Zamoras. He was among those backed financially by the Zamora brothers in the 2013 and 2016 polls.
On Wednesday, the original schedule of Lopez's confirmation hearing, the secretary and hundreds of her supporters trooped in front of the Senate to rally for her confirmation.
The confirmation hearing was reset to a later date, following the recent reorganization in the Senate. – Rappler.com